Top 15 Influencers from Mauritius
Mauritius may be a small island, but it's packed with a great group of social media influencers that are taking the world by storm.
Check out our favorites below, and be sure to follow them on social media for tips on fitness and health, beauty reviews, travel advice, and much more:
Peachy Tales
Anoushka Aodhorah is an artisan baker, food stylist, and the creator of Peachy Tales, a food blog focusing on Mauritian cuisine. On the blog you'll find exotic recipes with beautiful food photos and engaging stories and info on where to dine in Mauritius. Follow her on Facebook to know when new recipes are available, and check her out on Instagram for gorgeous photos of food and her worldly travels.
Jochen Kirstätter
Based in the small seaside town of Flic en Flac, Jochen Kirstätter (aka JoKi) is a software creator and Microsoft MVP for Developer Technologies that founded the largest IT community in Mauritius. While his main focus for the past 15 years has been creating customized software solutions, he's also active in his community, organizing the annual Developers Conference in Mauritius and constantly encouraging the young and old to venture into the world of information technology. Check out his blog, Get Blogged by JoKi, for over 400 articles on various IT topics, and follow him on Facebook and Twitter for regular updates on community events, speaking engagements, and a peek into his personal life.
The Lovely Brunette
The Lovely Brunette is a Mauritius Lifestyle Blogger. Her blog was founded to explore the beauty of island living through a feminine eye, discover local designers, and create a community that empowers and celebrates creativity. Follow her on Facebook and Instagram for a daily dose of sunshine, island life, and recommendations on local businesses and restaurants in Mauritius.
My Sweet Mauritius
My Sweet Mauritius is a popular blog and social media platform created by a French born blogger that goes by Poupette des Iles. Based in Mauritius for over 10 years, she covers travel, food, and island lifestyle on her Facebook and Instagram accounts, and highlights local artisans and businesses on her blog. Whether you're planning a trip to Mauritius or love to see gorgeous images of beaches and island life in your daily news feed, you won't regreat giving her a follow.
Om Lombard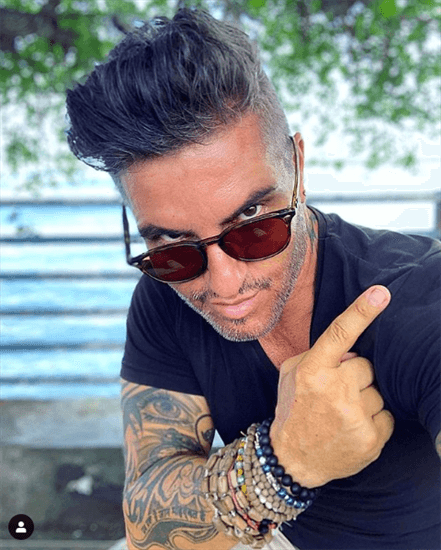 Born in the South of France, Om Lombard is an international model, businessman and bio-baker living in Mauritius. His bravado, charm, and wicked sense of humor have made him one of the top social media influencers in Mauritius, with his followers topping 255k on Facebook and 142k on Instagram.
Raju Birion
Raju Birion describes himself as a Mauritian guy that's just trying to entertain and educate people. He accomplishes both through videos on his YouTube channel that are filled with comedic relief and haircare tutorials. He also publishes live videos to his Instagram and Facebook accounts, and has a growing fan base across his social media platforms.
Laetitia Darche
Laetitia Darche is a blogger, model, and brand ambassador for Swarovski. Winner of Miss Mauritius in 2010, she also represented Mauritius in Miss Universe 2011 and Miss World 2011. Her engaging personality and beauty have made her a social media favorite with over 23k in Instagram followers and you can keep up with her on Facebook as well. Covering everything from travel, fashion, and her modeling career to adventure and fitness, you'll look forward to seeing her pop up in your feed.
Ameeksha Dilchand
Ameeksha Dilchand is a beauty queen with a big heart. After being crowned Miss Mauritius in 2012, representing her country as Miss Universe Mauritius, and winning the Miss Friendship award at Miss International 2012, Ameeksha went on to join the NGO to help kids who suffer from Cleft lip and palate as the Operation Smile Ambassador. If that isn't enough, she also helps raise awareness about Lupus as a member of the Lupus Alert. Follow her Instagram and Facebook accounts to follow her family life, career, and charitable contributions, and follow her on Twitter where she supports and tweets about her favorite football team, Manchester United.
Bessika Bucktawor
Born in Triolet, a village in the north of Mauritius, Bessika Bucktawor was catapulted to fame when she won Miss Mauritius 2016. She went on to win an Elegance award in 2016 as well as Miss World Mauritius in 2017. She's an avid yogi that shares her practice and poses on Instagram along with modeling gigs and snippets of everyday life. Follow her Facebook for occasional updates on contestants and winners of Miss Mauritius and other pageants near and dear to her.
Krishna Athal
Krishna Athal is out to make change in the world, and he's off to a great start. He's received various leadership initiative awards from national and international institutions, was chairman of the National Youth Council of Mauritius, and is author of the bestselling book Ramrajya: An Enigmatic Leader's Rise to Power. Currently, he's the Founder and Executive Director of YUVA, one of the largest and most active youth-led NGOs of Mauritius and Africa. His website details his mission and wish to achieve a new generation of thinkers among millennials both in Mauritius as well as across the world. You can also follow him on Facebook and Instagram for frequent updates on his work and travels.
Anne Murielle Ravina
As Miss World Mauritius 2018 and 2nd Miss World Africa, Anne Murielle Ravina knows a thing about beauty and fashion, and shares both on her Instagram and Facebook accounts which are followed by thousands of her loyal fans. But she's also an ambassador for Global Rainbow Foundation and Rodrigues Tourism, so it's only fitting that her social media platforms cover fashion, beauty, travel, her support of education and training for people living in poverty and suffering from disabilities.
Nalini Aubeeluck
Director and choreographer of the Nalini Dance Group, Nalini Aubeeluck became well known in Mauritius presenting the weather forecast on national television. Since then, she's become a frequent host for several successful shows and in March 2009, she launched her clothing line, called FAITH. As one of the 100 Most Influential Women in Mauritius, Nalini enjoys a faithful social media following, with over 22k in Facebook likes and follows, and over 2,700 Instagram followers. Check out her self-titled website for event and wedding planning in Mauritius, including video production, photography, venues, helicopter arrival, make-up, and hair.
Nirvan Pagooah
Nirvan Pagooah is an award winning Senior Software Engineer living life to the fullest on the beautiful island of Mauritius. He shares his passion and fascination for front-end development, UI/UX design, print, logo and digital product design on his popular blog and frequently updates his Twitter and Instagram accounts, documenting his travels and appearances in Mauritius.
Ramsing Nadeem
Based in Beau Bassin, Mauritius, Ramsing Nadeem is the creator of Beauty of Mauritius, a social media platform that showcases the breathtaking beauty of Mauritius through a collection of photos authored by a growing group of photographers. Have a great shot of the island? Send it to her and you might be featured! If Mauritius wasn't on your travel bucket list, it will be after subscribing to her Facebook, Twitter, and Instagram pages, we promise.
Sebastein
Sebastein is a photographer that started his social media platform, Bastienhere Photo, as a way to share his adventures through photography. He also uses Instagram and Facebook to connect with inspirational photographers around the world. Follow him for stunning lifestyle and aerial landscapes of Mauritius, New Zealand, and Australia.
Who are your favorite influencers from Mauritius?
If we missed any of your favorites, we would love to hear from you! Let us know on Facebook who should be added to the list.