Innovative Wellness Products to Achieve New Year Goals
New Year's goals help us assess what is essential in our lives, allowing us to pause and reflect on the year that has passed while also planning for the year ahead. If living through a worldwide epidemic has taught us anything, health and wellness should not be taken for granted. To improve your health, mind, and spirit in 2023 while arranging your goals for the new year, we've provided some items to help you focus on yourself.
Below we've selected innovative health and wellness products that have received excellent customer ratings. Kick off the year with a strong attitude and enriched mind. Shop health and wellness products from the US stores and deliver them internationally with MyUS.
This year, it's time to put you in first place!
Oura Ring Gen3, from $299
Rings are more and more becoming the most preferred wearable health and wellness trackers. Oura Ring Gen3 tracks your sleep, activity, recovery, temperature, heart rate, and stress with incredible precision. In addition, the rings are water-resistant and composed of robust and lightweight titanium, making them appropriate for day and night wear.
"Oura helps me understand my body so I can keep the momentum going and work on my skills to prepare for the next one," comments Katie Ledecky.
Hypervolt 2 Pro, $329 (was $399)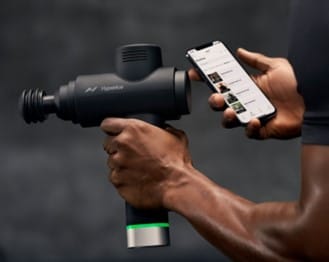 The Hypervolt 2 Pro is a powerful percussion device that provides deep-penetrating comfort to tight muscles for professional athletes and anybody who needs massage treatment for muscle recovery. The Hypervolt 2 Pro, with five customizable settings and a new digital dial, helps you recover faster so you can go back to doing more of what you enjoy.
"I've used every model of Hypervolt, and this one is out of this world. Having 5 speeds is a game changer, the percussion is so smooth, and I love the changes made to the attachments, truly the best in the game!!" comments Holly A., in their five-star review.
The Farmstand, from $399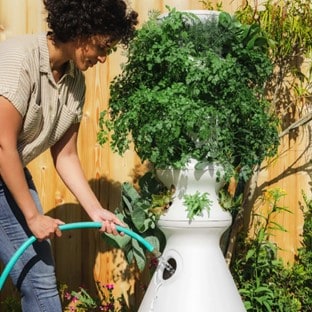 Eat healthier, eliminate waste, and protect your wallet with this self-watering, self-fertilizing system designed for everyone who wants to grow their food. Select your desired Farmstand size (from 12 to 36 plants), select your growing location (indoors or outdoors) and enjoy your new unique vertical garden. They offer a 90-day risk-free guarantee and promise that you will use 98% less water than traditional gardening.
"I'm a full-time rv'er and my experience has been indescribable. I'm now enjoying gardening without the guesswork, watching the intimate small details like the opening of leaves of the plants. It's not only economical but it is therapeutic, relaxing, and exciting just to name a few. I'm looking forward to an exciting new journey," remarks Delbert R.
RENPHO Eye Massager, $51.79 (was $129.99)
Renpho's eye massager is an excellent product that aids in regulating the metabolism of the eyes and helps you relax and rejuvenate after a long and exhausting day. The rhythmic percussion massaging feature and the built-in Bluetooth-supported speakers are combined in the portable design so you can enjoy your relaxing massage wherever you are.
"I got myself this handy gadget for Christmas this year. Used it for the first time this afternoon as I settled down for a nap after being up all night... I have found it may be easier to fit the eye mask to your face & eyes first stand have a friend or partner hit the power button for you. Once you are comfortable, take a few deep relieving breaths and enjoy the soothing music and heated eye mask as if compresses and releases the stress and tension around your sinus cavities," states Alexis Caldwell.
52 Stress Less & Self Care Cards, $13.95 (was $19.99)
Suppose you're seeking a self-empowering strategy to deal with a stressful environment. In that case, these 52 positive affirmations cards teach you valuable exercises and techniques for mindfulness, meditation, anxiety relief, stress management, self-care, and relaxation that you can use for the rest of your life. These practical exercises are easily remembered and may be utilized at work, office, school, commuting, counseling, yoga, at your desk, and even before sleep. A team of therapists, counselors, and yoga experts created these cards to help you halt your stress reaction and relax.
"I love that these have mindful activities on them to follow. Much better than the decks out there that have motivational messages or quotes on them. These activities are thought-provoking and help with visualization to calm your mind," says MC Rowbotham.
ProsourceFit Acupressure Mat and Pillow Set, $27.85
ProsourceFit Acupressure Mat and Pillow Set is great for reducing muscle tension and back pain by simply lying on the mat for around 15 minutes. While massaging thousands of pressure points in your body helps release endorphin that blocks pain and relaxes the muscles in your back, neck, and feet to massage pressure points that help release tight muscles and relieve stress. We recommend that you use it before bedtime to improve your sleep.
"I'm extremely happy with this purchase. I have been wanting a name-brand one, but for $200-300, I couldn't justify it. So glad to find this purchase for 1/10 of the price. It looks exactly the same, but the inside padding is different in the name-brand one. It is well worth it! The back pain lessened immediately! Definitely recommend!" exclaims Miss Mouse.
Ninja Warrior Obstacle Course for Kids, $169.98
Let this year be an excellent opportunity to focus and use a bit of fun to achieve great health results for kids. This 65ft Obstacle Course for Kids is specially designed for kids over 4 years old that will enjoy more than 10 obstacles while playing outside. This is a great product to improve strength, balance, and problem-solving skills. Spend quality time with the kids in your life in the most fun way possible. Besides, it will do wonders for both physical and mental health.
"I got this for my nephew as a Christmas gift and he told me he really liked it, it's making his free time at home more exciting, especially when he likes to do a lot of exercises, it keeps him busy without having to leave the house, definitely got it's worth by the use of a young teenager, would recommend anyone who is looking for a youth's favorite," remarks Kent-Ou.
What will be your health and wellness priorities this year? Share your thoughts with us on social media. Sign up to shop your favorite products easily and have your packages delivered wherever you are with the most affordable shipping rates with MyUS!
Learn more about how MyUS works and become a member today
We always aim to bring our members the best shopping options available, but some of the products featured in this post may have purchase restrictions. Please visit the merchant's terms of sale, shipping guidelines, and terms and conditions to find more information.