Shipping US Brands to Canada: How MyUS Helps
As seen in SHE Canada's Fall 2015 Print Edition, pages 54 & 55. Pick up a copy today!
Friya Kumar of SHE Canada asks how MyUS can help shoppers ship US brands to Canada.
Excerpt of interview below. To read the whole interview, please pick up a copy of SHE Canada.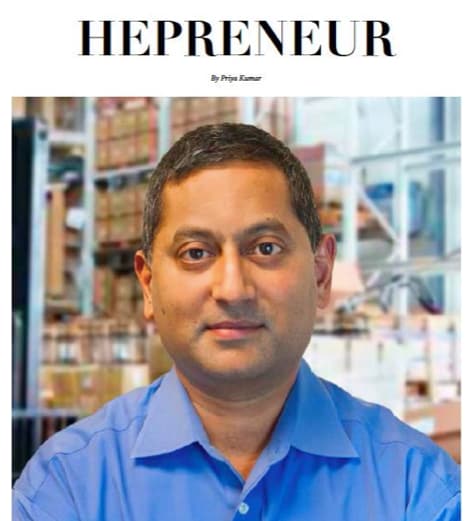 MyUS
Shop to your heart's content online without the annoying fees of being an international customer.
Online shopping can be a huge time saver. But sometimes as Canadians it can feel like we're being short-changed. If you're a regular on US-based ecommerce sites, there's nothing more annoying than going to checkout with a full online cart only to discover that as an international shopper, the shipping, duties and other hidden costs have been tacked on. These overinflated costs not only take the convenience out of online shopping, but are also a huge bummer.
Enter MyUS. Founded by Ramesh Bulusu, MyUS offers Canadians a shipping solution that cuts out the additional fees of being an international shopper. It's a membership-based service that ships directly from their US distribution center. Customers are able to club purchases and packages to be forwarded to their front door, offering savings of up to 80%.
Q&A With Ramesh Bulusu, MyUS.com CEO
She Canada: "As an avid online Shopper based in Canada, what are the benefits of using MyUS?"
Ramesh Bulusu: "Guaranteed upfront transparent pricing that takes away unpleasant surprises associated with the dimensional weight phenomenon, which is so common in international shipping.
Superior repackaging of products to ensure customers do not pay for "air" or unnecessary fillers that are very common in typical retailer's packaging boxes, which makes the size of the box significantly higher than necessary. Repacking drives superior savings to the consumer.
Consolidation: A consumer who shops multiple US retailers can use MyUS to consolidate all their purchases into one box and save up to 80% versus shipping directly from each of the retailers"...
...be sure to read the full article in the Fall Edition of SHE Canada!