10 Candles To Help You Destress
Feeling stressed or burned out? Candles can help you relax and feel rejuvenated, especially when they're made with soothing ingredients designed to help you de-stress and unwind.
We've rounded up 10 of our favorite candles to enjoy after a busy day. Shop your favorites from US websites and ship them worldwide in as little as 2-4 days with MyUS.
10. Manu Home CALM Lavender Scented Aromatherapy Candle $15
Achieve zen-like calm with this Lavender aromatherapy candle that complements any decor. Buy one here.
9. Focus + Patience Candle $13
Focus and patience? Yes, please! This clean-burning candle from Chesapeake Bay will nurture your mind and body with noble earthy fragrances that will help slow down the pace of life and add a sense of patience. Buy it here.
8. De-Stress 100% Pure & Natural Soy Candle $9
Relax your mind and body with this ultra-calming De-Stress candle made with the pure essential oils of grapefruit, lavender, and ylang-ylang. Buy one here.
7. Tiki Beach Candle $25
Take a mental walk on the beach! The Tiki Beach candle, fragranced with warm vanilla musk, orchids, and toasted coconut, will help you feel like you're in a cabana on the beach with your toes in the sand. Buy one here.
6. Lavender & Cedarwood Relax Candle $25
The relax candle from Bath & Body Works has combined lavender with woodsy cedarwood for a comforting scent you'll love. Buy one here.
5. Odor Eliminating Lavender Green Tea Candle $22
If you have pets, you know that lots of candles only add scent, without eliminating odor. This 100% natural soy wax candle from One Fur All eliminates unpleasant smells and odors and leaves your home smelling fresh with the light and clean scent of lavender green tea. Buy one here.
4. La Jolie Muse Blue Lotus Scented Candle $9
This travel candle with the clean scent of blue lotus and notes of lemon and lily of the valley is the essence of luxurious meditative living! Buy it here.
3. Vanilla & Patchouli Comfort Candle $25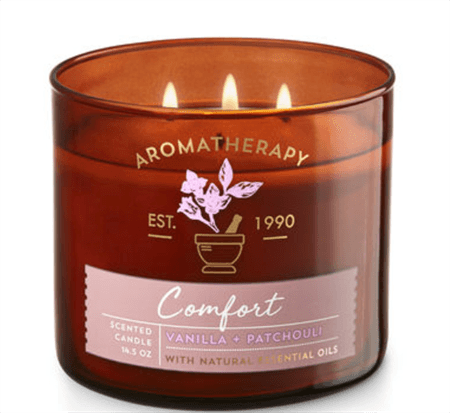 With vanilla absolute and patchouli oil, this candle will fill your space with a warm comforting scent that won't overwhelm your senses. Buy it here.
2. Calming Candle $13
This calming candle made with sage, chamomile, lavender, and thyme is perfect for relieving anxiety, tension, and stress. Buy one here.
1. Eucalyptus & Spearmint Stress Relief Candle $25
The stress relief candle from Bath & Body Works has become a best seller for it's wonderful, relaxing scent that can fill an entire room and it's super long burn time. Buy it here.
We strive to bring our members the best shopping options available, but some of the candles featured above could have purchase restrictions, or may not take every form of payment. Find more information by viewing merchant's terms of sale, shipping guidelines and/or terms and conditions.