Awesome Gag Gifts to Buy for April Fools' Day
April Fools' Day is just around the corner, and the time to start planning your pranks is now! To get you started, we've rounded up a great variety of gag gifts and pranks, suitable for any age.
Pick out your favorite pranks and purchase online now with MyUS to ship them internationally for cheap.
10. Tiny Hands "Little Tricks up Your Sleeves" Toy $11
Prank your friends and family with these realistic looking "tiny" hands - endless fun for kids and adults alike! Buy a pair here.
9. Potty Golf $9
The ultimate gag gift for golfers, this putting green lets you practice putting while you "take care of business" in the bathroom! Buy it here.
8. Shocking Snake Trick Chip Can $12
A trick snake popping out of a potato chip can is a classic prank, and surprisingly, it never gets old. Use the prank can that comes with the snake, or swap it out with a real chip can for authenticity. Buy it here.
7. Whoopee Cushions $24
Have a brother or sister you want to prank? These self inflating whoopee cushions will do the trick - and since they come in a set of three, you'll never run out of fun! Buy it here.
6. Yes, No, Maybe and Sorry Talking Buttons $19
Break up boredom in the office or make your kids laugh after school with these talking buttons that each have 10 different responses - hilarious! Buy a set here.
5. Fake Cockroaches $5
Fake roaches freak out just about everyone, and these are so realistic you may just spoof yourself! Buy a set of 12 here.
4. Joke Box $16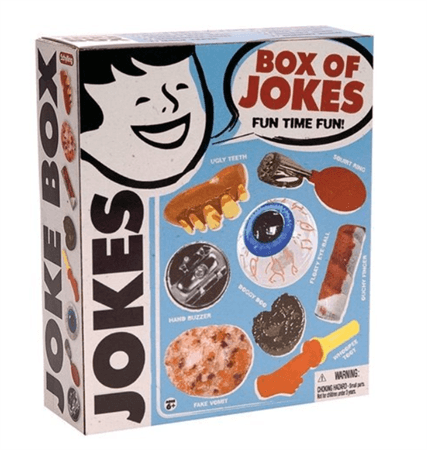 Kids will love this jumbo joke box filled with 8 classic gags they can't get enough of including goofy teeth, a hand buzzer, floating eyeball, vomit, a bandaged finger, fake blood with finger pin, doggy stool, and fart whistle. Buy it here.
3. Multi Voice Changer $8
Everyone will love using this electric voice synthesizer to create hundreds of different sound combinations for hours of fun and laughter. Buy it here.
2. Top Banana Award Trophies $10
Great for parties, gag awards at work, or just making kids smile, these top banana award trophies don't monkey around! Buy a set of 12 here.
1. Fake Mold Sandwich Bags $7
Whether you want to gross out your kids or protect your sandwich in the lunchroom fridge at work, these sandwich bags with fake mold are perfect. Buy a set of 40 here.
We enjoy helping our members find the best April Fools' Day items available, but some of the pranks and gag gifts featured above could have purchase restrictions, or may not take every form of payment. Find more information by viewing merchant's terms of sale, shipping guidelines and/or terms and conditions.