Best Gourmet Slow Cookers
Do you miss your grandma's delicious meals? Of course, it's not impossible to prepare the nostalgic specialties in your kitchen too. But, unlike the traditional pot that will occupy your stovetop, convert your kitchen into a sauna, and demand your utmost care and control, an excellent slow cooker will deliver such flavorful meals without the exhaustion of preparing the meal. For us, the slow cooker is the best help you can get in the kitchen. This independent cooking appliance will prepare your food at a low and steady temperature, leaving you free to do other things.
Prepare your favorite recipes for lunch and dinner with a new slow cooker. Surprise your loved ones with juicy chicken, creamy soups, flavorful stews, nice slow-roast beef, and everything in between. We've selected top-rated brands that got stellar reviews from customers. So pick your next kitchen buddy now, and ship it across the globe with MyUS. Shop with MyUS to benefit from the fastest delivery times and the lowest international shipping rates.
Hamilton Beach 4-Qt. Programmable Slow Cooker, $54.99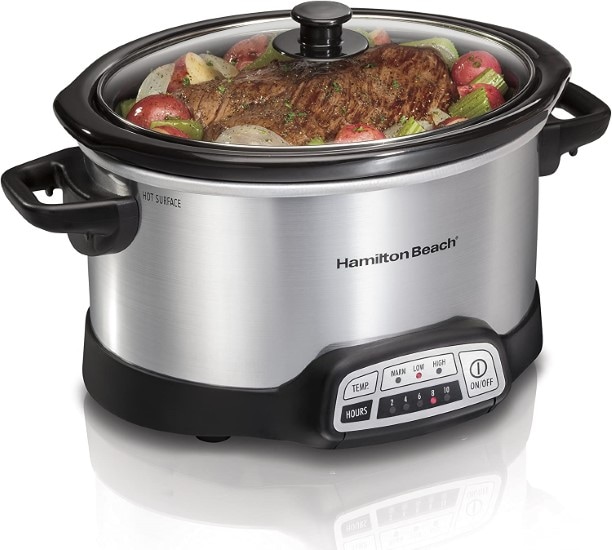 Dinner is ready when you want it to be ready. With flexible programming options, Hamilton Beach Programmable Slow Cooker prepares delicious, home-cooked meals with simple steps. Simply put a few ingredients in the crock, turn it on, and let the magic happen. Its 4-quart capacity and oval shape are perfect for a small family. There is no need to stir with a selection of temperature and cooking time combinations. Once cooking time is up, the slow cooker automatically switches to warm. The cleanup is as easy as the cooking process; the lid and the crock are easily detachable and dishwasher-safe.
"Our very old, smaller, slow cooker finally kicked the bucket. I bought this one to replace it and LOVE IT! It's not super fancy, but who needs wifi for a slow cooker anyways? My bigger slow cooker is the same brand, but not as fancy/new. I love that it has a timer and goes to warmer after the allotted time. It's easy to use and easy to clean. Definitely recommend," writes LNT in CA.
GreenPan™ Slow Cooker, $249.95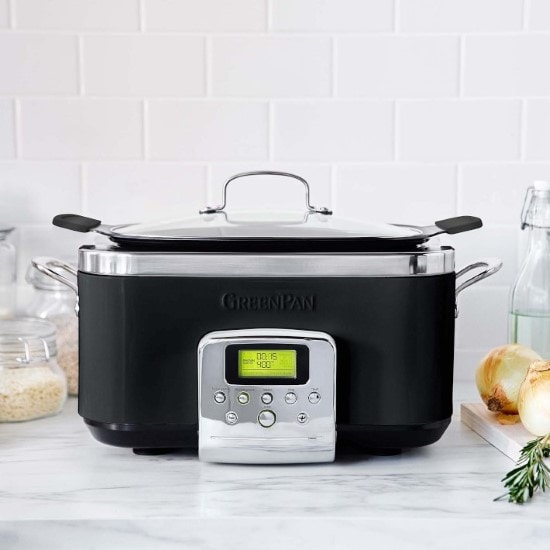 All at the touch of a button, this sleek, stainless-steel slow cooker from GreenPan™ will do marvels in the kitchen. What we like the most about this slow cooker are the browning and steaming functions in a stylish combination. In addition, the latest Thermolon™ Volt interior coating technology provides flavorful PFAS-free meals. Monitor five slow-cook modes on the modern LCD display and keep your dish warm for up to eight hours.
"Fantastic cooker. Extremely versatile and well-built. That's what I look for when purchasing anything. Good build quality. And GreenPan delivers. We love our slow cooker. Probably the most surprising thing we learned… it can steam. Even has a steam rack. I love it. Wish I had found this sooner. Highly recommended," comments Gary George in their five-star review.
The Pioneer Woman Vintage Floral 7-Qt. Programmable Slow Cooker, $44.99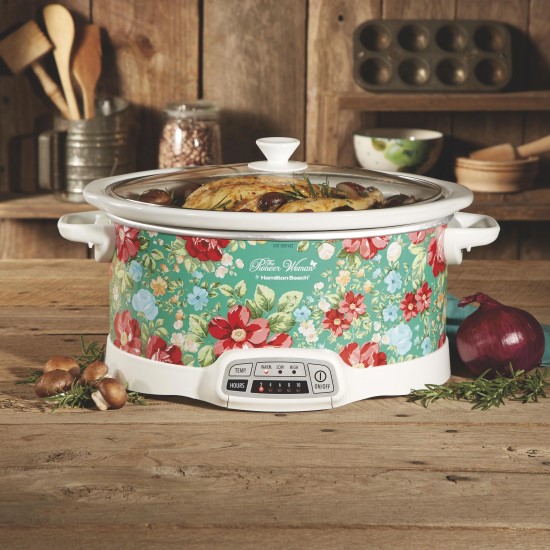 If you are a visual person, a splash of color and floral elements will do wonders in your kitchen. So meet the star of your next dinner party: The Pioneer Woman Vintage Floral 7-Quart Programmable Slow Cooker. This charming appliance features five cooking times from 2 to 10 hours and a high or low-temperature setting. From spicy ribs to your favorite desserts, the 7-quart capacity and oval-shaped stoneware will make your dream recipes come true.
Rose says, "I really like the size of this product. It worked out great and made a whole family meal, plus we had leftovers for the next day. Very easy to use."
Elite Gourmet MST-900D 8.5-Qt. Digital Programmable Slow Cooker, $49.99 (Was $57.99)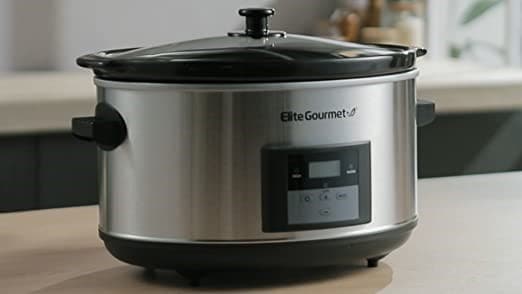 Elite Platinum 8.5-Qt. Programmable Slow Cooker is designed for a family that doesn't want to yield to the hardships of a busy lifestyle. With the 20-hour advanced programmable timer, your meal is ready when you want it to be prepared. Delicious stews, cozy casseroles, creamy soups, and soft pot roasts give your meals the time and love they deserve—the super-sized 8.5-qt. Crock pot is a perfect fit for a big and always-hungry family.
"I purchased this because my husband is deployed, and I wanted crock pot meals but not to clean the giant crock pot we have. This little one has just enough space for 2-3 portions so I can have dinner and some leftovers. I imagine this would be great for a dorm situation as well," recommends Maddison.
Cuisinart PSC-650 6.5-Qt. Programmable Slow Cooker, $89.99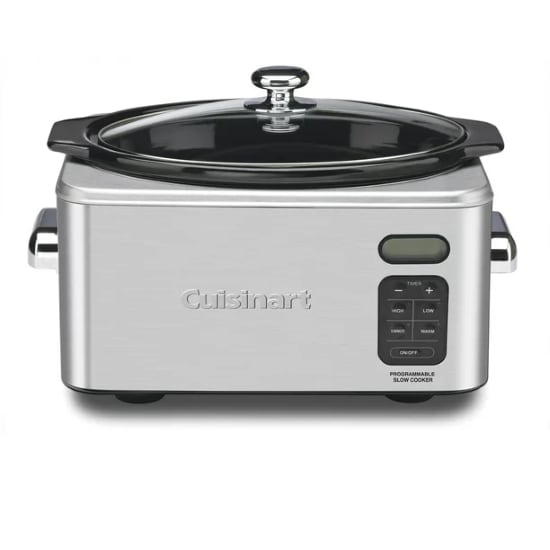 With a 24-hour programmable cook time, three cooking modes, and an automatic shift to Keep Warm, this family-sized Cuisinart Slow Cooker will be your favorite kitchen appliance on Day 1. The removable 6.5- quart oval ceramic cooking pot is designed to prepare your grandma's recipes with complete care and deliciousness.
G. Cabato is one of many satisfied customers. They state: "What's not to love? The sleek design, roomy crock, cool-to-the-touch casing, and ease of operation quickly won me over, and with all that, even the food comes out tender and flavorful! Very pleased with this purchase, and Cuisinart quality."
KitchenAid Slow Cooker, $142.62
Another option for large households is the KitchenAid® 6-Quart Slow Cooker. Thanks to savory dishes and crispy sweets, dinnertime will become your favorite time of day. Simply put the ingredients in when you can, and your meal will be ready for you, thanks to the 24-hour programming. All you have to do is lift the lid.
"Use it all the time. Much larger than the normal slow cooker which is good," remarks Dianne.
Sunvivi Triple 1.5-Quart Slow Cooker Buffet Server, $105.99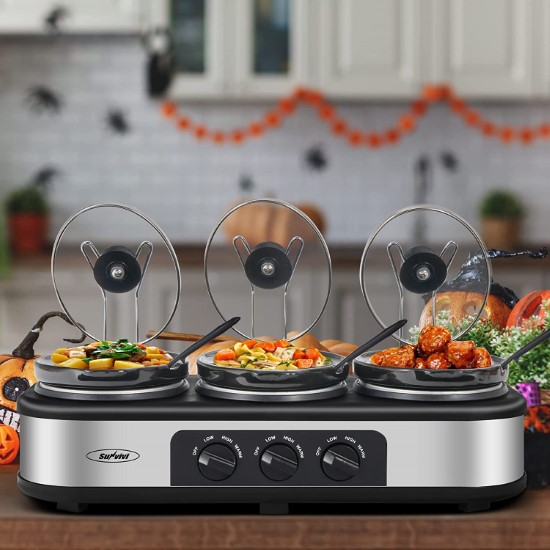 Game night with friends or family? Sunvivi Slow Cooker Set with three 1.5-quarts removable crocks will prepare the best side dishes just in time. Impress everyone with your cooking management and keep the food warm during the whole party. Each crock has its heating element with three settings, and the amount of creativity you can put into your dishes is fascinating.
"This is the perfect size for potlucks, family gatherings, etc. I had a taco bar family night. I put beef taco meat in one crockpot, shredded chicken meat in the middle one, and refried beans in the third crockpot. It's so streamlined and saves room from having different pots/pans on your stove and counter. I initially turned it on high, got the meat hot, then placed it on the warm setting, and it did a wonderful job!" exclaims AJ
What meals would you prepare with your next slow cooker? Share your recipes with us on Facebook and Instagram. Then, shop your next kitchen marvel with MyUS and start cooking wherever you are next week!
Curious about how? Check how MyUS works, get your personal MyUS address, combine your items and benefit from fast delivery rates today!
We always aim to bring our members the best shopping options available, but some of the products featured in this post may have purchase restrictions. Please visit the merchant's terms of sale, shipping guidelines, and terms and conditions to find more information.