10 Best Wrinkle Free Shirts for Men
Wrinkle free dress shirts make it easy to look fabulous. And forget the stiff and uncomfortable choices from years ago - these shirts feel as good as they look, in premium materials and the latest colors. Shop our favorites below and remember, with MyUS, you'll never pay US sales tax, which saves you up to 7% at checkout!
No More Ironing with These Shirts
Never worry about going to the dry cleaners last minute to clean and iron your shirts. No one has time for that! This list provides you with high-quality shirts at some of the best prices online.
10. Non-Iron Solid Dress Shirt by Nordstrom $39
This 100% cotton dress shirt by Nordstrom has a traditional fit, button-down collar and is designed to require little to no ironing. Available in four colors, we love the saturated color of Blue French. Buy it here.
9. Trim Fit Non-Iron Dress Shirt by Tailorbyrd $90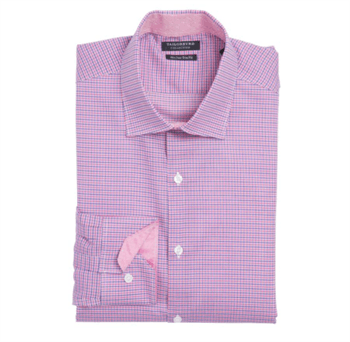 Make a statement (and leave the iron in the closet) with this fuchsia patterned trim-fit shirt from Tailorbyrd. Buy it here.
8. Trim Fit Non-Iron Graphic Stretch Dress Shirt by Calibrate $70
The stretchy, easy-care cotton of this shirt makes it super comfortable, the unique pattern looks great, and it comes out of the dryer ready to wear. Buy it here.
7. Classic-Fit Non-Iron Stretch Check Shirt by Banana Republic $80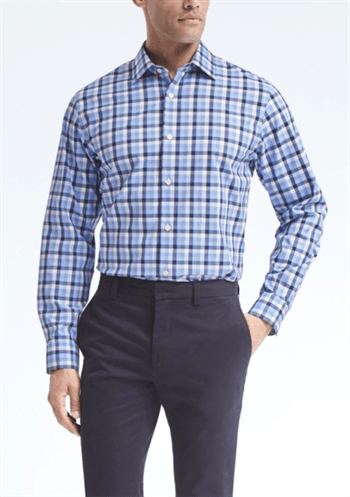 Banana Republic has a full line of men's dress shirts with a non-iron finish. We love this checkered pattern shirt with a classic fit and look. Buy it here.
6. Classic-Fit Non-Iron Stretch Gingham Shirt by Banana Republic $80
Gingham shirts are always a great fashion choice and the natural stretch and non-iron features of this navy gingham shirt will make it an instant favorite. Buy it here.
5. Non-Iron Candy Stripe Dress Shirt by Brooks Brothers $92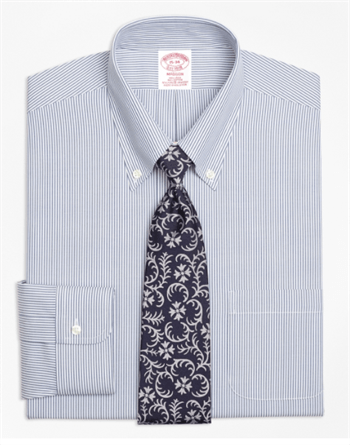 This dress shirt is specially treated to resist wrinkles, it's made from American-grown Supima cotton broadcloth with just enough stretch for comfort and it features the signature 6-Pleat shirring that Brooks Brothers is known for. Buy it here.
4. Infinite Non-Iron Slim Fit Dress Shirt by Calvin Klein $100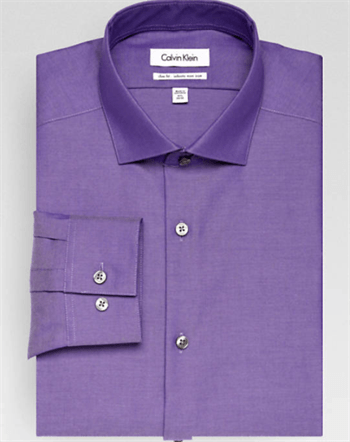 Made of crisp, non-iron cotton, this purple dress shirt from Calvin Klein pairs beautifully with everything from jeans to suits. Buy it here.
3. Blue & Berry Check Slim Fit Dress Shirt by Esquire $90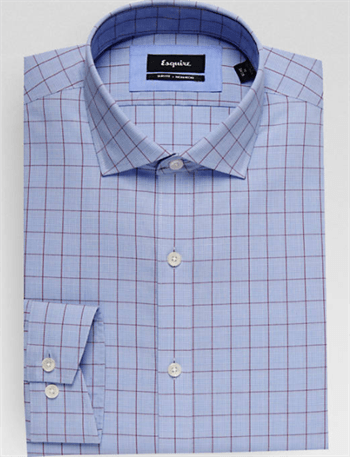 Love a crisp, neat appearance without pulling out the iron? This non-iron dress shirt from Esquire looks great without the extra work - just pull it from the dryer and go! Buy it here.
2. Marc Anthony Slim-Fit Non-Iron Stretch Dress Shirt $60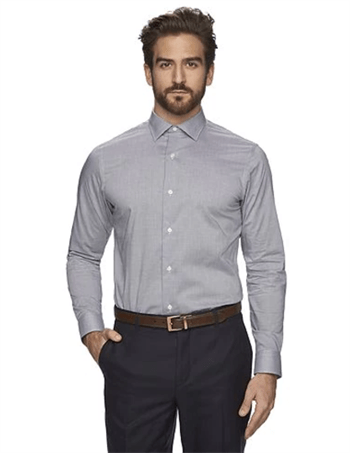 With a contemporary look and slim fit, this dress shirt from Marc Anthony looks great, requires little to no ironing and has a spread collar to accommodate wider tie knots. Buy it here.
1. Men's Solid No Iron Supima Oxford by Lands' End $50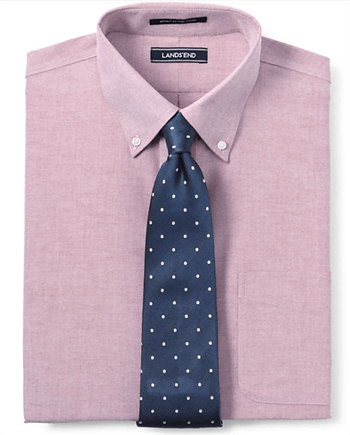 Need to stock your closet with work shirts that are easy-care and no iron? This dress shirt from Lands' End has classic dress-shirt tailoring in 100% cotton that stays smooth for 30 washes and if you buy two or more, you save 5 US dollars on each shirt. Buy them here.
We love bringing our members the latest styles and best deals, but some dress shirts highlighted above could have purchase restrictions, or may not take every form of payment. Please check the merchant's terms of sale, shipping guidelines and/or terms and conditions for more information.