Decorations and Dishwares for the Perfect Ramadan
With the start of Ramadan coming quickly (5 May), it's time to get your home ready for all the festivities. Bring a festive mood to your home and holiday table with tableware, serving dishes, and décor that honors this special time of year.
We've rounded up a great variety of our favorite decorations and dish wares from US websites, and can all be shipped quickly with your MyUS membership. Even more exciting is that you'll never pay US sales tax on your purchases!
LED Star & Moon Curtain String Light Set $22
Light up your home this Ramadan with this LED Star & Moon Curtain String Light Set. With 138 LED beads and measuring 102inches across. it has a total of twelve star ornaments. Use them to decorate your front door and entryway or dining room. These would also for decorating a child's bedroom and getting them excited for the upcoming events of the holiday.
Ramadan Dinnerware $134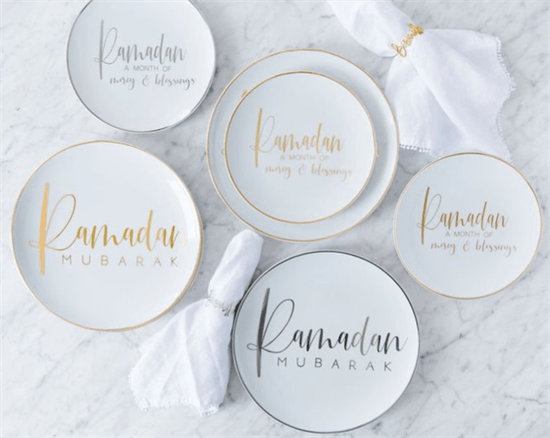 For an elegant look to your Ramadan dinner table, we love this handmade Ramadan Dinnerware Collection. Each 12 piece porcelain place setting includes six dinner plates and six salad plates in 24K gold or Platinum trim, reminding us all that "Ramadan a month of mercy and blessings," along with dinner plates wishing you a "Ramadan Mubarak."
Arabic Napkin Rings $35

How about table décor you can use for Ramadan as well as year-round? These gorgeous Arabic Napkin Rings are a timeless addition and classic touch to any dinnerware collection and just perfect for Ramadan. They also provide a wonderful reminder to say "Bismillahir-Rahmanir-Raheem" or "In the name of Allah, Most Gracious, Most Merciful" before eating. Made of copper and sold in sets of six, you can choose between gold or silver at checkout.
Ramadan Party Decorations $15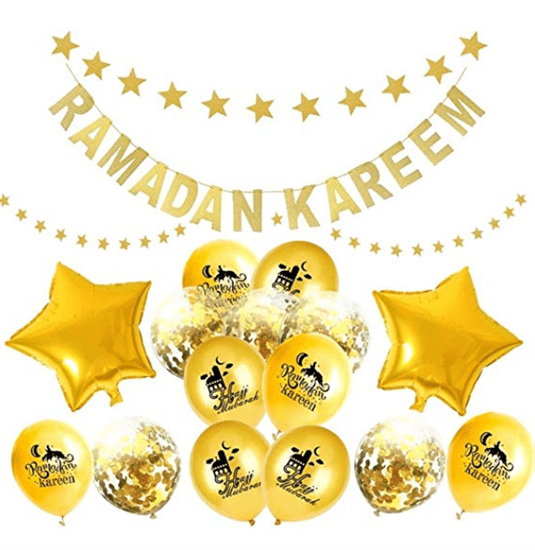 Short on time or have a tight budget? Give a festive feel to your home or party space in an instant with these Ramadan Party Decorations. The set comes with a Ramadan Kareem banner, two star balloons, five Gold Confetti Balloons, eight balloons, and two star banners and also makes the perfect backdrop for a Ramadan photo booth.
Ramadan - Eid Mubarak Photo Booth Props Kit $15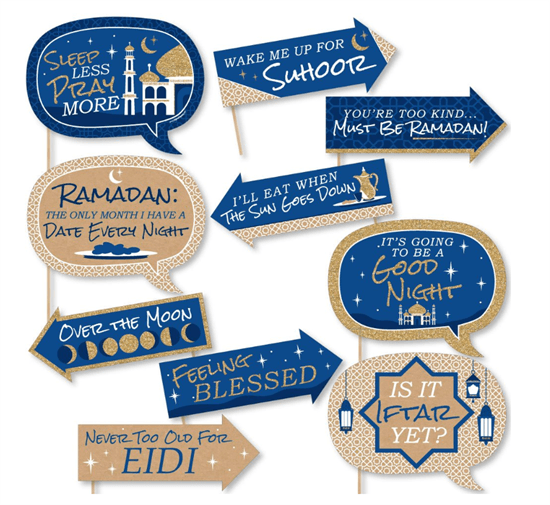 Speaking of photo booths, if you'll have one during your Ramadan celebrations, you'll need some fun props to get your guests in the party spirit! This Photo Booth Props Kit for Ramadan - EID is full of eye-catching props with fun sayings that will make your photo booth memorable. Made of sturdy card stock paper, these props are professionally cut and printed and include 10 wooden dowels and stickers for easy assembly.
Ramadan Mubarak Serving Platter $30
Whether you're serving appetizers or bringing out the main dish of your meal, your guests will enjoy these handmade Ramadan Mubarak Serving Platters. They are made from a revolutionary ThermoSāf® Polymer that's microwave and dishwasher safe, BPA-free and safe for use in convection or conventional ovens, so they're super functional as well.
Ramadan Kareem Party Favor Boxes $15
Sending your guests home with party favors or something sweet? These Ramadan Kareem Party Favor Boxes will add a special touch to anything you wrap up. They come in packs of 10, 20, 25, 30, and 50 and are handmade to order from high quality 250 g paper. You'll get an approximately equal number of red boxes with gold sleeves, gold boxes with navy blue sleeve, and gold boxes with white sleeves.
We always aim to bring our members the best shopping options available, but some of the products featured in this post may have purchase restrictions. To find more information, please visit the merchant's terms of sale, shipping guidelines and/or terms and conditions.