Eco-Friendly Sunscreens For All Skin Types
Everyone wants to protect themselves and their family from the sun's harmful rays. But many popular sunscreens contain chemicals that harm the delicate coral reefs found in oceans all over the world. So how do you protect yourself without adding nasty gunk to the environment?
The answer is eco-friendly sunscreens that offer broad-spectrum protection from the sun without chemicals that are harmful to aquatic life. To get you started, we've rounded up the best eco-friendly sunscreens on the market, and each one can be shipped in as little as 2-4 days from US websites with MyUS.
Banana Boat Simply Protect Sport Sunscreen Spray $8
Simply Protect Sport Sunscreen Spray from Banana Boat is made with 25% fewer ingredients, cutting out oxybenzone and octinoxate, two ingredients that are believed to cause coral bleaching. This reef-safe SPF 50+ formula offers protection from harmful UVA and UVB rays and stays on through sun, pool water, ocean water, wind, sweat, sand, and even 100-degree heat!
"Used this in Hawaii because it was on their reef safe list. Loved it so much as we snorkeled a lot this trip. It was easy to put on and did not give you the yucky goopy feel. Wore it all day and felt like we had no sun screen on but did not even turn pink." says missoulamouse in their positive five-star review.
Reef Repair Suncream SPF 30 $15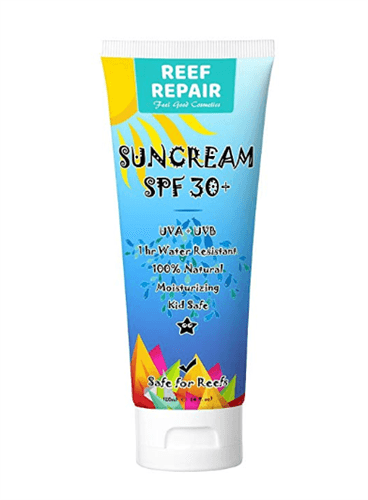 This SPF 30+ Suncream from Reef Repair provides SPF 30 protection for adults and kids ages six months and over, and is 100% reef safe and nontoxic to aquatic plants and animals, including coral reefs. Made with natural and organic ingredients that are gentle on the skin, this water-based formula goes on easy and spreads evenly without leaving a white residue.
"This is a fantastic cream! Not only is it reef-safe, it performs super well. Goes on like most sun screens you might be familiar with. Rub it in well and you're good to go for beach chilling, snorkeling, or diving." says Aboud in their product review.
Badger Unscented Broad Spectrum SPF 30 Zinc Oxide Sunscreen Cream $14
Looking for an eco-friendly sunscreen that offers powerful protection while remaining gentle enough for sensitive skin? Try Badger's Unscented Broad Spectrum SPF 30 Zinc Oxide Sunscreen Cream. Made with only 5 ingredients and no added fragrances, it suitable for all skin types, including sensitive skin, is reef-safe and blocks the sun's harmful rays with SPF 30 through up to 40 minutes of swimming, hiking, biking, and other activities.
"Badger sunscreen is the BEST!! My kids have super sensitive skin so we spend a lot of time vetting our products that we use in their skin. This one is highly righted by EWG and despite the skin issues we have (very severe eczema), this has always been not only non-irritating, but actually helpful." says Chelsea Hibbard in her Amazon product review.
All Good Sport Sunscreen Lotion SPF 30 (2-Pack) $29
Lightweight, non-greasy, and water resistant for 80 minutes, All Good's Sport Sunscreen with SPF 30 offers broad-spectrum protection while remaining safe for coral reefs, so you can enjoy the ocean without adding damaging chemicals to the water.
"I tried a few of the ocean safe sunscreens and this one has, thus far, been the best. " says Cassie in her five-star review.
Stream2Sea Sunscreen for Body SPF 30
Stream2Sea mineral sunscreen for body is a high performance mineral-based sunscreen that protects your body while preserving the ecosystems you love. It's a non-greasy, reef-friendly formula that won't burn your eyes, provides broad-spectrum SPF 30 protection, and remains water-resistant for 80 minutes of swimming or activity. Stream2Sea also offers Tinted Sunscreen for Body and Sunscreen for Face and Body!
"I love this sunblock! Not only do you feel good because you're keeping the ocean safe, but it feels light. It's not greasy and it works so well!" says Hannah Lassen in her five-star product review.
COOLA Organic Baby Mineral Sunscreen $36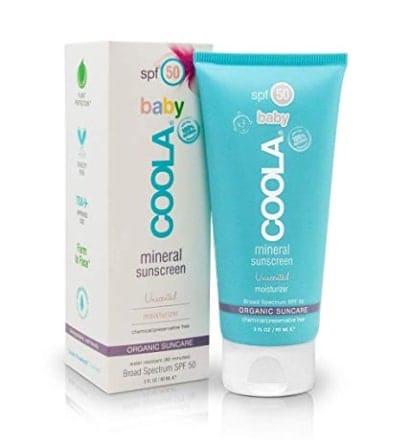 Looking for an organic, reef-safe sunscreen for baby? Look no further than COOLA Organic Baby Mineral Sunscreen. Unscented, water-resistant, reef-safe, and organic, this SPF 50 sunscreen has everything you want without any of the chemicals that can irritate sensitive skin. Safe for babies six months and older.
"I absolutely hands-down love the sunscreen! It's hard to swallow spending almost $40 on a small tube of sunscreen, but it is worth it! I live in the islands and this is the only brand that I will use for myself and my baby." says RJ in their glowing review.
Raw Love All Natural Mineral Sunscreen SPF 35 $18
Made in Maui, Hawaii, USA, Raw Love All Natural Mineral Sunscreen offers SPF 35 protection in a reef and snorkel safe formula that's water resistant for 40 minutes. It goes on white but rubs in clear, and is suitable for any age and activity in or out of the water.
"For a all natural sunscreen it works awesome. Goes on a little thick but fades in a few minutes. Love it. Great on your skin and non toxic to the reefs." says brandon burns in his product review.
Surface Sheer Touch Spray Sunscreen $15
Surface Sheer Touch Spray Sunscreen offers reef-safe SPF 30 protection and the tropical fragrance of coconut, mango, and guava in the convenience of an easy to use spray. Even better, it's water resistant for 80 minutes!
"Best Sunscreen Ever!" says Steph E in their Amazon review.
Protect your skin and coral reefs with these US-based sunscreen brands. Shop US tax-free and ship worldwide with MyUS!
We always aim to bring our members the best shopping options available, but some of the products featured in this post may have purchase restrictions. To find more information, please visit the merchant's terms of sale, shipping guidelines and/or terms and conditions.