Fall Decorations for Your Home & Yard
Fall is the perfect time of the year to (re)decorate your home and yard.
The leaves on the trees change colors, the air gets colder with a certain crispness in it, and we replace our crop tops with cardigans.
The greatest thing of all is that you can still catch plenty of sunshine and enjoy your cup of morning coffee on the patio. This is where fall decorations enter the game – they can add that perfect warm touch to your home or yard this season.
The following are some fall decorations ideas for your home and yard that you can use to make the upcoming season more enjoyable and festive:
Rustic Farmhouse Pumpkin Décor, $13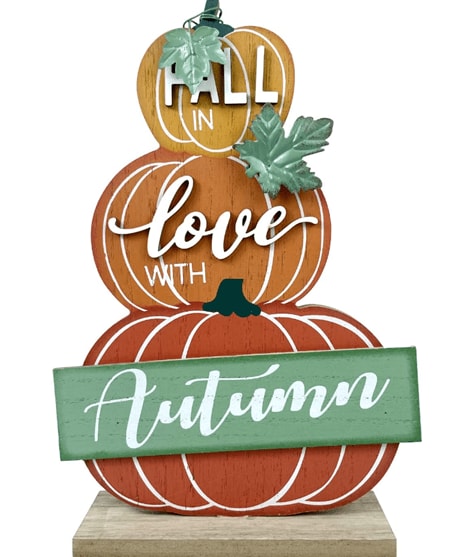 Give your home or yard a rustic, vintage vibe with this vibrant pumpkin sign. The robust wood used in these pieces is long-lasting, resilient, and does not crack, peel, or fade. You can put it on a wall or leave it to stand on its own in your favorite corner. Its 11.12" x 7.41" x 1.4" size is simply perfect for everything.
The pumpkin piece can be used for Halloween, Thanksgiving, Fall Harvest, a fall wedding, etc.
"This is really a lot nicer in real life. It looks 3D and is well made and the perfect addition to our dog's room." – JillyBCheerful
Sambosk Fall Gray Pumpkin Table Runner, $15

In the fall, we love our tables full and decorated. And what better table décor than a cute table runner with pumpkins all over it? Table runners have become very popular in recent years because they're extremely easy to combine with your favorite tablecloths and they give your dining room an elevated and/or themed look. This 13"x 72" runner will enrich your Sunday lunches with the family, and you don't have to worry if the kids get messy – a simple hand or machine wash will do the trick.
"I wanted something that would go with white/gray plates and this is perfect! Not too traditional. I plan to use it for Thanksgiving and all fall parties." – KS
Brown Flameless LED Candles, $27
As the days get shorter and darker, you'll probably want to curl up on the couch with hot cocoa and a book or a TV show. But why not make the atmosphere perfect for, say, a horror movie marathon? We suggest getting realistic, flameless LED candles that you can control from pretty much anywhere in the room with a remote. Set them to flickering or steady, dim them to your liking, and let the fun begin!
They come in sets of 3 and in 5 different colors.
"So happy I ordered these candles, I love love love them and have actually ordered more. Their brightness is perfect. I honestly haven't yet tried the remote but don't hesitate to order them you won't be disappointed. Even ordered them as a gift for my son and he loves them also! Best on the market!!!!!" – Linda Pizza.
Mainstays 14-Ounce 3-Wick Scented Candles, $10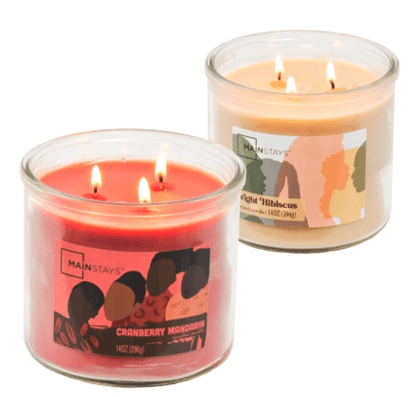 Fan of mango, hibiscus, or cranberry? Then the two scented candles from Mainstays are your must-have fall-décor pieces for the living room, bedroom, or bathroom. Bright Hibiscus will make your home smell like mango, hibiscus, and amber, while Cranberry Mandarin has a delightful aroma of cranberry, currant, and sweet orange. These 3-wick, fragrant Mainstays candles will definitely provide ambiance to any space.
"The fragrance of these is incredibly strong and soft at the same time! I adore cranberry mandarin and I definitely need more for my supplies closet!" – A.J.Sung
Faux Leather Accent Throw Pillow Cover, $20
This elegant, leather throw pillow case is ideal for use in the living room, dining room, bedroom, workplace, banquet, and other spaces where you want to feel the fall season in its full effect. The package contains 2 square pillowcases without inserts, handcrafted to provide an even, pleasant surface and increase the leather's strength and durability. Any interior will benefit greatly from the appearance, including contemporary styles, farmhouse styles, comfortable boho styles, and French country styles.
For this pair, you can choose between half or full leather and 6 different sizes.
"The covers are a beautifully rich color which is exactly what I was looking for. They are a little stiffer but they look great for decoration purposes!" – Natalie
Halloween Decorations Set, $40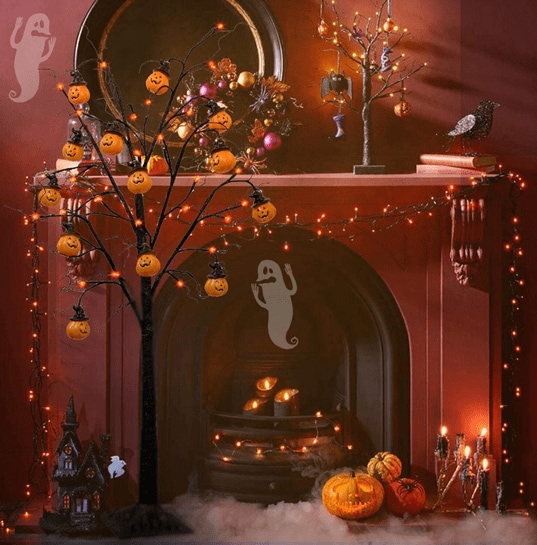 If you love spooky season and a good deal, we have the set for you! This amazing and affordable Halloween set contains a 4 ft. black tree with 48 LED lights and 12 pumpkins. You can arrange the pumpkins and lights to your liking and bend the branches and the tree into any odd or more natural shape.
Thanks to its size, the set can be transported anywhere with ease, and will make any place – indoor or outdoor – look cool and spooky.
"It is a really nice tree for the price. Got the 4 foot to put in my living room in the corner. Perfect height and size. the pumpkins do come off quite easily but could always be glued back on with a dab of Elmers." – tgreenwaldt
Tabletop Maple Tree Lamp, $17
The 24 flexible and bending branches of this maple tree decoration lamp can be readily bent to fit different styles. It comes with a built-in timer so you don't have to worry about leaving them on for too long, and the silk fabric leaves and plastic materials that are used in the ornamentation make it look realistic in terms of colors and texture.
This wonderful light set (did we mention the lights are pumpkin-shaped?) is good for both indoor and outdoor usage; however, keep in mind that while the lights are waterproof, the base is not.
"It was helpful reading reviews and being able to view photos posted by other consumers. Product is as I expected. Lights are bright and item is very pretty. I love that it's battery operated and has a timer. I'm very pleased!" – Karen T. Cook
How are you going to decorate your home this fall? What is your must-have piece for the season? Share your suggestions with us on Facebook, Twitter, and Instagram.
Check how MyUS works, get your personal MyUS address, combine your items and benefit from fast delivery rates today!
We always aim to bring our members the best shopping options available, but some of the products featured in this post may have purchase restrictions. Please visit the merchant's terms of sale, shipping guidelines, and terms and conditions to find more information.