Comfortable, Warm and Cozy: Funs Blankets For All Seasons
Finding the perfect blanket might be a myth for some, but not for those who know where to look for one. Is the material pleasant? What about the weight? Does it provide you with the desired comfort and warmth? Can you use it on different occasions?
If you are stuck with these questions, we are here to help. Below, we've selected our favorite blankets for this season. Browse a variety of materials, colors, and dimensions and customize the definition of the perfect blanket according to your needs. Once you make your selection, shop your favorites worldwide without worrying about whether the US-based shop ships to your country. Instead, benefit from having a US address – deliver your items quickly with MyUS.
Berkshire Serasoft® | Twin Plush Blanket, $19.99 (was $39.99)
Berkshire Serasoft Blanket is a year-round blanket and will keep you warm and cozy on cold winter nights or cool on warmer nights. It's designed to guarantee you a good night's sleep. Is it laundry day? Wash it together with everything else, as it does not require any specific care. Pick your favorite color and join the satisfied shoppers who recommend this item with a 4.7 rating.
"I loved the first one I purchased so much I went back and bought two more. They wash well and feel oh so soft. You will often find my Yorkies nestled atop one of the blankets," comments Lipstickjunky.
Parachute | Oversized Rib Knit Throw, $99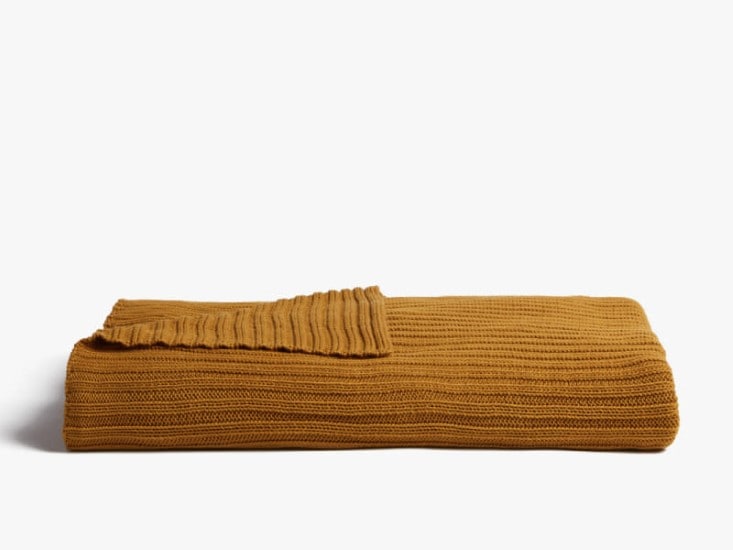 Dress your bed or sofa with a traditional rib knit blanket to make your movie nights memorable. Knit from natural Turkish cotton, this oversized throw comes in various pastel color options to complement your living space.
"I took a risk and bought two of these during the anniversary sale. No looking back! I have been on a crusade trying to eliminate synthetics from our household (just so tired of the static cling building up everywhere, especially in the dryer). This ticks all the boxes: 100% natural fibers (cotton), actually thick enough to keep you warm, big enough to cover your whole body, has a plush feel to the knit, is very soft, comes in beautiful color options, is affordable for what it is. Parachute, please come out with more throws like this one. I have boycotted acrylic but can't afford 100% merino or cashmere throws. This is the sweet spot for this type of item. I live in the pacific northwest and am that person who's always complaining of being cold and this gets the gold star from me," states Nina S., a verified buyer.
The Company Store | Gossamer Cotton Blanket, $160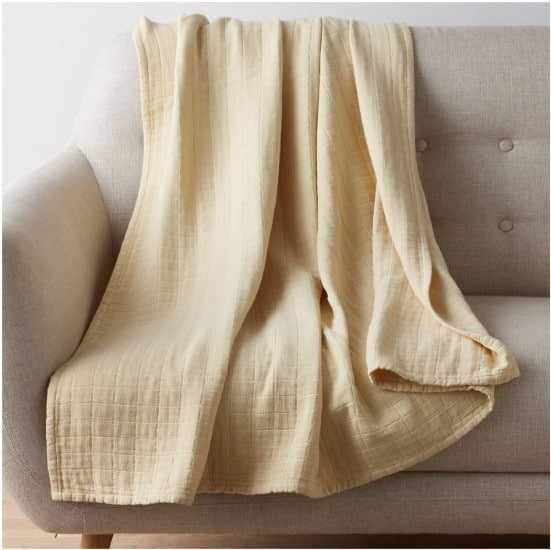 If you are looking for a lightweight blanket alternative, Gossamer Cotton Blanket is your summer sensation. The airy material and delicious colors offer the comfort you would look for even during the hottest nights. Despite the lightweight material, this blanket will also serve you well in winter.
"In a move to downsize I purchased this lovely blanket so that my new apartment will be comfortable with enough warmth during the summer heat. It has met each aspect: comfortable warmth, light, and not cumbersome. This gossamer blanket launders superbly while maintaining its original shape. It's a KEEPER!" exclaims Falmingo Fran.
Garnet Hill | Essential Down Throw Blanket, $129.00 - $249.00
Another lightweight champion, Garnet Hill's Essential Down Throw Blanket works in all seasons and temperatures. This masterpiece comes in a wide array of lively colors and is especially promising for those who prefer a lightweight warmth option in cold winters.
MDCok says, "It is comfy and warm, without being bulky or heavy. We switched from a duvet to a comforter, and use this for the colder weather. So well made!"
Pendleton | Eco-Wise Twin Wool Blanket, $169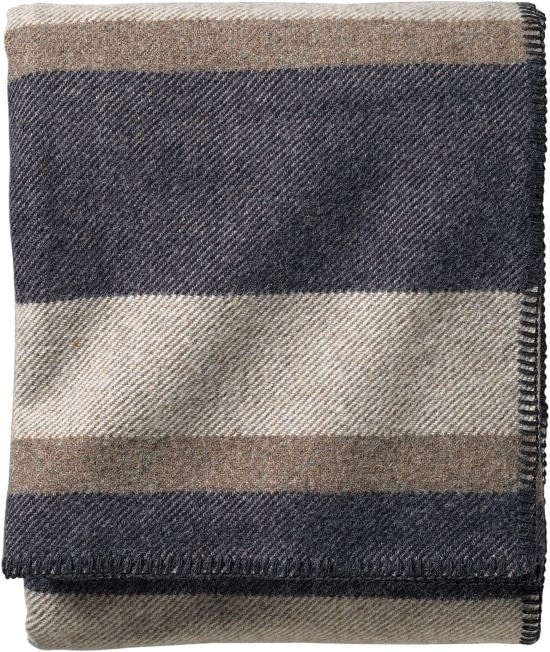 No matter how much technology improves, there will still be those of us who appreciate the good old wool blankets, and the nostalgic comfort they bring. The Eco-Wise Wool Blanket is machine-washable and is made from pure, natural, renewable wool, dyed with neutral colors.
There will always be those who value the warmth and comfort of good old wool blankets, regardless of how much technology advances. Pure, naturally renewable wool that has been dyed in muted hues makes up the Eco-Wise Wool Blanket. Unlike its traditional counterparts, it is machine-washable and low maintenance.
"The quality, softness, and appearance of this blanket are wonderful. I am so pleased with the purchase. I have been looking for a long time to find a blanket that fits my needs - synthetic blankets do not breathe enough to make me feel comfortable. I enjoy the cold nights now!" Juliet Sierra says in their five-star review.
Beautyrest | Electric Micro Fleece Heated Solid Blanket, $84.99 (was $99.99)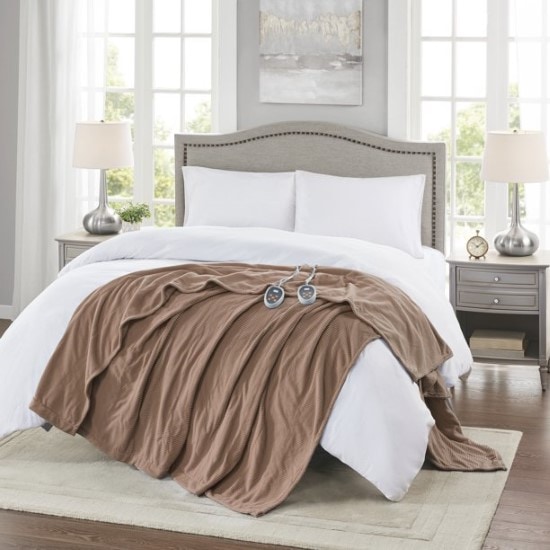 Beautyrest Electric Micro Fleece Heated Blanket has to be on our list of the coziest blankets. If you need extra warmth, this electric blanket has 20-setting temperature control and a 10-hour auto shut-off timer. Moreover, this blanket is machine-washable and comes in six lively colors.
"Wonderful Heated Blanket. Feels to be of Good Quality and Hopefully will last a Long Time. It stays warm enough throughout the Night that I shouldn't have to turn up My Heat before Bed this Winter," reviews Tracy327.
Baloo | 12lb Weighted Throw Blanket, $190
Sometimes, you need a weighted blanket for a night of deep sleep. Baloo 12lb Weighted Throw Blanket is made of breathable cotton interior and exterior, free from synthetics. It's the perfect size for the sofa and fits the top of a twin bed perfectly.
"This is my second blanket to go on another bed. I have been using my first Baloo blanket for about five years now. I sleep so sound and comfy. I miss it so much when traveling. It has been washed many times and holding up well. Great quality," recommends Elizabeth J.
Have you decided on your favorite blanket for this year yet? Please share your ideas with us on Instagram and Facebook.
Shop the customer-favorite blankets for a quality night's sleep, and have them delivered to you with the lowest international shipping rates with MyUS.
Curious about how? Check how MyUS works, get your personal MyUS address, combine your items and benefit from fast delivery rates today!
We always aim to bring our members the best shopping options available, but some of the products featured in this post may have purchase restrictions. Please visit the merchant's terms of sale, shipping guidelines, and terms and conditions to find more information.