Bright Up the Night With Light-up Shoes
Children of all ages love light-up shoes. With unique designs and flashy lights, these are sure to keep kids entertained and delighted with every step.
We compiled a list of our favorite light-up shoes that your kids will love to wear. As a MyUS member, you can shop a huge variety of light-up shoes from US stores US-sales-tax when shipping worldwide.
Spider-Man Light-up Sneakers $29.99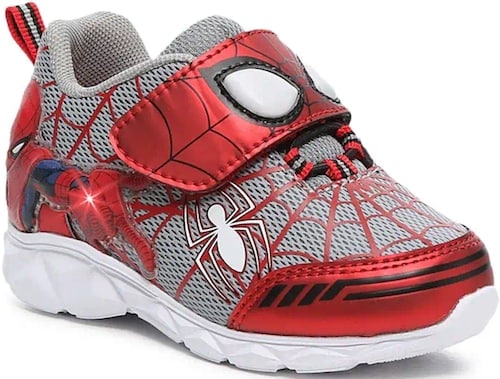 Prepare your little superheroes for their next adventure with a pair of Spider-Man Light-Up Sneakers. They'll pretend to swing around the playground like their favorite arachnid wallcrawler. The secure hook and loop strap make it easy to wear.
"My 4.5 year old loves his new Spidy kicks! He loves that he can put them on all by himself. The light is a great feature to spot him in crowds or while crossing local roads. He says they are comfortable." says Pwin.
Jurassic World Light-up Sneakers $29.99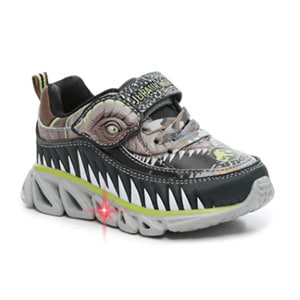 If your kid's life revolves around dinosaurs, then they should be wearing these Jurassic World Sneakers right now! This pair features a fearsome T-rex print and bright lights in the midsole. They'll stomp around like the king of the dinosaurs wherever they go.
"My 6-year-old loves these shoes! He has wide feet and struggles with finding the right width and sizing with comfort. He loves the look of them and that they light up." Bnw24 states.
S Lights Flex-Glow Dezlo Light-up Sneaker $39.99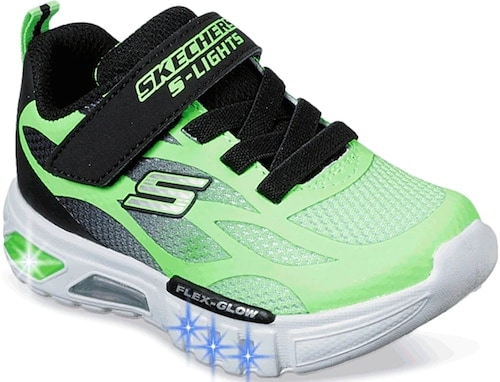 Kids can stay outside later when they brandish these stylish and flashy Skechers Flex-Glow Sneakers. Parents and children love the shoes' neon green front that glows in the dark, the cushioned footbed, and the LED midsole through each step.
"These are super cute shoes that fit well. My son loves that they light up and he runs around stomping his feet." Terina comments.
Athletic Works Light-up Athletic Sneaker $16.87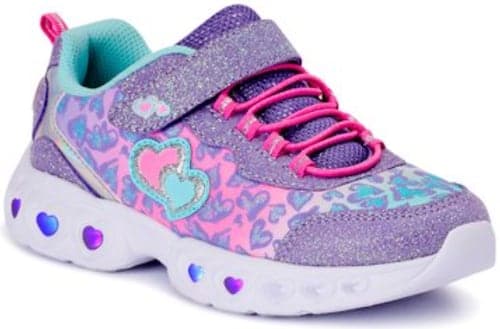 Featuring a durable upper and a lighted outsole, girls can enjoy playtime in comfort and style with these Light-Up Athletic Sneakers. Choose between four designs and pair them with their favorite jeans, shorts, and leggings.
"My daughter is 9 years old and absolutely loves these shoes. The colors are nice and vibrant, and they light up pretty brightly on the sides in pretty blue and pink colors," mommy2010 says.
High Top LED Light-Up Sneakers $29.99
With seven alternating light colors at the push of a button, you're sure to impress with these High Top Light-Up Sneakers. The shoes' LEDs are bright and long-lasting, while the wear-resistant rubber soles provide a comfortable fit. You can also recharge the light-up feature with the included USB cable.
"My kids loved these shoes. I would recommend these to anyone. Extremely safe for night walking." Jack raves.
LED Light-up Wings Sneakers $29.99
Are you looking for a light-up shoe that's also a little quirky? Grab a pair of these LED Winged Sneakers. Featuring rechargeable lights in the midsole and rubber wings on the sides, children will feel like they're flying.
"My granddaughter was so happy to get them, and she wants another pair," states Planterbox.
Soft Mesh Knit Light-up Running Shoes $21.69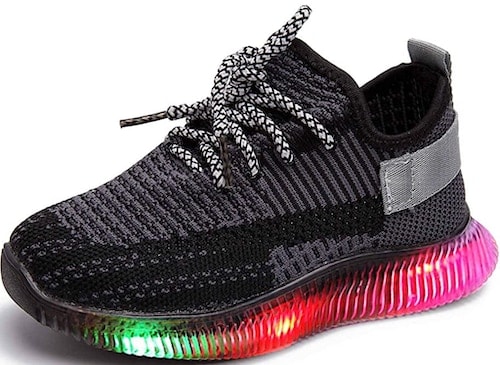 These cool Soft Mesh Light-Up Shoes will not disappoint any little fashion lover. The non-slip outsole prevents slipping when running and walking, and the stretch knit mesh upper keeps your feet cool and dry. These are the perfect shoes for kids who are always on the move!
"The lights are so fun, my son loves them! They fit a little more snug than I thought they would, so maybe buy 1 size up if your kid grows fast." claireluna says.
L.O.L. Surprise! Light-up Athletic Tennis Shoes $23.98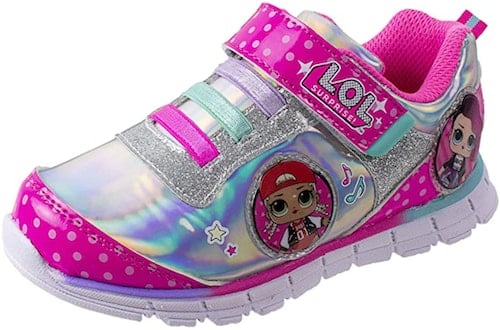 These Light-Up Tennis Shoes will entertain anyone obsessed with L.O.L Surprise Dolls. The straps make it easy to slip on, and the characters on the side light up through each step. Their vibrant design will be the talk of the playground.
"My Little niece Alexis is a freak for the LOL dolls. She saw these shoes and immediately decided she needed them badly. When they arrived, she put them on in less than a minute. Loves these shoes. Good fit and very pleased with purchase." Kem comments.
Toy Story Light-up Sneakers $29.99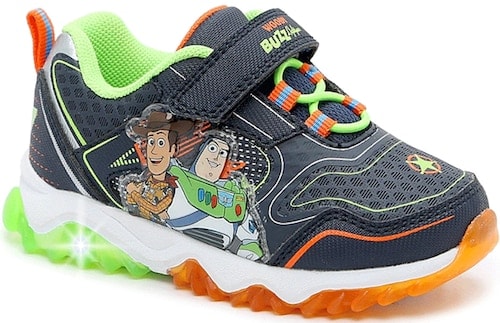 Travel to infinity and beyond with these Toy Story Sneakers. Kids will enjoy putting these shoes on with their fun character designs and light-up features. The low top makes it easy for children to put on and take off on their own.
"My three-year-old loves them. They're easy to put on, easy to figure out which foot they go on with the character pictures, and he loves the lights. Mom is happy because they are good quality and aren't going to fall apart any time soon." says Tiffany.
Skechers Twisty Brights Dazzle Flash Shoes $47.99
Kick-off the day with these Twisty Brights Shoes from Skechers. Their mesh upper, polyester lining, and rubber outsole support overall foot comfort. You can deactivate the lights to save power and adjust the strap for a secure fit.
"I bought these for my niece, and she is very happy with these shoes. She likes how comfortable these are, says "it's like walking on air", and she enjoys the extra inch of height that she gains!!" Kea raves.
Ship your favorite light-up shoes worldwide and US sales tax-free when you become a MyUS member.
We always aim to bring our members the best shopping options available, but some of the products featured in this post may have purchase restrictions. To find more information, please visit the merchant's terms of sale, shipping guidelines, and/or terms and conditions.