Guess What People in Hong Kong Are Buying from the United States?
MyUS has thousands of happy members who shop US brands and ship to Hong Kong. See what their favorite things are to buy from America...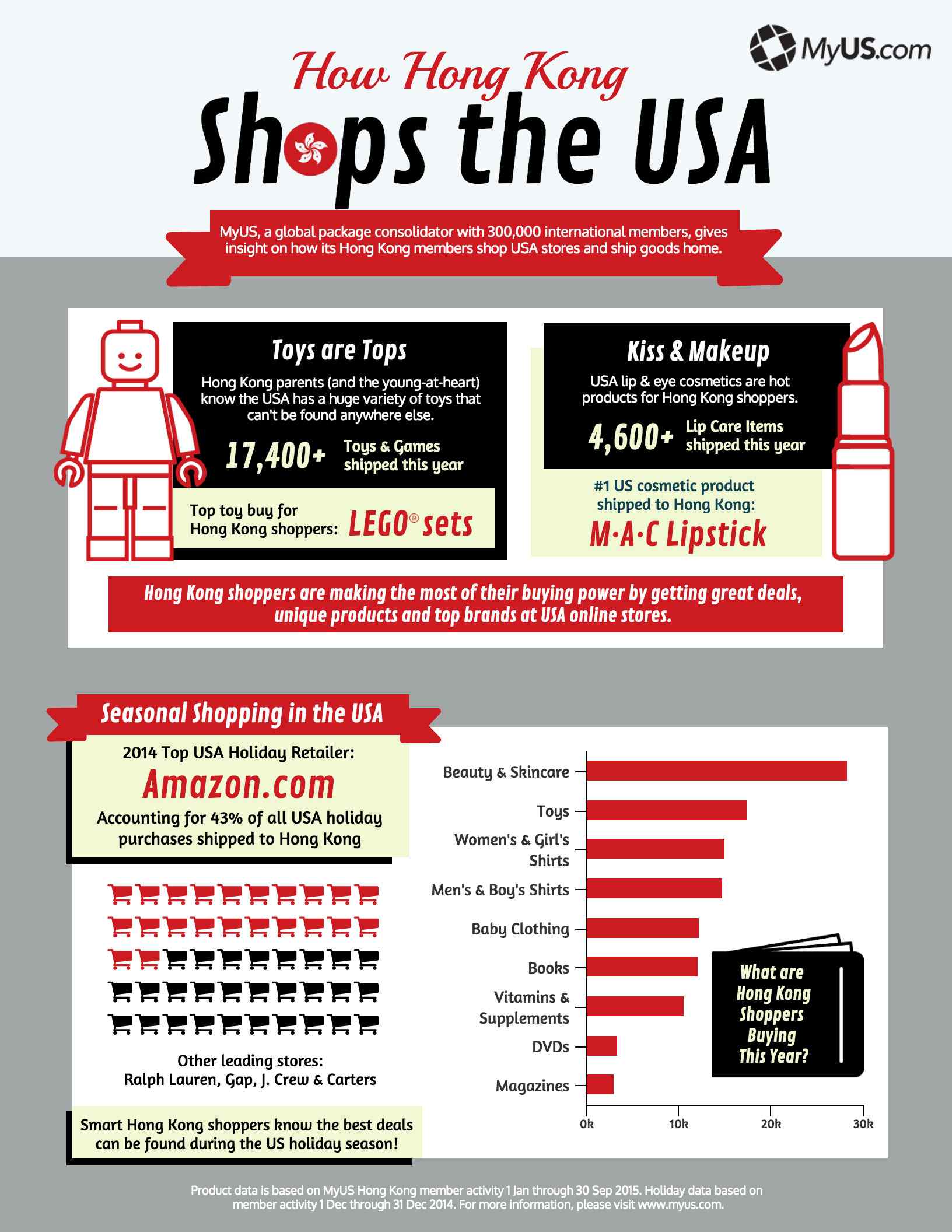 Do You Live Abroad and Want to Buy American Goods? It's Easy with MyUS!
Do you live outside the United States, but want to shop American brands (and not pay an arm and leg for them)?
MyUS gives international shoppers a MyUS address so they can purchase electronics, clothing, furniture, beauty items and more from US stores that don't typically ship items overseas.
Once your purchases arrive at our secure US facility, we can repackage your items and consolidate your purchases into one box to save you up to 80% on international shipping charges.
MyUS is the international shipping expert. We've been helping people ship items from the US to more than 220+ countries and territories since 1997. Come join the fun today!
How Hong Kong Shops the USA (Transcript of Infographic)
MyUS, a
global package consolidator
with 350,000+ international members, gives insight on how its Hong Kong Members shop stores and brands in the United States and ship those goods home.
Toys are Tops!
Hong Kong parents (and the young-at-heart) know the USA has a huge variety of toys that can't be found anywhere else.
Toys and games shipped to Hong Kong so far this year = 17,400+
Top toy buy for Hong Kong shoppers = LEGO sets
Kiss and Makeup
Lip and eye makeup brands from the US are hot products for Hong Kong shoppers.
Lip care items shipped this year = 4,600+
#1 US cosmetic product shipping to HK? = MAC lipstick
Hong Kong shoppers are making the most of their buying power by getting great deals, unique products and top brands at USA online stores.
What Hong Kongers are Buying for the Holidays from America
2014 Top USA Holiday Retailer = Amazon.com, which accounted for 43% of all USA holiday purchases shipped to Hong Kong. Other popular US stores:
Smart Hong Kong shoppers know that the best deals are found during the US holiday season (and Black Friday/Cyber Monday)!
What Are Hong Kong Shoppers Buying This Year?
In order of most popular items first:
Beauty and skincare products
Toys and games
Women's and girl's shirts
Men's and boy's shirts
Baby clothing
Books
Vitamins and Supplements
DVDs
Magazines
Product data is based on MyUS Hong Kong Member activity 1 Jan through 30 Sept 2015. Holiday data is based on member activity 1 Dec through 31 Dec 2014. For more information, please visit www.myus.com.