Ramadan Craft Ideas
Celebrate Ramadan with crafts and activities during the holiday.
We've rounded up fun Ramadan-themed crafts for the whole family below, and every item can be shipped to your international doorstep with MyUS.
Lantern Decorating Kit $9.99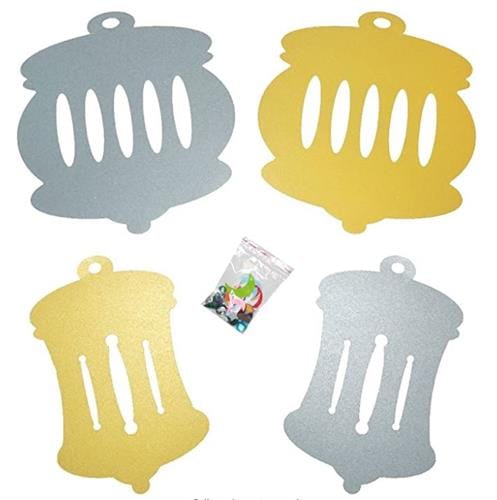 Lanterns are traditional decorations for Ramadan, and this Lantern Decorating Kit is a great way to get kids in on the fun of decorating. The kit includes four pearly card stock lantern shapes, and they come with a small bag of moon confetti and acrylic craft gems to use for decorating the lanterns. Pick up a package of markers, and kids can also write out their best Ramadan wishes on the front, or sign their names and mark the year on the back.
"Great for kids, they loved decorating & hanging them!" says Kathleen AlQabalani in her Amazon product review.
Ramadan Cookie Cutters $12.99
Made from food-grade stainless steel, these Ramadan themed cookie cutters are incredibly versatile. Use them in the kitchen to make cookies and pancakes or cut fruit and pull them out at craft time to use with Play-Doh, trace shapes to cut out or color in, the options are endless! The set of five includes 1 mosque, 1 moon, 1 star, 1 lantern, and 1 geometric shape.
"Super fast shipping. The kids flipped out when they saw the shapes and got to make masjid cookies!" says Thoria Elturk in her five-star review.
Ramadan Stain Glass Paint Set $6.90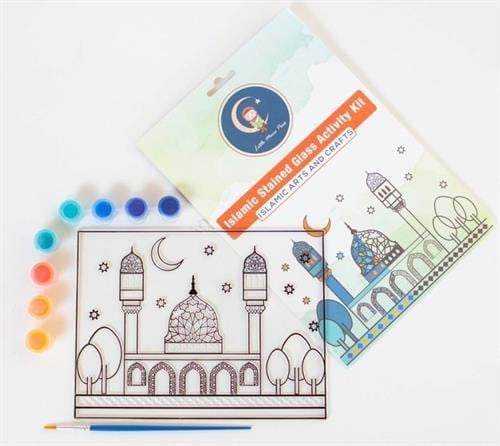 With eight washable paint colors, a paintbrush, and a beautiful scenery of a mosque, this Ramadan Stain Glass Paint Set is a fun way to enjoy an afternoon at home while preparing for Ramadan.
"Beautiful stain glass activity ! So much fun for the whole family. Shipping was super quick!" says Jasna in their product review.
Foam or Felt Mosque Appliqués $6.95
Kids can design and their own mosque for Ramadan with a little glue, bright cardstock, and these Foam or Felt Mosque Appliqués. Depending on supply, you will receive foam or felt shapes that can be used to create a mosque, as well as decorative gems that give the perfect finishing touch.
"Beautiful love it thank you!" says Yasmin Atieh in her five-star review.
Ramadan and Eid Kid's Paint Kit $16.99
Keep kids busy while celebrating the spirit of Ramadan with this Ramadan and Eid Kid's Paint Kit. The kit comes with everything you need, including 4 wooden pieces, 2 brushes, 1 paint pallet, and string to hang each piece.
"Beautifully crafted and quickly delivered! Thank you so much!" says Farah Ahmad in their product review.
DIY Masjid $19.50
Ready to make something special for Ramadan? Then grab your glitter, markers, stickers, and wet glue, and get ready to have some fun with this DIY Masjid from Etsy store StarPaperMoon. Made from pre-cut pieces of corrugated cardboard, the masjid comes ready to assemble (glue not included) and is then ready for you to decorate to your heart's desire. A fun project for the whole family to enjoy!
"Great purchase! Very happy with my order!" says Eman Shafi in their Etsy review.
Islamic Art Sticker Set of 72 $2.90
This Islamic Art Sticker Set includes 72 stickers on three sheets and will add color to crafts, can be used on homemade cards, or used to decorate name place cards and goodie bags.
"Fast shipping, arrived just in time for Ramadan! Thank you!" says ddachmar in her five-star review.
Shop Ramadan crafts from US websites and ship worldwide and US sales-tax-free when you become a MyUS member.
We always aim to bring our members the best shopping options available, but some of the products featured in this post may have purchase restrictions. To find more information, please visit the merchant's terms of sale, shipping guidelines and/or terms and conditions.