Noteworthy Serving Trays for Your Next Party
If you've ever hosted or attended a dinner party, you already know that presentation is just as important as the food served.
Make your next dinner party one to remember with stylish new serving trays. We've rounded up a great selection of serving trays for every occasion, and they can all be shipped internationally from US websites with MyUS.
Rustic Serving Tray Set $39.95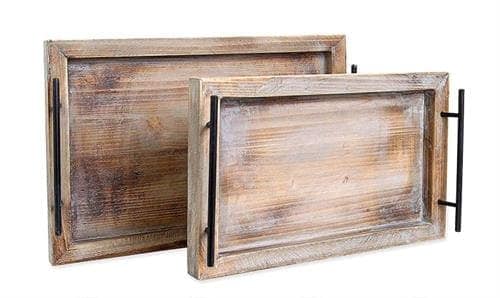 Bring a bit of farmhouse charm to your get-together with this Rustic Serving Tray Set made from natural wood whitewashed with a warm brown color. The set includes two trays and features sleek steel carry handles. These 1" deep appetizer serving trays come in two sizes to make them easier to stack and store when not in use.
"Very stylish and cute. Love the distressed wood. They look just like the picture on the site. Love the handles too. Good price for the 2 of them," says Lauren Harley in her five star product review.
3 Tiered Serving Tray Stand $40.99
Show off your appetizers and serve your guests in style with this 3 Tiered Serving Tray Stand from Sweese. It includes three porcelain serving trays and a metal serving stand with legs that can fan out to any width you choose.
"This classy tiered serving plates stand is perfect for using during dinner. You can use it for baked goods, fruit and other sliced foods during relatively large gatherings. Size of the plates are awesome. These serving plates have solved our purpose very aesthetically," says Mad Max in their Amazon review.
Hotel Collection Marble Tray with Gold-Tone Handles $134
Create a luxurious display during your next cocktail party or family gathering with this elegant Marble Tray by Hotel Collection, made of marble and enhanced with gold-tone steel handles.
"It's heavy and looks very elegant. It was a wedding gift and they loved it!!" says KarlaC in her glowing review.
Round Marble & Acacia Wood Serving Board $79
This Round Marble & Acacia Wood Serving Board made of warm wood and cool marble is perfect for showcasing appetizers or desserts.
"Super cute, great size and very well made. This will be perfect for hosting for any occasion," says ckerr19 in their product review.
Anthropologie Jay McClellan Platter $48
This delightful platter designed in Jay McClellan's Philadelphia-based studio features a dachshund, French bulldog, and bright blooms to bring color and whimsy to your next get-together.
"I bought the dachshund platter because the dog looks like ours. I then decided to buy three more. I now use them as fun dinner plates out on our patio. So cute! Yes, I love them and highly recommended them :)" says Genevieve1 in their five star product review.
The Pioneer Woman Flea Market Serving Trays $11.99
These rectangular Flea Market Serving Trays from The Pioneer Woman feature elegant and playful floral and vine patterns. The trays are ideal for handing out assorted cheeses, fruits, desserts, and snacks.
"Love love love these two trays! Perfect for almost any appetizer you want to set out. In addition, they are very pretty," says Kathy in her product review.
Lazy Susan Appetizer and Condiment Server Set $20
Wow your guests with this elegant yet super functional Lazy Susan Appetizer and Condiment Server Set. It includes a smooth bamboo serving tray in a lazy susan and six serving bowls that create a flower design when displayed on the serving tray.
"I love this Lazy Susan. It is the perfect size for appetizers," says toyotajenny in their five star review.
Michael Aram Black Orchid Handled Serving Tray $250
For elegant evenings and engagements, you can't go wrong with this Black Orchid Handled Serving Tray from Michael Aram. Made from hammered metal and featuring gorgeous black orchid details on the handles, it's a beautiful piece you'll look forward to showing off.
"This serving tray is so elegant. I love using it when I have company and receive so many compliments," says LoriiiG in her Macy's product review.
Shop US websites for new serving trays today and ship worldwide and US sales tax-free when you become a MyUS member.
We always aim to bring our members the best shopping options available, but some of the products featured in this post may have purchase restrictions. To find more information, please visit the merchant's terms of sale, shipping guidelines and/or terms and conditions.