Spruce Up Your Office Space
Whether it's at home or work, you'll spend many hours in your office this year, so why not make it as functional and welcoming as possible?
We've rounded up a few of our office decor and accessory favorites below, and they can all be shipped worldwide (and fast!) with MyUS.
Natural Twigs and Branches Wall Décor $96.99
Need to fill up some blank wall space in your office? Wall art is a quick and easy fix! This rectangular Natural Twigs and Branches Wall Décor is a perfect example: nature-inspired and constructed of iron with a black and gray finish, it's a lovely way to add depth to your space.
"I love it. Exactly what I expected. Not heavy, so easy to hang by myself." says Lynn from OR in her five-star online review.
Simple Expressions Arts Inspirational Wall Art $18.99
Want to motivate and inspire yourself as well as your co-workers? Simple Expression Arts Inspirational Wall Art Decals are an inexpensive way to inspire and decorate at the same time. Made of premium quality vinyl, this decal encourages teamwork and easily adheres to any smooth surface.
"Love this product. Easy to install. Installed at the office. Receiving many compliments." says Chanel in her five-star review.
PAG Desktop Shelf Organizer $24.99
Maximize your desktop space with this Desktop Shelf Organizer from PAG. Made from wear-resistant, durable, and eco-friendly melamine, it can be set up in a variety of positions to perfectly suit your space.
"I'm really happy with this purchase. I was able to put it together in about 10 minutes, and it makes my desk look so much nicer and organized. I am a full-time college student and a mom, so I'm very busy and have a lot of paperwork and just general stuff piling up all the time. I wish I bought something like this sooner (my desk was a real mess for the past several months.). I really like how you can change the configuration really easily, so it will work with pretty much any space you have. I highly recommend this product." says Lacy in her five-star review.
Elephant Pencil Holder with Phone Stand $12.99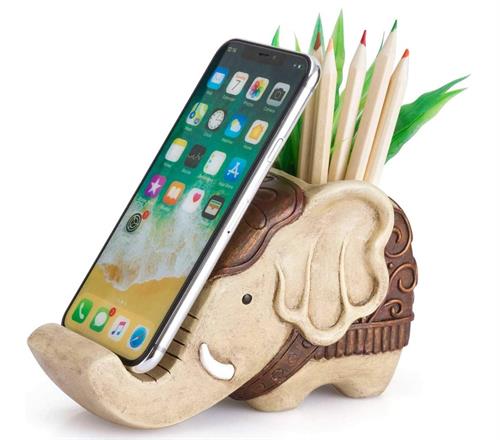 Made from high quality, eco-friendly resin that won't fade, this adorable Elephant Pencil Holder with Phone Stand looks adorable while doing its job—cradle your cellphone while keeping pens and pencils within easy reach on your desk.
"Lightweight and solid! Fits about 6 pens, skinny highlighter and scissors comfortably. Phone fits perfect too! Nice desk decor! Recommend!" says Alura H. in her five-star review.
MultiBey Magnetic Marble White Paper Clip Holder & Gold Paper Clips $9.91
You already have paper clips on your desk, so why not make them stylish? MultiBey's Magnetic Marble White Paper Clip Holder looks elegant and comes with gold paper clips that look super stylish.
"I like this because it adds a little something to my desk. The magnetic part works well and makes it easy to get a paperclip. I like the gold paperclips too. Very cute and not so boring. It's nice to see decorative, functional things on your desk, rather than basic office hardware." says Lovetoshop in their five star Amazon review.
Primitives by Kathy Decorative Box Sign $9.26
Feel like your day doesn't really start until you have your morning coffee? Add a bit of healthy amusement to your desk with this Decorative Box Sign stating "I Will Start Working When My Coffee Does" Hilarious!
"Bought this for my desk at work, love it." says Cinnamon bunz in her online review.
Artificial Orchid Phalaenopsis Floral Arrangement $39.99
Featuring soft flowers and realistic foliage tin a clear vase, this elegant Artificial Orchid Phalaenopsis Floral Arrangement will brighten up any office. Choose from pink, mauve, or cream.
"Love love my orchids! They look so real and I even attached a little clip holding the stems together to give it an even more realistic look. Completes my table decor." says Bianca from Miami, FL in her five-star review.
Shop office decor and accessories from US websites and ship worldwide when you become a MyUS member.
We always aim to bring our members the best shopping options available, but some of the products featured in this post may have purchase restrictions. To find more information, please visit the merchant's terms of sale, shipping guidelines and/or terms and conditions.