The Best Hijabs To Celebrate in Style
Whether you wear a Hijab as a recognition of your faith, to be modest, or both, finding the right Hijab for every outfit can be a challenge, especially when it comes to formal occasions.
Take the guesswork out of dressing for your next celebration by shopping stylish and functional Hijabs from US websites below. Make your purchases as a MyUS member, and you'll enjoy fast international shipping and free package consolidation.
Verona Collection Luxury Reversible Satin Scarf $18
Made of machine-washable polyester, this Luxury Reversible Satin Scarf from the Verona Collection has a matte finish on one side and a shiny satin finish on the other, making it incredibly versatile and appropriate for casual and dressy occasions. It measures 79" L x 24" W and is available in black, dark cherry, silver, and navy.
"Absolutely love these scarves, excellent quality please add more colors in this selection., I buy them all !!!" says Sam24 in her Macy's product review.
Najoom Silk Wrap Hijab $19
Light up the room with the look of a midnight sky illuminated by stars with the Najoom Silk Wrap Hijab from Artizara. Made of 100% silk and measuring 20x71 in. (50x180 cm), it flows from a black background with scattered white dots to a white scheme with black dots for a gorgeous transition.
Lightweight Tichel Hijab $23
This white Tichel Hijab from UptownGirlHeadwear is elasticized and gathered at the back with adjustable hair ties, making it super easy to put on and go. Made of lightweight textured poly fabric and available in small, medium, and large, it will be your go-to head wrap for spring and summer. "Beautiful hair scarfs!" says Lisa in her Etsy review of UptownGirlHeadwear.
Soft Chiffon Rectangular Hijab $12

Made of chiffon georgette fabric in blue with gold edging, this Soft Chiffon Rectangular Hijab has a beautiful drape and will lend an elegant finish to any look. It also measures a generous 21 in. x 76 in. (53x193 cm) giving you a wide range of styling options.
Editha Pink Hijab With Faux-Pearl Accents $16
This gorgeous Pink Hijab With Faux-Pearl Accents from Editha is made of lightweight opaque polyester and measures 25.6 X 72.1 inches. It has one short side and one long side stitched together in the middle making it easy to slip on and wrap with minimal effort and gives ample coverage of the neck and chest.
Glittering Rhinestone Hijab in Cotton Jersey $13
The Glittering Rhinestone Hijab in Cotton Jersey from Super iMan will be an instant favorite in your wardrobe. It's made of a machine washable lightweight cotton jersey to keep you cool and it's embellished with decorative rhinestones to bring a festive look to any occasion. "Beautiful and comfortable!!" says a happy Amazon customer in their five star product review.
Lace Embroidered Chiffon Hijab $9
Available in eleven colors, this Lace Embroidered Chiffon Hijab from Froomer is perfect for celebrations and parties. It's made of a cotton chiffon blend and has delicate embroidered lace detailing. "Well made AND beautiful!" says Jo in her Amazon review.
The Etheral Ivory Ornate Pearl Hijab $300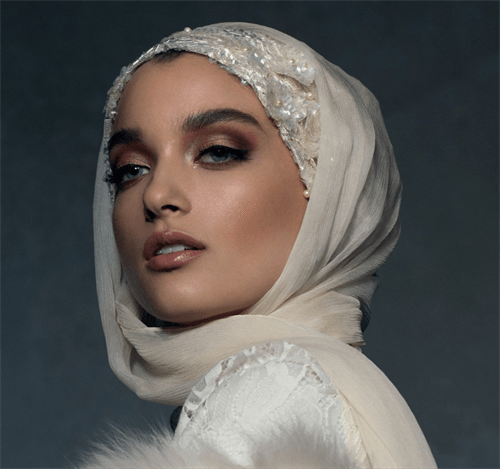 The Etheral Ivory Hijab from Haute Hijab is perfect for a wedding or engagement, yet versatile enough for other formal affairs due to the peach silk lining of the caplette. It comes with a silk crepe chiffon hijab in ivory that drapes like a dream over the ivory caplette with peach lining embellished with beading, sequins, and floral lace. "The workmanship is beautiful and finishing is excellent! It's gotten great compliments as well. The caplette sits great on the head and can be adjusted with the drawstrings in the back. Definitely pricey but it's worth it for weddings and other important formal events." says Ayesha M. in her glowing review.
We always aim to bring our members the best shopping options available, but some of the products and stores featured in this post may have purchase restrictions. To find more information, please visit the merchant's terms of sale, shipping guidelines and/or terms and conditions.