Treat Yourself To A New Pillow In The New Year!
A new year starts in just a few days, making it a great time to replace that old pillow you've had for way too long. How long is too long? The average pillow should be replaced every one to two years depending on style and construction.
Shop pillows that offer both great comfort and support, and ship them from US websites to your international doorstep with MyUS!
10. Beckham Hotel Collection Gel Pillow $33 - $47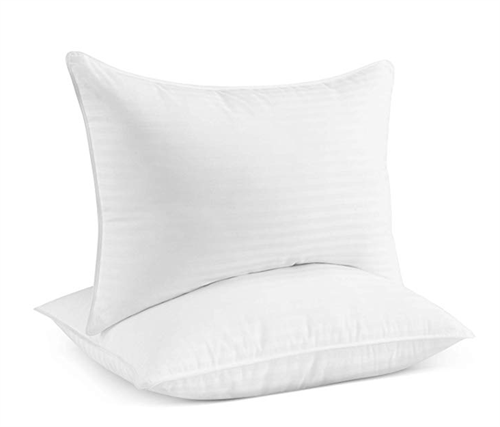 This luxury plush gel pillow from Beckham Luxury Linens is Amazon's #1 best-selling pillow. They are dust mite, mold, and mildew resistant, as well as completely allergen and chemical free, making them the perfect choice for those suffering from asthma, allergies, and other respiratory issues. Buy a two pack here.
9. Coop Home Goods Adjustable Shredded Memory Foam Pillow $60 - $65
Side sleepers will love this shredded memory foam pillow from Coop Home Goods that conforms to the neck and head for perfect alignment every night. Buy it here.
8. Puredown Bed Pillow $137
This popular pillow from Puredown is filled with the highest quality feather and down so it stays fluffy longer than most ordinary feather or down pillows, significantly improving users' sleep quality. Buy one here.
7. Fern and Willow Premium Loft Down Alternative Pillows $34
Want the luxurious silky feel of down but without the potential allergens? Try these down alternative pillows from Fern & Willow. Their gel down-alternative is more supportive than traditional down so you won't have that "head hits the mattress" feeling when you wake up and they are completely allergen-free. Buy a two pack here.
6. WonderSleep PREMIUM Adjustable Loft Pillows $53 - $80
Stay cool all night long with these innovative pillows from WonderSleep. Their pillows consist of shredded memory foam filling that can be adjusted to your preference wrapped in a bamboo-derived fabric cover designed to help users stay cool as they sleep. Buy a two pack in Queen or King size here.
5. AmazonBasics Down Alternative Bed Pillows $23 - $29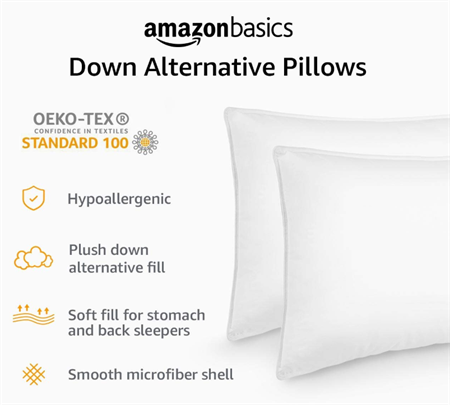 Ideal for stomach and back sleepers, these down alternative pillows from AmazonBasics offer exceptional comfort and support, with a plush rather than firm feel. They also backed by an AmazonBasics limited one-year warranty. Buy a two pack in Standard or King sizes here.
4. HOMFY Premium Cotton Pillows $22 - $35
Prefer the feel of pure cotton? Try these pillow two packs from Homfy. They have a 100% cotton shell with 100% microfiber fillings, making them super soft and breathable while holding their shape. They are also hypoallergenic, dust-mite resistant, and machine washable! Buy a two pack here.
3. Slepoo Memory Foam Pillow $44
This ergonomically shaped gel pillow is supportive, durable, and perfect for stomach, side, and back sleepers. It also comes with a 5-year warranty and money back guarantee, so you can feel confident about your purchase. Buy your Slepoo memory foam pillow here.
2. Utopia Bedding Gusseted Quilted Pillow $22
These gusseted quilted pillows from Utopia bedding have a medium-firm feel and are perfect for any sleeping position, making them ideal for guestrooms. Buy a pack of two in Queen or King here,
1. Purple Pillow $100
Ready to splurge? This is the new pillow that everyone is talking about. It's made with Hyper-Elastic Polymers arranged in a head-specific Smart Comfort Grid so it will never break down or lose its carefully formed shape. They are firm around the edges to give gentle support, yet soft and head-conforming in the middle for maximum comfort all sleep long, and won't trap heat like traditional memory foam pillows. Order your purple pillow here.
We strive to bring our members the best shopping options available, but some of the pillows featured above may have purchase restrictions. Find more information by viewing merchant's terms of sale, shipping guidelines and/or terms and conditions.