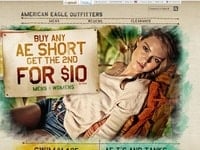 American Eagle Outfitters, Inc. operates as an apparel and accessories retailer in the United States and Canada. The company offers denim wear, sweaters, graphic T-shirts, fleece, outerwear, and accessories under the American Eagle Outfitters brand name.
Shopping Info
Main Address
77 Hot Metal Street
Pittsburgh, PA 15203-2329
USA
Shopping Categories
Women's Apparel, Men's Apparel
Additional Information
Many international customers pay higher prices than American customers when shopping at US websites. To ensure you get the same low pricing and shopping benefits as American customers, read our Top Shopping Tips for how to save at American Eagle Outfitters.
If American Eagle Outfitters does not accept your international billing address or your preferred payment method, select the merchandise you want and then use our Personal Shopper service and we will buy the merchandise for you.