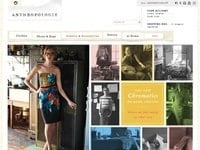 You relish the tales your belongings tell and delight in the unique aura they cast around you. If someone toured your home, they would encounter not just beautiful things but works of art. Not just function but ingenuity. And not just objects but stories. Youll find that magical spark in the clothing and objects in Anthropologies stores and catalogs. And in our staff, youll find friends who share your passion for exploring worlds other than our own. We carefully select and design our products with an eye for craftsmanship, the small details, and that certain something special that makes each item you find more than a novelty but a personal discovery.
Shopping Info
Main Address
1801 Walnut St
Philadelphia, PA 19103-4727
USA
Shopping Categories
Women's Apparel, Home & Garden, Health & Beauty
Additional Information
Many international customers pay higher prices than American customers when shopping at US websites. To ensure you get the same low pricing and shopping benefits as American customers, read our Top Shopping Tips for how to save at Anthropologie.
If Anthropologie does not accept your international billing address or your preferred payment method, select the merchandise you want and then use our Personal Shopper service and we will buy the merchandise for you.