18 Perfect Diwali Gifts for the Whole Family
Diwali is just around the corner and excitement is in the air! Now is the time to find that perfect something for your loved ones. Whether you're looking for traditional presents or something more "out of the box", we've found the gifts your family and friends will love to receive.
Shop our favorite gifts below and remember, with MyUS, you'll never pay US sales tax, which can save you up to 7% at checkout! Don't forget, some of the gift ideas featured below could have purchase restrictions, so be sure to visit our information page for your country to be sure your gifts can be delivered.
18. Premium Incense Sticks $25
These incense sticks are hand blended and rolled, containing pure and natural ingredients for a wonderful scent experience. Perfect for gift giving, each of the six scents arrives in individual gift packaging, so you can give all of them to someone special, or split them up for smaller gift giving. Buy the set here.
17. Zen Breeze Essential Oil Diffuser $30
Looking for a larger gift? A diffuser is the perfect gift to accompany a set of essential oils. This diffuser from Zen Breeze uses Whisper Quiet ultrasonic coolmist operation, adding moisture to the air along with the scent of your favorite essential oils. Buy one here.
16. Pedestal Oil Lamp with Flare Top $50
Oil lamps are a popular choice to illuminate the evening hours of Diwali. This one from Crisa has a classic, turn-of-the-century look, is perfect for indoor or outdoor use and will be a gift that's used year after year. Buy it here.
15. Mason Jar Solar Lights $13
For a greener and more eco-friendly Diwali, give these mason jar solar lights. They're the perfect combination of function and beauty and come with 10 led lights for each jar, giving off a warm glow that's perfect for evenings outdoors. Buy a set of three here. (Jars are sold separately, and can be found here)
14. Moroccan Waterproof Solar String Lights $8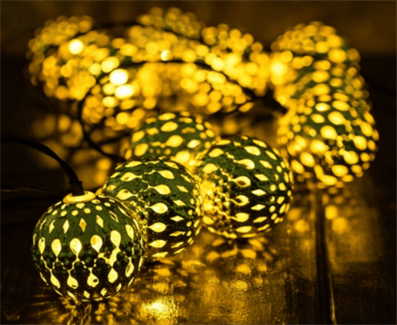 Perfect for outdoor gatherings during Diwali, these solar powered string lights have a elegant flair and would make a great gift for any occasion. Buy them here.
13. Flameless Candles $26
Indoor party? These flameless candles give all the atmosphere and charm of candles without the worry of open flames or fumes. This set includes nine candles from 4 inches to 9 inches tall for endless decorating options - a perfect hostess gift! Buy it here.
12. Soy Candle Making Kit $47
Homemade gifts are always something special and this kit makes it super easy for first time candle makers, including everything you need to create 12 soy candles in decorative tins. Make the candles to give as gifts, or give the kit as a unique gift. Buy it here.
11. Rose Gold & Garnet Jewelry Set $232
With the day after Diwali marking the first day of the new financial year, it's customary for husbands to give the gift of gold (mainly jewelry) to their wives. This necklace and earring set made of 14k rose gold and garnet stones is a timeless choice that would make a treasured gift. Buy the set here.
10. Gold Anklet $130
Another nice option for ladies jewelry is this twisted bar anklet made from yellow 14k gold. The delicate pattern is flattering on the ankle and it's adjustable for a custom fit. Buy it here.
9. Esprit Women's Watch $117
Watches are always great gifts, and this one from Esprit is sure to be a hit. It has a high quality gold stainless steel strap with double fold safety closure, and the face of the watch is adorned with butterflies for a feminine look. Buy it here.
8. Multi-Colored Kurti $22
Give the gift of fashion with this bright and colorful kurti. It's sleeveless with a high-low length that's flattering on a variety of body types. Buy it here.
7. Hindu Goddess Lakshmi Statue $33
If you are looking for a spiritual gift, statues of gods and goddesses are a great choice and are available in many sizes and materials, accommodating any budget. This statue of the Hindu Goddess Lakshmi is made of resin, but has beautiful bronze coloring, making it an affordable choice at $33 US dollars. Buy it here.
6. Asus ZenWatch $175
Does your guy geek out on technology? This smartwatch from Asus combines all the techie stuff he wants (built-in Wi-Fi, industry leading charge times and the latest Android OS-smart gesture control) with a sleek and elegant design. Buy it here.
5. Maui Jim Ho'okipa Polarized Sunglasses $190
Polarized sunglasses from Maui Jim make a perfect gift for any man on your list. They wipe out the glare of the sun and harmful UV rays and boost the quality of the colors the eye naturally perceives. Buy a pair here.
4. ATTCL Polarized Sunglasses $22
Love Maui Jim sunglasses, but looking for a smaller price tag? This pair from ATTCL has 100% HD polarized lenses with 99% UV400 protection, gets fantastic reviews on Amazon and costs just 22 US dollars. Buy a pair here.
3. Five Days of Diwali Children's Book $7
Books are always a perfect choice for children, and this one follows three friends through the five days of Diwali, giving kids a fun way to learn about the holiday. Buy the book here.
2. Amazon Fire HD8 Kids Edition $130
Kids and parents alike can't get enough of the Kindle Fire HD 8 Kids Edition Tablet. It's a full-featured tablet with a vibrant display, 32 GB internal storage, up to 12 hours of mixed-use battery life and a TWO year worry free guarantee. If the kids break it, just return it and Amazon will replace it for free, no questions asked - an awesome gift! Buy it here,
1. Amazon Echo $180
The Amazon Echo is a great gift for anyone at any age. It plays all your music, filling the room with immersive 360º omni-directional audio using just your voice. It also answers questions, reads the news, reports traffic, controls lights, fans, garage doors and more - and it's always learning new things and getting smarter! Buy it here.
We take great pride in bringing our members the best shopping options available, but some of the gift ideas featured above could have purchase restrictions, or may not take every form of payment. Find more information by viewing merchant's terms of sale, shipping guidelines and/or terms and conditions.