Beauty & Cosmetic Product Restrictions You Should Know
Whether you're after the latest trends or stocking up on favorites, there is a lot to choose from when you order cosmetics online. But before you fill your virtual shopping cart, you should know there are makeup and cosmetic items that MyUS cannot ship.
Why? Some makeup products are classified as dangerous goods that cannot ship to international destinations. Makeup products can be barred from international shipping because they include restricted or unverifiable ingredients. Even products labeled as FDA-approved might not meet the standards of the country you are shipping to!
Then, how can you know what is safe to ship? MyUS has a complete list of items restricted from shipping internationally. In our list below, you can also learn more about makeup and cosmetics products that have trouble shipping internationally.
Nail Polish & Nail Polish Remover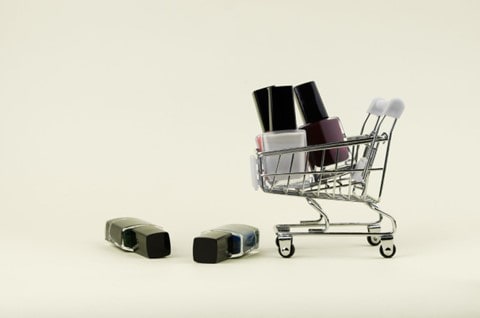 Sorry to put a damper on your home manicure or pedicure plans. Although nail polish and nail polish removers are sold at many stores associated with MyUS, they may not be able to make the journey to your home country. Nail polish and nail polish removers can include restricted solvents in their ingredients, and nail polish specifically is classified as a flammability hazard by some countries.
Eye Makeup
In the United States, the Food and Drug Administration (FDA) oversees the safety of consumer products. Some eye makeup brands use ingredients approved in the US but not permitted in other countries worldwide. Under the FDA, many toxic preservatives and antiseptics are banned from use in the US cosmetics industry, but there are exceptions.
For example, some US-produced eye makeup products like mascara are formulated with mercury compounds which are banned in other countries. So, if the eye makeup you order includes ingredients banned in your home country, it will not be able to ship to you.
Perfumes
A beautiful perfume bottle makes a great gift, but unfortunately, it can be difficult to ship internationally. The problem with perfumes is that many are formulated with solvents used to bind fragrance, which is a flammability risk.
However, some countries will accept perfumes shipped internationally. MyUS can help ship your favorite scent home, but there are logistics you will need to know. Perfumes must be packaged and shipped on their own and not bundled with other items. Second, your package will include a handling fee (8% of the total value of the perfume) or a minimum carrier fee of $19.99 if you use FedEx or $29.99 for DHL. If you meet these criteria, it is possible to have perfumes delivered to you.
Aerosols: Dry Shampoos, Hair Sprays, Body Sprays & More
We're all for freshening up a hairstyle with a good dry shampoo, mousse, or spritz of hair spray. But these products all have one thing in common that can be a real danger in export. If your beauty products come in an aerosol can, they will not ship from the US. Why? Changes in heat and pressure can make aerosol products flammable, and in rare cases, the product could explode. Because it is a riskier product to transport, aerosols are prohibited from being shipped internationally from the US.
That said, some retailers have international shipping policies that allow select restricted cosmetics to ship to your country. You can expect this from larger retailers like Amazon or Walmart. As a last effort, you can review their protocols and procedures to see if they will deliver certain products internationally.
At MyUS, the best way to be sure your products can ship is by checking out our shipping restrictions by country. Here we include the latest updates on what can travel to your home country. Once you know the restrictions, you can order plenty of great cosmetics online. Find out how much you can save on international shipping by joining MyUS.
Cosmetics Shipping FAQs
Can You Ship Makeup In An Envelope?
Products like makeup can be shipped in a padded envelope if they fit appropriately. For international makeup shipments, it is worth taking extra precautions to protect products with structured packaging that will prevent damage in transport.
What Are My Best Online Shopping Choices For Makeup?
Finding your favorite US brands is easy when you buy makeup online. MyUS users can have the best in beauty delivered to their doorstep whenever they shop makeup online at popular stores like MAC Cosmetics, Sephora, ColourPop, and more.
Can MyUS Ship Makeup Products?
Yes. MyUS can ship cosmetics products, but certain types of items are restricted for export. Review our list of restricted or prohibited items to check if your online cosmetics order is cleared for international delivery to your home country.
Can MyUS Ship Perfume?
MyUS is allowed to export perfume to certain countries. There is a handling fee of 8% of the total value of the perfume, or a minimum fee of $19.99 for FedEx or $29.99 for DHL. Perfumes may need to ship separately from other items.
Is Aerosol Spray Flammable?
Many aerosol sprays are formulated with propellants that can be flammable when exposed to heat. Because of this, aerosols are prohibited from being shipped internationally from the US.