Modern Look and Vintage Aura: Best Varsity Jackets for Men
Style yourself up with THE jacket that showcases status. Varsity jackets have always been linked to popularity and what can we say? They just look so good with every outfit. Today, you can pick the perfect varsity jacket to expand your wardrobe collection. Denim, leather, fleece… whatever material you prefer! By becoming a MyUS member you can easily shop for your next favorite jacket and have it shipped to you almost anywhere in the world.
Trigger warning: You may end up lending your jacket to your girlfriend or crush and never wear it again!
---
BDG Ecru Denim Varsity Jacket, $124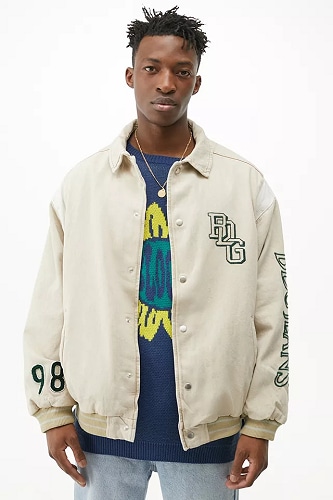 Varsity and denim are a perfect combination. This collegiate-inspired jacket by BDG combines a classic collar, button-up closure, embroidered varsity logo, and elasticated trims. The classic design has taken a contemporary transformation, all in the comfort of denim!
"I'm in love! It's so comfy and provides enough warmth for winter," comments an anonymous reviewer.
---
Men's Classic Snap-Button Varsity Jacket, $89.99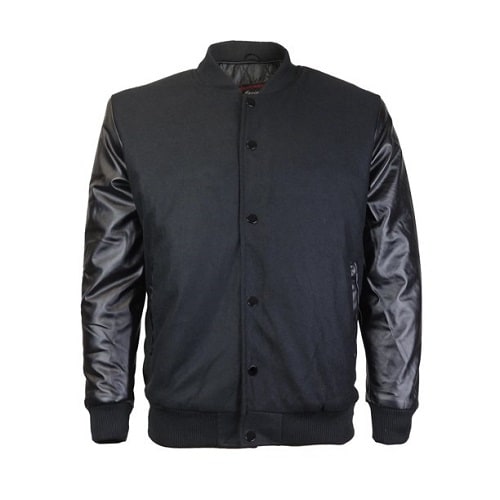 If black is your color, then this is your varsity jacket choice. The lightweight Letterman jacket is great for everyday casual wear and adds a sporty touch to any outfit preference. Combine it with denim jeans and a white T-shirt and just try to ignore all the attention you'll get.
Reviewer Floydie is very pleased with his purchase and recommends this jacket saying it "fits good and is nice and warm".
---
VarsityBase Letterman Jacket, $269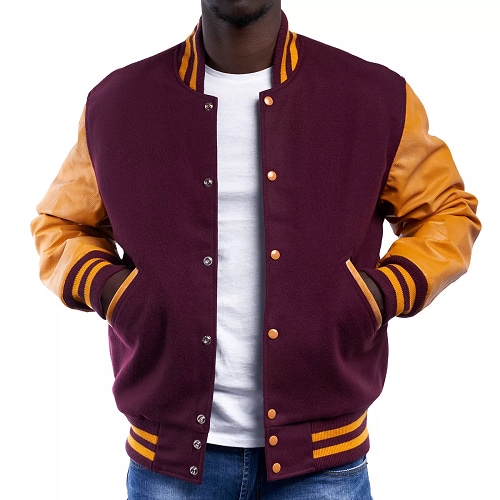 With a wool body and leather sleeves, stand out with this maroon-gold letterman jacket. The color combination is for everyone looking for a daring look and we honestly have a soft spot for its bright colors.
"There are certain items of clothing and jewelry ( for men the occasional ring or wristwatch ) where if you're patient and smart you should "Buy Well Once". Varsity Base makes jackets that are High Quality and will last for years. I had an Excellent interaction with Customer Service and even posted my purchase on FB which I rarely do. Varsity Base made the cut by getting on my page. Buy one (or more) you'll be glad you did," remarks Gregory A.
---
Sport-Tek Fleece Letterman Jacket, $37.69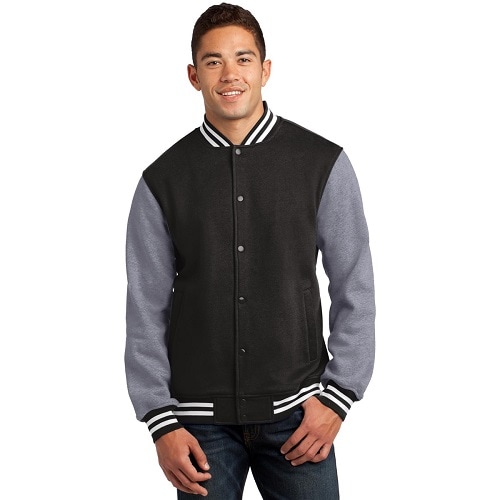 The traditional letterman jacket is transformed with the coziness of fleece in a classic black body/grey sleeves combination. You'll enjoy sporting it with a more classic everyday look.
"The jacket was something for which I have been searching. The color was expressive of royalty and good looks," says Andrew in his five-star review.
---
Tommy Hilfiger Men's Hooded Puffer Jacket, $89.99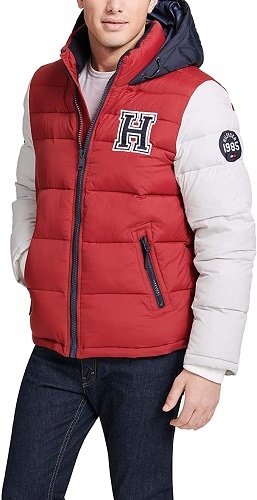 Say no to strong winds with this unique nylon varsity puffer jacket. The signature look of Tommy Hilfiger is stylishly visualized with an embroidered flag on the left chest. The adjustable draw-cords, hood, and zipper front are especially handy for colder days when you want more insulation.
Z states: "This thing is almost too warm, but I love it. I'm in college and I walk about 15 minutes to class. Windchill yesterday was -3 and honestly, I was sweating in my jacket. Where I go to school on an average day winds reach 20 mph and this jacket has no problems. Very satisfied with my purchase."
---
Men's Basic Leather Letter Man Baseball Varsity Jacket, $56.99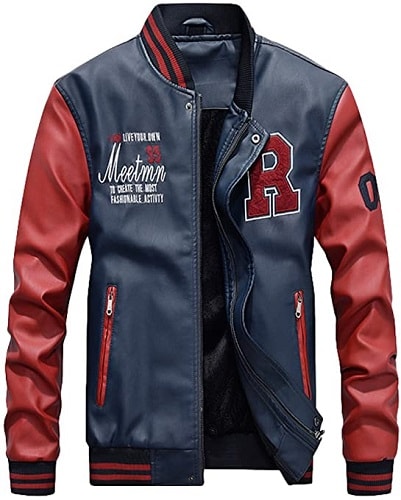 Surely, combining a Letterman look with leather is a formidably impressive attempt. This leather varsity jacket is perfect for fall and mild winters. While you get the authenticity of a classic jock look with the knitted collar, cuffs, and waistband with stripe details, you also get a zipper closure and bad-boy biker vibes.
"This is a nice jacket. The fit was exact. Maybe too exact lol. But yeah it looks very nice. Leather is not real, but it holds up. the black is not as black as a black cotton shirt, but it's dark enough. This is more of a 50 to 60 degree F jacket", reviews Marcelino Cruz.
---
Streetwear Furry M Embroidery Vintage Baseball Jacket, $118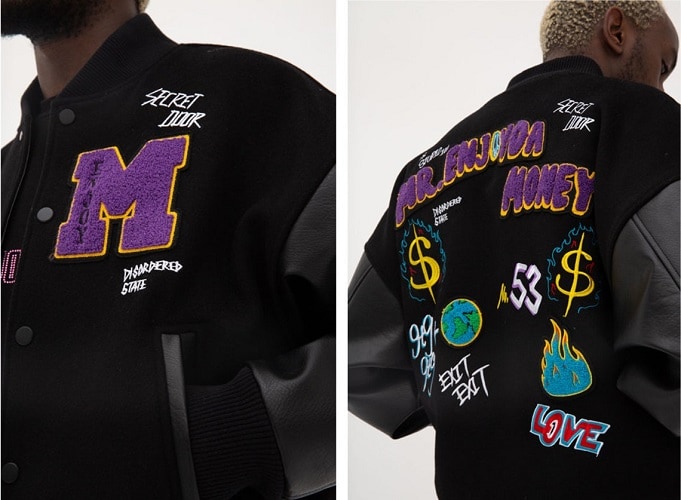 What makes this varsity jacket great is the unique details added with the embroidery. So, if you are a fan of multicolored patterns, fun patches, and symbols, immediately clothe yourself in this high-quality product following the latest trends.
"This is pimpin affff my boyfriend loved it, I'm definitely stealing it from him sometime. He's been getting a lot of compliments", happily recommends Ashley Gallegos.
---
Whether you're searching for a spin on the classics or looking to upgrade your original sporty style, MyUS can help you find the jacket you want. Become a member today to experience all the benefits of international shipping with MyUS.