Unlock Business Opportunities: Prepare for Prime Day with MyUS
Amazon Prime Day, one of the biggest online shopping events of the year, is just around the corner. While this annual extravaganza is widely known for its fantastic deals and discounts, it's not only an opportunity for individuals to save but also for small businesses, especially those operating internationally.
In this blog post, we will explore how a membership with MyUS, a trusted global shipping service, can benefit small international businesses by enabling them to take advantage of Amazon Prime Day and maximize their profits.
Access to a Vast Product Range:
One of the main advantages of shopping on Amazon Prime Day is the extensive selection of products available at discounted prices. If you're looking for electronics, fashion, home goods, or niche items, Amazon has everything.
By having a MyUS address, international small businesses can purchase a wide range of products directly from Amazon, opening up new possibilities for expanding their inventory and offering a diverse selection to their customers. Check out some of these small business deals and products you can purchase on Prime Day:
SGIN 17 Inch Laptop, $300 $1,200
Are you in search of a reliable and versatile laptop that combines functionality, speed, and a large display? The SGIN 17 Inch Laptop combines power, performance, and portability, making it an excellent choice for individuals who require a reliable and versatile computing device. With its Windows 11 operating system, Intel Celeron Quad Core processor, spacious IPS display, ample storage options, and convenient connectivity features, this laptop is well-equipped to handle your daily computing needs. Experience a seamless and efficient workflow with the SGIN laptop and increase your productivity.
Customer Review: "Laptop was exactly as described in the ad. It was literally open the box, connect to my internet and use it. The screen is huge and the graphics are very clear. So far, I like windows 11, but it is a change for me." - Jaime L.
Inspire Nitrile Gloves, $63.74 $75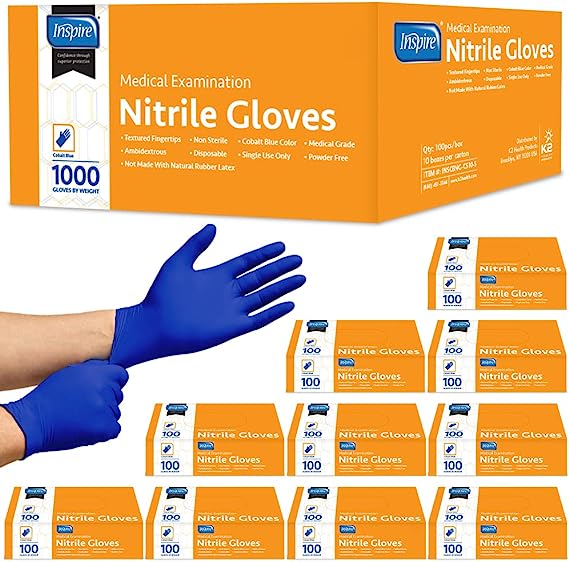 Introducing Inspire Nitrile Exam Gloves, the original choice for quality and performance. These cobalt blue gloves are crafted with precision to provide superior stretch and dexterity, making them the ideal solution for medical professionals, EMTs, and anyone in need of reliable hand protection.
Designed to be latex-free and disposable, these gloves offer a hygienic solution while minimizing the risk of allergic reactions. Whether you're performing medical examinations, administering treatments, or working in an emergency response setting, Inspire Nitrile Exam Gloves offer exceptional comfort, durability, and barrier protection, ensuring safety and peace of mind in every application.
Customer Review: "I use these on my working farm. They get used for medical, mechanical, and even certain construction applications. Great product. Fast shipping. Will buy again." - Ms. Kathleen Heller
Competitive Pricing and Discounts:
During Amazon Prime Day, millions of products are offered at reduced prices or with exclusive deals for Prime members. These significant discounts allow small businesses to obtain products at a lower cost, which can be advantageous in maintaining competitive pricing or improving profit margins. By leveraging these discounts, international businesses can enhance their competitiveness in the global market and attract more customers.
Efficient Shipping and Consolidation:
One of the biggest challenges for international businesses is shipping logistics. This is where MyUS steps in. With a MyUS membership, businesses can access their own US-based address to ship their Amazon Prime Day purchases.
MyUS offers consolidation services, allowing businesses to bundle multiple packages into a single shipment, thus reducing shipping costs. This consolidation feature is particularly beneficial during Prime Day, when businesses can buy multiple products and have them shipped together, saving money on individual shipments.
International Shipping Expertise:
MyUS has extensive experience in international shipping and handles deliveries to over 220 countries and territories worldwide. By partnering with MyUS, small businesses gain access to a reliable service that offers various shipping options, including expedited delivery, package tracking, and customs assistance. This ensures a smooth and hassle-free shipping process, allowing businesses to focus on growing their customer base and expanding their operations.
Expand Your Customer Base:
Amazon Prime Day attracts millions of customers in the United States and garners international attention. Small international businesses can reach a wider audience by capitalizing on this event and utilizing MyUS's shipping services. By offering unique and sought-after products at competitive prices, businesses can attract new customers from around the world, expanding their customer base and increasing their revenue.
Enhance Your Business with Prime Day & MyUS
As Amazon Prime Day approaches, international small businesses can benefit from this global shopping extravaganza. With a MyUS membership, businesses can access a vast array of discounted products, leverage competitive pricing, and efficiently ship their purchases to their international customers.
MyUS members can also shop other retailers and take advantage of other summer sales like:
Check out our blog on the Nordstrom Anniversary Sale to learn more!
By utilizing MyUS's services, businesses can overcome the barriers of international shipping and expand their reach, ultimately boosting their success in the global marketplace. Don't miss out on the potential growth and profits that Amazon Prime Day can bring to your international small business—sign up for a MyUS membership today!
We always aim to bring our members the best shopping options available, but some of the products featured in this post may have purchase restrictions. Please visit the merchant's terms of sale, shipping guidelines, and terms and conditions to find more information.