9 Cool Gifts for Boys and Girls Ages 7-9 Years Old (2015 Edition)
Ready to shock the kids on your holiday shopping list by getting them the toys they really want? We've picked out the hottest toys of the season for boys and girls.
Bonus: Buy these gifts online straight from America, and you'll save a lot versus buying them in-store overseas. You pick the gifts out, we'll take care of the international shipping and your kids have lots of fun!
The Gifts Kids 7-9 Years Old Really Want
Nintendo Wii U Mario Kart 8 Deluxe Set (US$299.99)
Outside the Xbox vs. Playstation battles, the Wii has been reigning supreme as the best motion capture gaming device out there, and the latest incarnation is no exception. What's even better is when you buy the device--which comes with hardware, game pad, stylus and 32GB of internal storage--you get the latest Mario Kart game, too!
Where to Buy It: Toys R Us Website
Bratz "Hello My Name Is" 5-Pack of Dolls (US$59.99 Sale Price)
Not only does this collection come with all 4 original Bratz girls, but only in this set can you get the exclusive fifth member, Meygan! Featuring the "Hello My Name Is" styles, each doll has their own personality and fun style. Get this exclusive package for just $59.99
Where to Buy It: Find it at ToysRUs.com
Playmation: The Avengers Starter Pack (Was US$119.99 ~ On Sale for US$59.99!)
Playmation is the latest innovation in play, combining pop-culture costumes with role-playing scenarios. By integration with the Playmation app, kids get to play as Iron Man, using a "blaster" to fight through 25 missions with over 20 different enemies. Add other characters, like the Hulk, to expand the set or play with friends. Normally $119.99, get it today for just $59.99.
Where to Buy It: Get it on sale at Toys R Us
The Game of Life: Despicable Me Minion Version (US$19.99)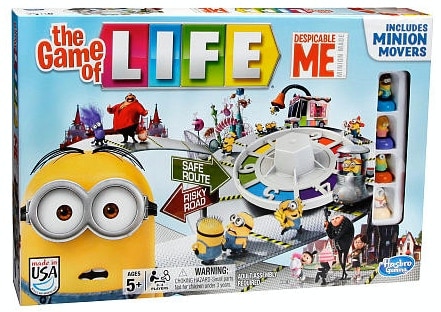 An oldie but a goodie, this classic board game just got a modern makeover. Start by choosing your Minion and a job, and Life begins! While still faithful to the classic gameplay, this new version incorporates the wackiness of the Despicable Me movies. Get hours of gameplay and entertainment for just $19.99.
Where to Buy It: ToysRUs.com
LEGO Minecraft The Mine Set (US$99.99 Sale Price)
This toy from LEGO allows your child to combine two of their favorite games, LEGOs and MInecraft. What's more, it allows your boy or girl to have the fun of Minecraft AWAY from the computer, letting them use their imagination in a live setting. This fun kit normally goes for $119.99 but can be yours today for only $99.99.
Where to Buy It: Shop Toys R Us Online
Pupstar Interactive Puppy Robot and Karaoke Pal (US$29.99 On Sale Now)
Combining the fun of karaoke with the excitement of having a pet, the Pupstar lets you play and sing with your pup--without having to worry about cleaning up any messes! This interactive pup has emotive LED eyes and sensors that can tell when she's being petted. This Zuppy comes with a variety of games and modes and can interact with other Zuppies.
Where to Buy It: Find it at Toys R Us
NERF Rebelle Secrets & Spies Bow Blaster (US$28.39)
Let your daughter unleash her inner Katniss with this fun (and safe) bow and arrow set from NERF for only $28.39. Bow comes with 6 arrows that whistle as they soar towards targets up to 90 feet away. The quiver automatically reloads for faster firing speed.
Where to Buy It: ToysRUS.com
Project Mc2 McKeyla's Ultimate Lab Kit (US$41.24)
Based on the Original Netflix Series, your little girl can join the elite team of secret agents with this lab kit. With this ultimate lab kit she can conduct experiments with the 30+ accessories--including 2 test tubes, beakers and safety goggles--or take a look at the microscopic world through the real microscope. Kit comes with more than 15 different experiments. Originally $54.99, now just $41.24!
Where to Buy It: Toys R Us
Jenga Quake (US$19.99)
Another take on a classic game, this new version of Jenga features all the fun of the original but with an added danger: vibration. That's right, not only do you have to compete with gravity, you'll be competing against a tower that randomly vibrates as you play!
Where to Buy It: Online at Toys R Us
Need Other Gift Ideas for Younger Kids, 'Tweens or Still Need to Shop for Mom and Dad?
Note: While we have made all efforts to provide the best available shopping options for our members, some items or merchants listed may have purchase restrictions, may not take all forms of payment or may restrict purchases to certain countries. Please check the merchant's terms of sale, shipping guidelines or terms and conditions for more information.