Celebrate Día de Los Muertos with MyUS
For many, death is a sad event, but those who celebrate the Day of the Dead have a different perspective. Day of the Dead is a unique holiday for celebrating death and life simultaneously. It's about viewing death as a natural conclusion and a welcomed part of life. The act of honoring the departed is widely observed around the world. Still, the Day of the Dead is unique in its traditions, including the ofrenda, the meaning of life and death, the use of Calaveras, the style influenced by La Catrina, and, more recently, the street festivities. It is unlike any other holiday in which grieving is replaced by celebration.
Join in the celebrations by spending this day together with your loved ones. And if you live far away from your friends and family, surprise them with meaningful gifts to show that you are with them spiritually.
With MyUS, you can shop in US stores internationally and have your items delivered to your (or your loved ones') doorstep worldwide. Get everything you love from the USA with one easy checkout! Add items from multiple stores to your MyUS Shopping cart, and benefit from the lowest international shipping rates.
Pacific Giftware Day of The Dead Skulls Salt Pepper Shakers, $13.18 (was $16.95)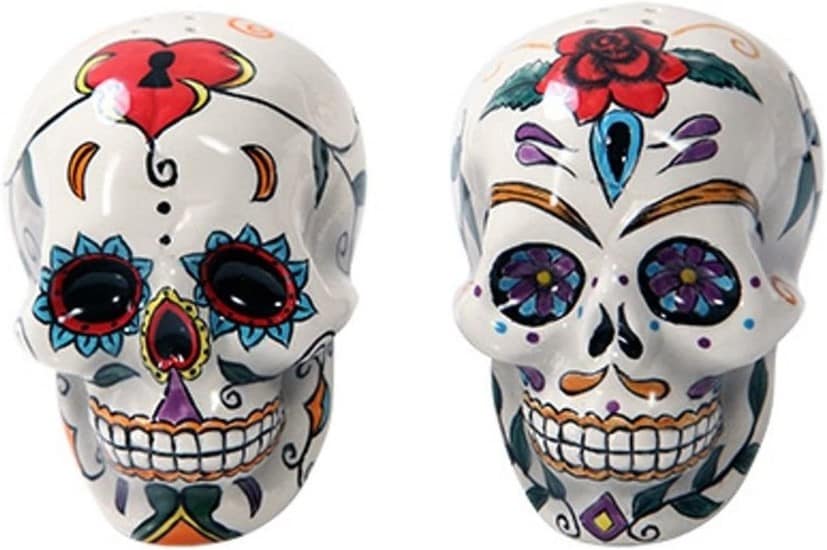 Pacific Giftware Day of the Dead Skulls Salt and Pepper Shakers are an excellent present for anyone who enjoys spending time preparing fantastic food in the kitchen. These beautiful shakers are precisely made and hand-painted with embellishments, and each has an opening at the bottom that makes it easy to fill. You won't be disappointed whether you put them on your dining table or as decorations.
"I got these hoping they would look cool and use as salt and pepper shakers, but they look so good excellent paint job I'm using them as desk decorations. So glad I ordered them," comments Steve B.
Day of the Dead Mezcal Set, $50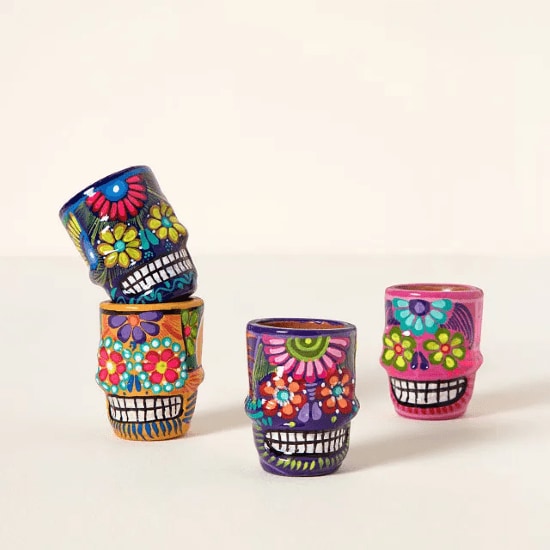 Raise your glass for a beautiful year for your friends and family. This set of Day of the Dead-themed mezcal shot glasses will be a great addition to any celebration. Each pack consists of four randomly chosen but masterfully hand-painted glasses for a beautiful addition to your collection.
"I love these shot glasses. I have a rather large collection, and these fit right in," says barbarajo, a satisfied buyer.
140 Pieces Marigold Flower Heads Mexican Artificial Marigold Flowers Day of The Dead Decoration, $19.98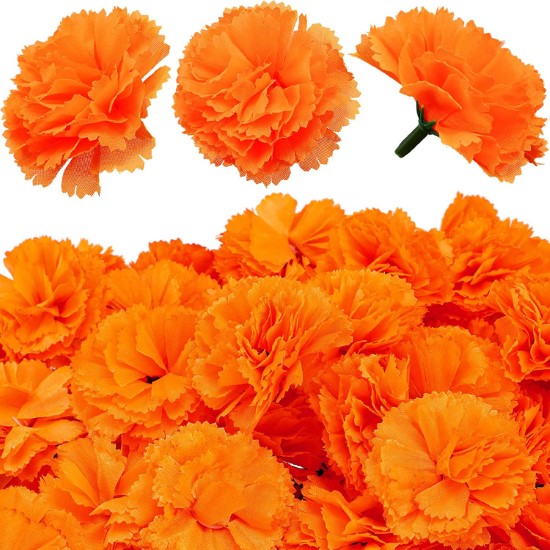 Marigolds are thought to be the pathways spirits use to get to their ofrendas. The brilliant colors and aroma of the flower lure the departed souls, who return to feast on their favorite delicacies. They are also known as Flor de Muerto (Spanish meaning Flower of the Dead) and represent the beauty and fragility of life. Decorate your home with 140 pieces of vibrant artificial marigolds for Día de Los Muertos to add a bright accent to your celebrations.
"Definitely read the dimensions before buying because I did not. I was not disappointed though. I suggest leaving them to get air so that they can expand," suggests Nancy Suazo.
Day of the Dead Dog, $21.99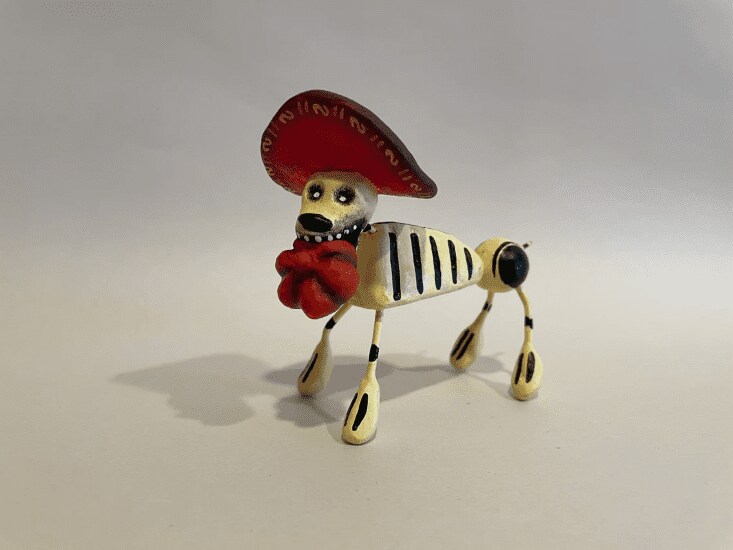 Day of the Dead is not only about celebrating the life and death of humans, but animals too. Molded from clay and hand-painted with care, this adorable Miniature Day of the Dead dog piece will be the centerpiece of any altar and beautiful yearlong decoration.
"Oh, this exceptional Día de Los Muertos dog is truly a treasure. It is so well-made and beautiful; it makes my heart happy that I can remember my sweet dog so well. Thank you for sending it so quickly!" exclaims Lisa Koperek.
Coco Remember Me Loteria, $19.55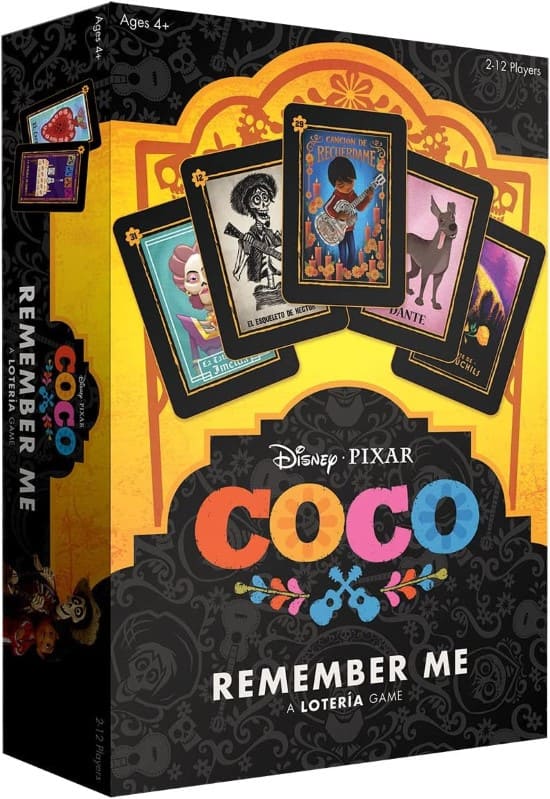 Día de Los Muertos is all about cherishing traditions, and what is a better way to cherish values that matter to us than to share them with the younger generations? With this traditional Loteria game featuring artwork and visuals from the 2017 Disney Pixar film Coco, you can host an exciting family game night and celebrate Día de Los Muertos all year. This bilingual board game (Juego de mesa) is a basic game of chance that is fun for all ages and improves social, memory, and educational skills.
"Beautiful illustrations and easy to play for young players," recommends Andrew Stephen Foor.
Eurographics Traditional Mexican Skulls 1000-Piece Jigsaw Puzzle, $17.99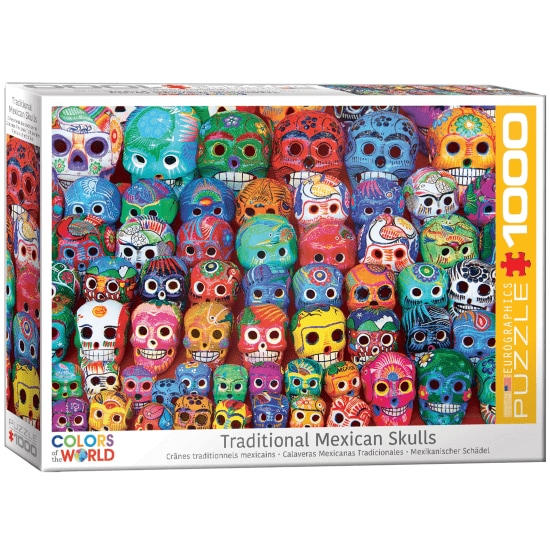 Here's a gift idea for jigsaw puzzle fans. Eurographics' 1000-Piece Traditional Mexican Skulls Jigsaw Puzzle is sure to bring hours of entertainment with its stunning design featuring colorful sugar skulls. Furthermore, once completed, it can be framed and used as a vivid accent to any home decoration.
A BB&B customer remarks, "I really enjoyed putting this beautiful puzzle together. It took days to assemble. Definitely, a great purchase if you're suffering from pandemic boredom."
Sugar Skull Dangle Earrings for Women, $15.99
For fashion enthusiasts, Sugar Skull Dangle Earrings will be a great addition to their jewelry box. Featuring two skull charms dangling on gold-tone hooks, these vibrant earrings can be worn all year long for an eccentric fashion look.
"I purchased a pair of earrings for my daughter, daughter-in-law, and myself. The sugar skull earrings are adorable and the perfect size. The colors are vibrant. I will purchase from this shop again. Seller shipped all three next day and very prompt delivery," states Penny.
Have you decided on the best gift options for your loved ones this Día de Los Muertos? Please share your thoughts with us on our social media channels.
As always, MyUS aims to bring you closer to your loved ones wherever they are. MyUS ships to more than 220 countries and territories, with happy members around the globe. Ready to explore US stores and find the best deals for the lowest shipping rates? All you need is a membership to get your MyUS address instantly.
We always aim to bring our members the best shopping options available, but some of the products featured in this post may have purchase restrictions. Please visit the merchant's terms of sale, shipping guidelines, and terms and conditions to find more information.