Go Green with Eco-Friendly and Sustainable Clothing
Living an eco-friendly lifestyle requires a few sacrifices and changes. However, this doesn't mean you have to reinvent how you live. When it's time to switch to a sustainable clothing collection, you do not have to look far or compromise your budget. It is the perfect start to prioritize and practice a sustainable lifestyle. Assemble the ideal wardrobe full of eco-friendly clothing that's fashionable and affordable with pieces from trustworthy brands.
Start with these stores and the sustainable shirts, pants, dresses, and accessories they offer. Ship your favorites to over 220+ countries so your friends and family can participate in eco-friendly fashion with MyUS!
Twill Denim Jacket, $50.68 (Was $79.50)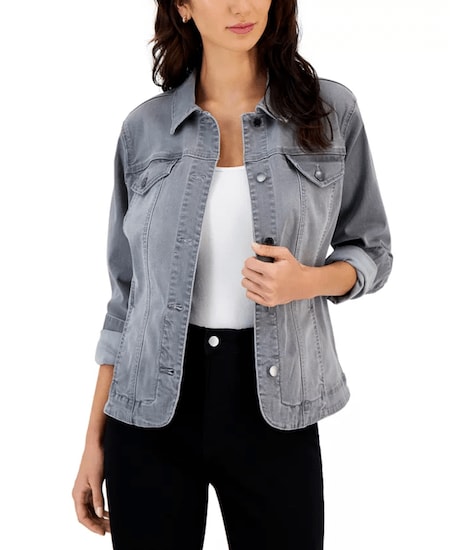 When you need a jacket that pairs well with any piece of clothing for any season, this versatile Charter Club Twill Denim Jacket does the trick! Charter Club makes its denim jackets out of sustainably-grown wood Lyocell fibers, which gives them a comfortable and stretchy feel. Also, the unlined design allows more free movement and ventilation than other denim jackets.
"Great fit with some stretch. I love my jacket! It adds a beautiful pop of color during these winter months when I wear lots of dark colors," Wendy says.
Levi's Flex Athletic Fit Jeans, $55.65 (Was $79.50)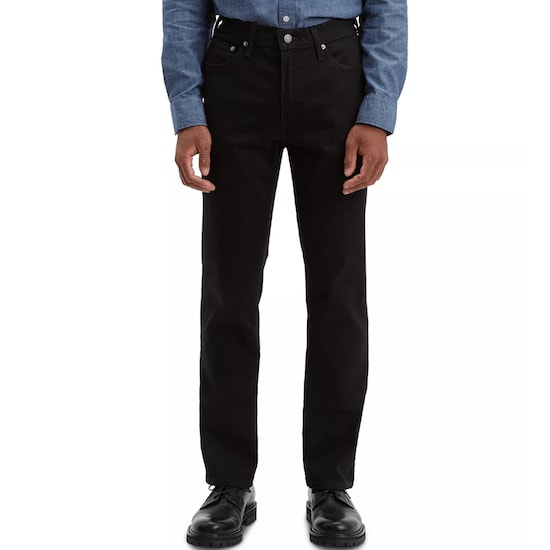 Are you looking for a pair of pants that uses eco-friendly materials and is versatile? Match a pair of Levi's Flex Fit Jeans with your favorite sneakers, blazers, sweaters, graphic tees, and more! Enjoy the extra room in the slightly-tapered legs and added stretch from the jeans' sustainable wood and pulp viscose fibers. They're the perfect pants for walking and relaxing with effortless style.
Ricky writes, "I was very impressed with the material, design, and quality for the price. Levi's is the best brand of jeans in the world. I will go for Levi's until I expire!"
Ultra Soft Modal Pajama Set, $38.22 (Was $69.50)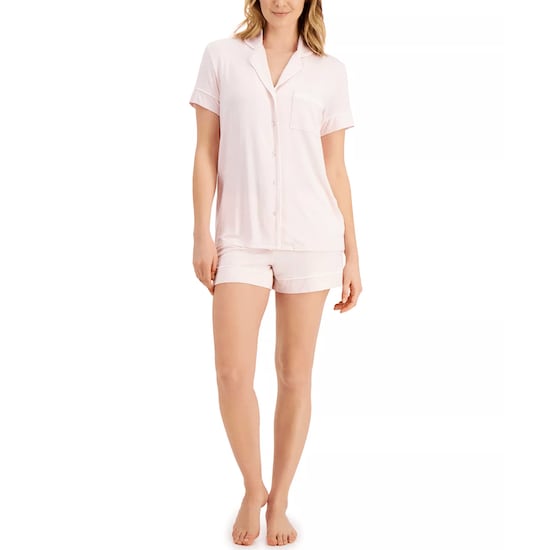 You'll never believe that something as soft and comfortable as this Alfani Top & Shorts Pajama Set consists of sustainable materials! These pajama pieces feature TENCEL-branded modal fibers from environmentally-responsible processes from the sewing table to your wardrobe. The fibers also make it pleasant for sensitive skin and sleeping during warmer days.
Miami Artist comments, "This fabric is so soft; feels great against my skin! I love lounging in these because they are really, really comfortable. Very cute, too. My husband even commented, 'you look really nice in that.'"
Organic Cotton Crew Sweater, $90
Add this Organic Cotton Crew Sweater to your assortment of clothes to layer up during chilly days. This top's materials originate from a combination of crop rotation, cover crops, and organic fertilizer as a safer and healthier alternative to cotton exposed to pesticides and harmful chemicals. Wear it to complete your ideal Fall and Winter outfit or as the final piece to a last-minute ensemble.
"This is the most perfect jumper! I'm 5'7" and usually an S, but I bought an M for a relaxed fit. It's so lovely and such good quality. I will happily buy more." states Ellen S.
Organic Cotton Crew Shirt, $15 (Was $30)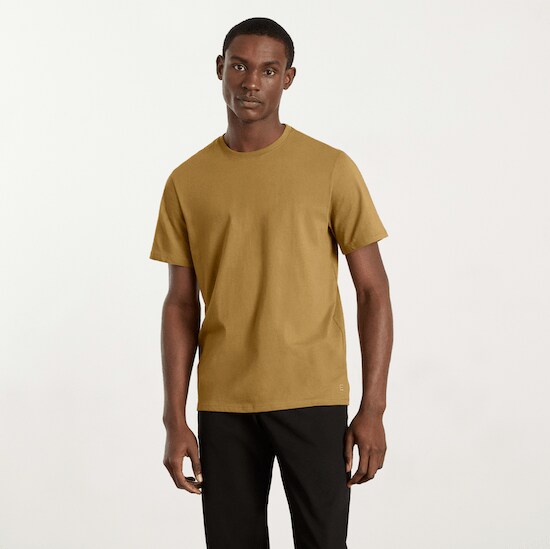 When you need a simple t-shirt, check out Everlane's Organic Cotton Crew Shirt. The durable organic cotton makes the shirt softer over time through each use for a gentle and delicate feel. There are seven colors to choose from that go well with shorts, trousers, jeans, sneakers, and jackets.
Joel C says, "This shirt fits well and looks great. The fabric is soft and feels like it will be durable."
Stretch Jersey Knit Mock Neck Long Top, $168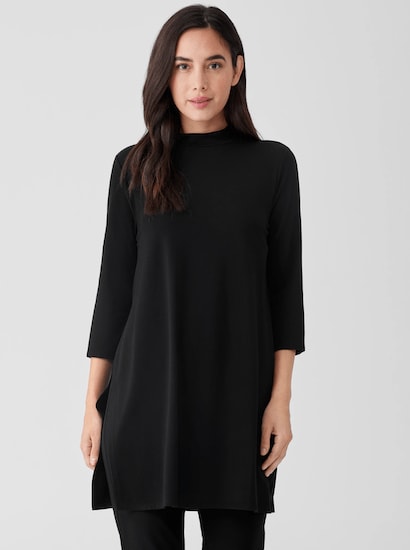 Eileen Fisher strives to provide elegant clothes from ethically-sourced factories that use eco-friendly materials, and one popular result is their Stretch Jersey Knit Long Top! Organically-harvested trees provide the sustainable Tencel Lyocell necessary for the top's long lines and layering. Not only does this top offer improved breathability, but it also makes anyone look and feel slimmer.
"I received this beautiful dress today. It has exceeded my expectations. It fits true to size. Very slimming. Not oversized. I will layer an Eileen Fisher long straight tank underneath. I love the fabric. Perfect for travel. I can wear it in multiple ways. So happy with the purchase and look." Lina states.
Conscious Step Organic Cotton Crew Socks, $44.95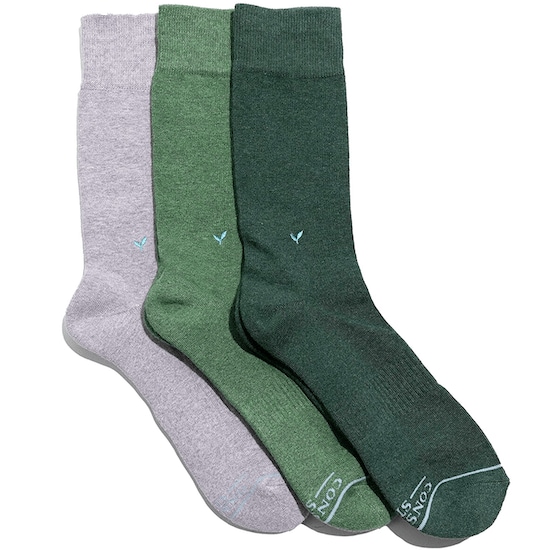 Do you ever feel you should do more to help the environment besides wearing sustainable clothing? You can accomplish that with this set of Conscious Step Organic Crew Socks! It includes three pairs of recycled polyester and fairtrade organic cotton socks, and any purchases go towards planting additional trees. Every item, from the socks to the packaging, features recycled and chemical-free materials that benefit the planet.
Lisa raves, "I love these socks! They are super comfortable. They are sooo well-made, and I feel great about the causes they support."
L.L. Bean Organic Cotton Rollneck Crew Sweater, $64.99 (Was $79)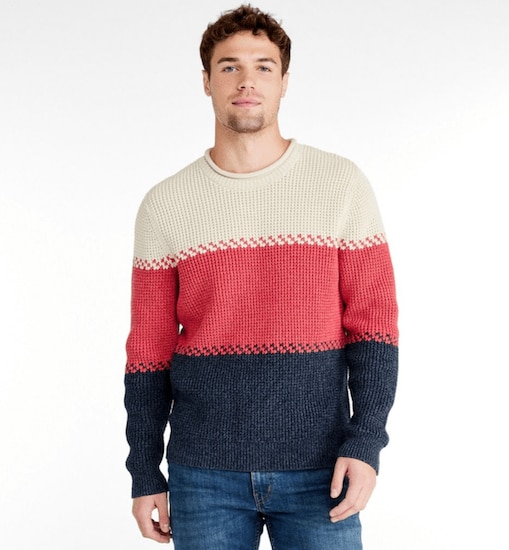 If you need a heavy-set sweater for lounging next to the fireplace during winter days, this L.L. Bean Organic Cotton Rollneck Sweater should do the trick! The 100% organic cotton gives this top a thick waffle-knit stitch that's long-lasting, rugged, and cozy. The tri-color style makes the sweater stand out and enhances your outfit.
With these sustainable clothes, shops, and brands, it's much easier to practice having an eco-friendly lifestyle one step at a time, especially if they are affordable.
Shop for eco-friendly and sustainable clothes from top US stores and ship them straight to your doorstep with MyUS!
We always aim to bring our members the best shopping options available, but some of the products featured in this post may have purchase restrictions. Please visit the merchant's terms of sale, shipping guidelines, and terms and conditions to find more information.