What are People in Japan Buying from America?
MyUS has many happy members who live in Japan and buy American goods. See what their favorite things are to buy and ship from the USA...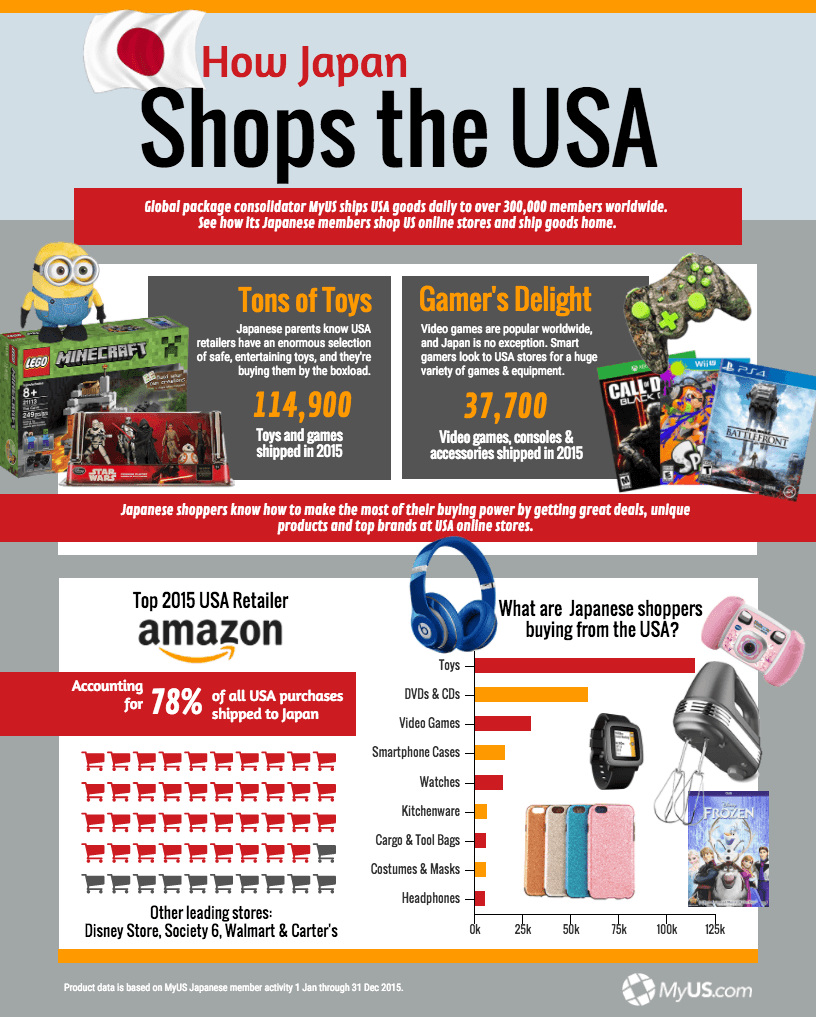 Live in Japan (or any other country) and Want to Buy American Goods? You Can with MyUS.
Do you live in Japan and want to buy items from websites in the United States? You can with MyUS!
MyUS helps its Japanese members shop brands in the United States and ship those goods home for cheap, through package consolidation and discounted shipping rates.
We've been helping people ship items from the US to Japan and more than 220+ other countries and territories since 1997. Join us today and start shopping the USA today!
How Japan Shops the USA (Transcript of Infographic)
Tons of Toys!
Japanese parents know retailers in the USA have an enormous selection of safe, entertaining toys - and they're buying them by the boxload!
114,900 = Number of toys and games shipping to Japan in 2015
Gamer's Delight
Video games are popular around the world, and Japan is no exception. Smart gamers look to US stores for a huge variety of games and gaming equipment.
37,700 = Number of video games, consoles and accessories shipping to Japan in 2015
Japanese shoppers make the most of their buying power by getting great deals on top brands online from USA stores.
Top US Stores the Japanese are Shopping Online
2015 Top USA Retailer = Amazon.com, which accounted for a whopping 78% of all purchases shipped to Japan. Other popular US stores include:
What Are Japanese Shoppers Buying?
In order of most popular items first:
Toys
DVDs and CDs
Video games
Smartphone cases
Watches
Kitchenware
Cargo and Tool Bags
Costumes and Masks
Headphones
Product data is based on MyUS Japanese Member activity 1 Jan through 31 December 2015. To learn more about how you can shop US stores from other countries, please visit www.myus.com.