Lavish Home Decorations to Celebrate Ramadan
Ramadan is more than a month of celebration; it is a time of reflection, devotion, love, prayer, and all things that connect family and friends together through tradition. What better way to prepare the momentous occasion than by covering your home with reminders.
Since Ramadan is just around the corner, we assembled some items to get you, family, and friends ready for the holiday. Shop your top picks and enjoy fast shipping to your international address worldwide, without paying US sales taxes, with MyUS!
Personalized Ramadan Lanterns $20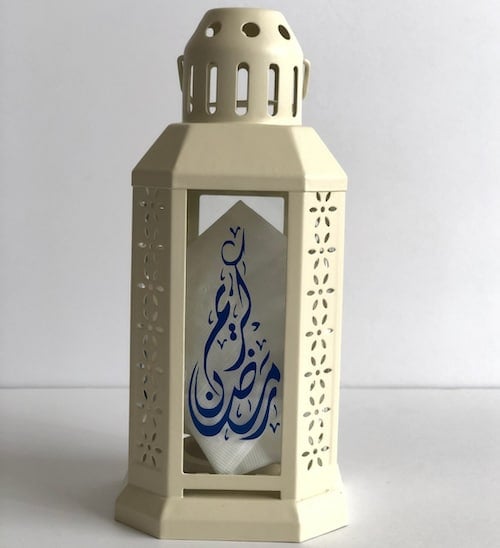 Add soft light to your home and outdoor space with this Personalized Lantern. It represents the elegance, serenity, and peacefulness of Ramadan inside a gorgeous decoration. You can also customize the lantern with a name print of your choosing. Get one with your name on it or send it as a personal gift to friends and family.
"This is my second order and I will be ordering much more in the future! Highly recommended- wonderful product and shop." says Lensi
Wooden Ramadan Mubarak Wall Decor $34.49+
If you have empty space on your wall, fill it up with this Moon Wall Decor. These laser cut wooden decorations offer a variety of designs and colors to match your living space. Also, there are a variety of texts to choose from such as "Ramadan Kareem", "Blessed Ramadan", "Ramadan Mubarak", and much more!
"Astonishing and perfect! What a classy way to welcome my guests to my home!" Karen raves.
Ramadan Kareem Pillow Covers Set $25.99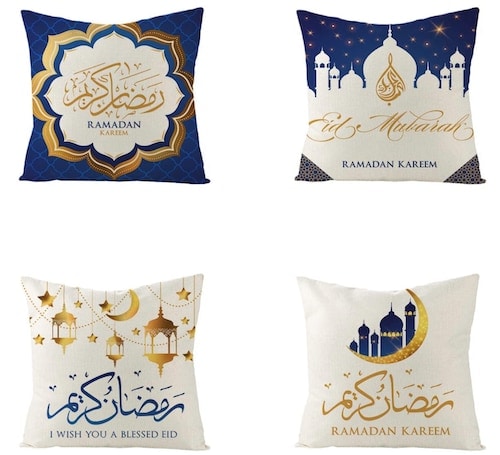 Whether you are indoors or outdoors, these Ramadan Pillow Covers are fun and functional decorations for your furniture. Place your favorite throw pillows into the cases for when guests, friends, and family visit. The polyester material is soft, lightweight, and easy on sensitive skin and the invisible zipper on these 18" x 18" pillow cases keep your home looking neat.
"These are beautiful. I washed them and the chilies didn't bleed at all and the zippers are really good quality. It's early for Ramadan but I'm excited already to use these!" Amanda Marie Rahman comments.
Ramadan Wall Calendar With Pockets $50
This Wall Calendar is a wonderful decoration that's both festive and functional. Teach your children to countdown the days until Ramadan and reward them little toys, treats, and other surprises. It will get the whole family excited and proactive for the holiday.
"These were the perfect activities to keep the kids busy. My girls were excited and had a blast during Ramadan! Thanks!" Letitia McFelt states.
Happy Ramadan Moon Star Balloons $16.99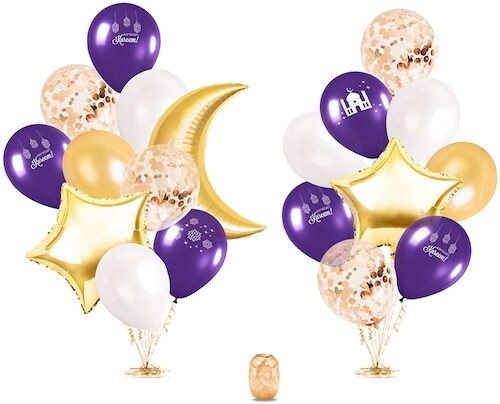 Balloons add fun to any celebratory occasion and Ramadan is not an exception. With moon and star designs, and vibrant purple and gold colors, this 16 Piece Balloon Set covers the entire room for the Ramadan season. Attach them to the included gold ribbon spool, place them anywhere, and watch them entertain guests throughout the event.
"Everything you need for a gorgeous balloon bouquet, and it works for both Ramadan and Eid. These would be perfect for Ramadan or Eid parties. The Purple Ramadan color matches our Purple Ramadan decor, and the quality is superb!" MuslimMommyBlog raves.
Modern Ramadan & Eid Calligraphy Tablecloth $53
If you are looking for a decoration that's subtle, modern, and versatile, it's this Calligraphy Tablecloth! It can cover the entire dining room table or held up as a decorative backdrop. You'll enjoy looking through the printed sentiments on the cloth while setting up.
"Perfect! Unique and high quality." Elira Mahmudia says.
Mini Star Lanterns With Flickering LED Flame $21.99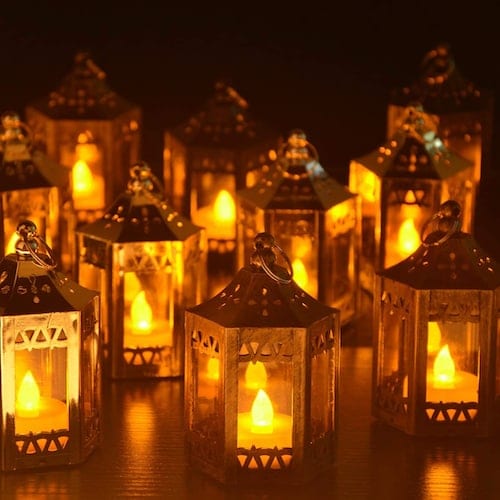 Get more light decorations without wasting matches and candles to light them all with these LED Star Lanterns. Place them anywhere from tabletops to stair steps due to their flameless setup, and watch them flicker throughout the night. It's the perfect ornament set that adds elegance without compromising safety.
"I love them! Perfect time for the month of Ramadan. I'll definitely recommend this" Tina states in her five-star review.
Shop festive Ramadan decorations from US websites and ship worldwide and US sales tax-free when you become a MyUS member.
We always aim to bring our members the best shopping options available, but some of the products featured in this post may have purchase restrictions. To find more information, please visit the merchant's terms of sale, shipping guidelines and/or terms and conditions.