Mother's Day Shopping with MyUS: Stores, Sales & Gift Ideas
Mothers deserve the world (well, most of them), so Mother's Day is your perfect occasion to celebrate and appreciate the love, care, and sacrifices of your mother, stepmother, or mother figure.
Usually, this is a day celebrated on different dates in various parts of the world. Still, the essence remains the same - expressing gratitude towards the most important woman in our lives.
In the United States, Mother's Day falls on the second Sunday of May, which means that this year, US citizens will be celebrating this special day on May 14 by giving gifts, cards, and flowers to their mothers and/or by taking them out to lunch and spa treatments.
As Mother's Day approaches, many retailers offer great deals and discounts on various products that can be gifted to mothers or mother figures. If you're looking for the perfect Mother's Day gifts for your favorite woman, MyUS has you covered, as usual.
Here are some retailers and sales that you, as MyUS members, can use.
Amazon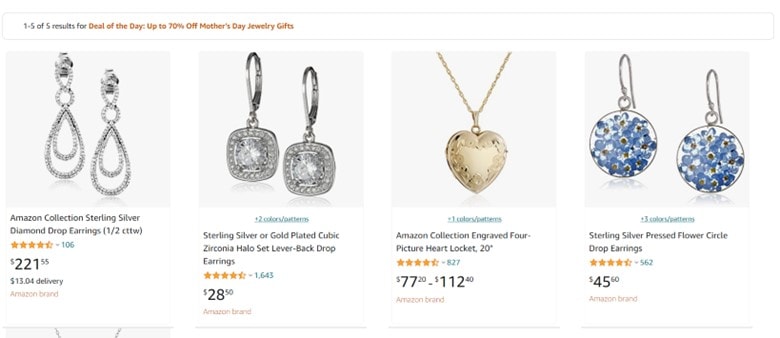 Amazon needs no introduction as it has an enormous variety of products (read: literally everything), making it a great option for Mother's Day shopping. Whether your mom enjoys reading, cooking, or staying active, just type in your desired item, and you'll find numerous suggestions.
For instance, if your mom is a bookworm, consider gifting her a Kindle e-reader or a selection of her favorite books/authors. If she loves to cook, Amazon has a wide range of kitchen gadgets and cookbooks. And for moms who like to stay active, you can find a variety of fitness trackers and equipment.
Amazon often offers Mother's Day deals and discounts, so watch for special promotions daily. Our current favorites are the jewelry gifts you can get for up to 70% off this year.
Bath & Body Works
You know how important self-care is, so it would be insane if we didn't include Bath & Body Works here.
If your mom enjoys relaxing baths or pampering herself, Bath & Body Works has a variety of bath and body products, candles, and home fragrances that make for great Mother's Day gifts. Consider creating a custom gift basket with her favorite scents and products, and of course - be sure to check their website for more Mother's Day deals.
Macy's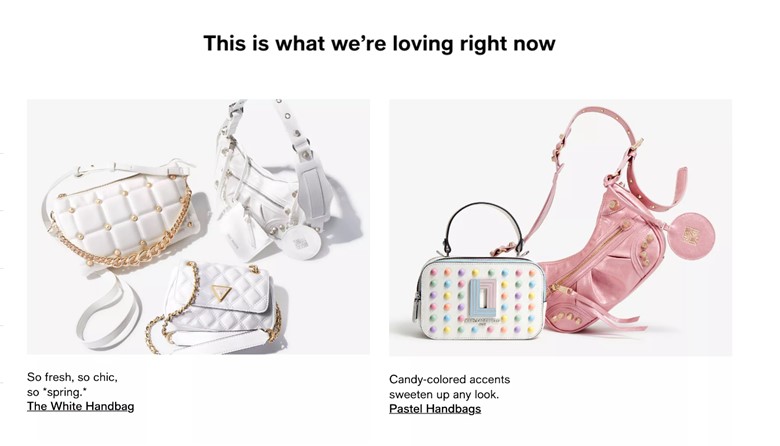 We recommend Macy's as a shopping option for fashionable moms who always look and feel their best.
You can find various products at Macy's, including clothing, accessories, beauty products, and even home goods. Does your mom need a new purse, a statement piece of jewelry, or a home appliance? Well, Macy's has it all. If your mom loves to cook, consider gifting her a new stand mixer or cookware set, and if she needs a new handbag, Macy's offers a variety of handbags and accessories on sale all the time.
Shopping is easy when you know what she wants/needs, right?
Sephora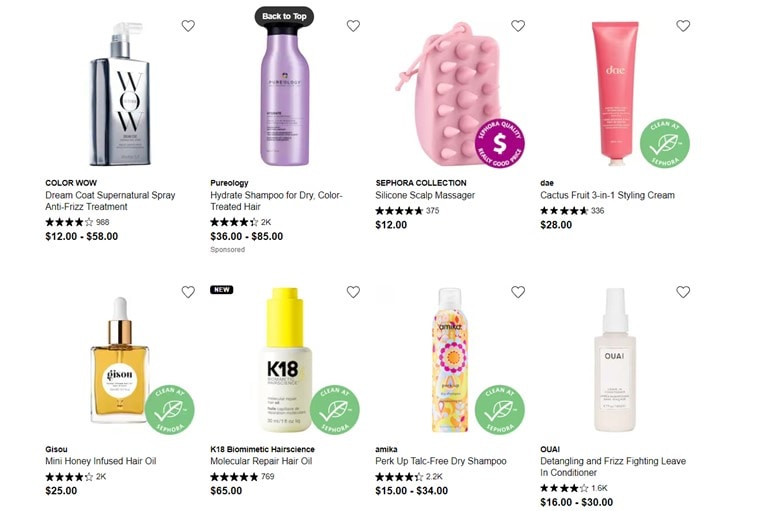 As one of the most popular beauty retailers, Sephora is the go-to place for those in need of skincare, makeup, hair, and fragrance products. If your mom loves beauty products and taking care of her appearance, Sephora has everything from skincare gift sets to makeup palettes. Consider gifting her a personalized skincare routine for her skin type and/or age or a set of her favorite fragrances. Sephora also offers a Beauty Insider rewards program, so sign up to earn points for future purchases.
Uncommon Goods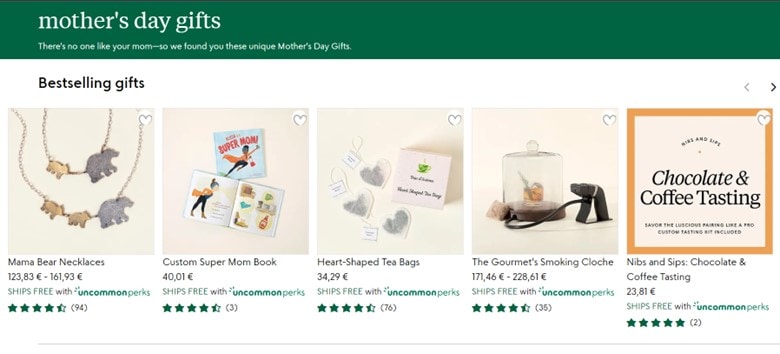 Finally, we have Uncommon Goods, one of our favorite places for unique gifts.
There, you can find unique and handmade gifts from independent sellers, so if your mom loves one-of-a-kind stuff, Uncommon Goods has many options, from personalized jewelry to quirky home decor. Consider gifting her a personalized family tree sculpture or a set of hand-blown glassware. Naturally, Uncommon Goods has Mother's Day gift guides and promotions, so check their website to see all available deals.
Find Your Ideal Mother's Day Gift with MyUS
See anything your mom might like? The right time to shop for Mother's Day is now!
With these six retailers and their special Mother's Day deals, you will surely find the perfect gift for your mom. And with MyUS' shopping and shipping services, you can easily get your gifts delivered to her doorstep and surprise her like never before. All you need to do is sign up for a MyUS account, go to the stores you want to shop at and add items to your cart.
Speaking of amazing surprises, what is your mom's favorite gift from you?
Don't be shy; share your story with us on Facebook, Instagram, or Twitter.
We always aim to bring our members the best shopping options available, but some of the products featured in this post may have purchase restrictions. Please visit the merchant's terms of sale, shipping guidelines, and terms and conditions to find more information.