Sophisticated and Durable: Our Favorite Drinking Glasses
Whether you're revamping your home decor or in need of a new addition for specific drinking needs, drinking glasses are a great place to start setting the tone. Do you prefer a collage of different shapes and styles, or do you like everything matching and uniform?
Of all the things to consider (heat-proof glass or plastic, dishwasher-safe or hand wash), we know for sure you'll be able to find the perfect glass for you. How? With your MyUS membership, of course!
Using your MyUS suite, you can shop as many glasses from as many stores in the US as you want, and your international shipping experience will be crystal-clear and as fast as a waterfall.
---
Luigi Bormioli Classico SON.hyx Highball Glasses, $33.99

This traditional yet elegant Luigi Bormioli drinkware is ultra-clear and highly durable, making it an excellent addition to any collection. These highball glasses are made of break-resistant glass and are dishwasher safe, thanks to SON.hyx technology.
"These highballs are simple and elegant. They are heavy-bottomed, and the top rim has a nice thin line," recommends Tian.
---
Libbey Cabos 16-Piece Tumbler and Rocks Glass Set $34.99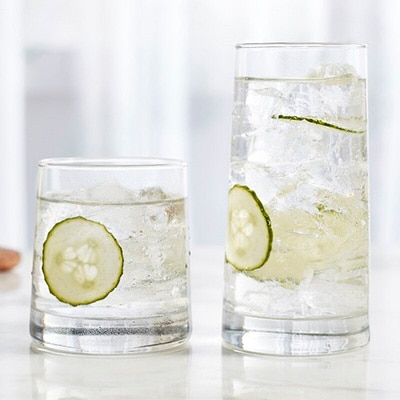 With a comfortable grip and sleek design, this set of rock and cooler glasses from Libbey Cabo will entertain your guests. If you're planning to surprise everyone with delicious cocktails this set is a great choice and comes with a great price!
"Just received and I'm in love with this glassware set! The shape of these glasses is unique and they look very high-end. Can't wait to start using them for gatherings! Delivery was perfect, not one glass came damaged. I recommend!" exclaims an anonymous Amazon customer.
---
Acopa Gardenia 13 oz. Highball Glasses, $33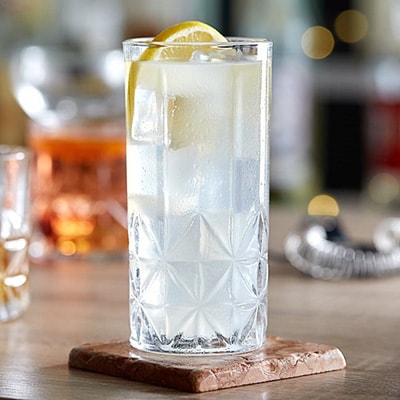 Your next iced tea, sparkling water, or drink will taste even better with Acopa Gardenia 13 oz. highball glasses. Its remarkable clarity brilliantly shows the hues of your beverages for an eye-catching showcase, while its classic vintage design with weighted sham gives a quality feel in your hands.
"These glasses are very pretty. The design on them adds elegance to your table setting. They are good-sized. And the quality is magnificent. We get compliments on them regularly," comments Alexa T.
---
Vibrant Splash Water Highball Glasses, $29.79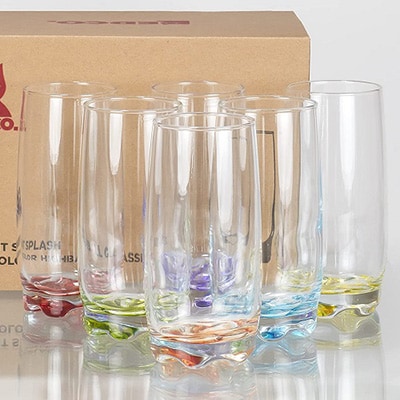 Do you frequently lose track of where you put your glass? The global epidemic taught us to be more cautious with our personal belongings, and with the immediately distinguishable colored bottoms, this set of highball glasses makes it easy to distinguish the owner of each! It's also a fantastic present for friends and family since it is made of high quality, durable glass with a colorful weighted bottom.
"I have had these for several months now and waited to write a review. I am happy to report that the color has remained looking brand new. No chipping or peeling. The size and shape are perfect. The glasses go through the dishwasher regularly, though I always ensure they aren't touching another glass item to minimize the risk of breakage. Not one glass has cracked or broken, and I have 4 young children who use them daily. All in all, I am VERY happy with this purchase and would purchase again as the need arises. I love having the color in the glass bottom so everyone can remember which glass they drank out of," says Kaytots.
---
Fortessa Iced Beverage Jupiter Glassware, $62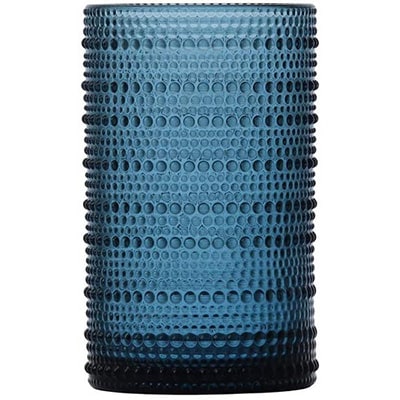 As out of the ordinary as the drinking glass can get, the set of 6 Jupiter collection double ice beverage glasses in blue and beaded detailing is inspired by Parisian flea market finds. It comes with a vintage design that is elegantly hand-crafted, an aesthetic that works with traditional or casual place settings.
Lauren Burgess says, "I first saw these at the Ritz Carlton in Key Biscayne. I loves how thick they were and how beautiful they were in the sun. I looked for over a year and was delighted to find them here. Very well made with thick glass. The texture on them makes them easy to grasp."
---
Sloping Ski Glasses, $58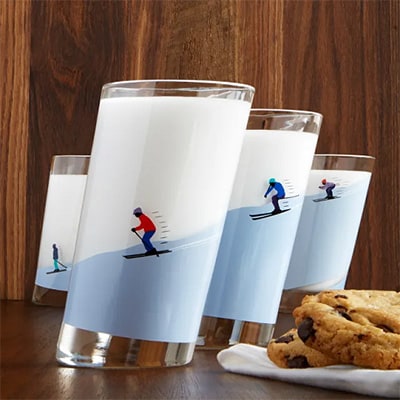 A whimsical and exhilarating set of four slanted drinking glasses come to life with beautiful illustrations of skiers in different areas of the slope. This makes a fantastic gift for lovers of winter sports—and is a great conversation starter.
Mr. Pickle states: "The glasses are a kick. Every time I fill one up and laugh and can't wait after covid to have friends over and watch their faces the first time they see and use."
---
La Rochere French Napoleon Bee Tumblers, $72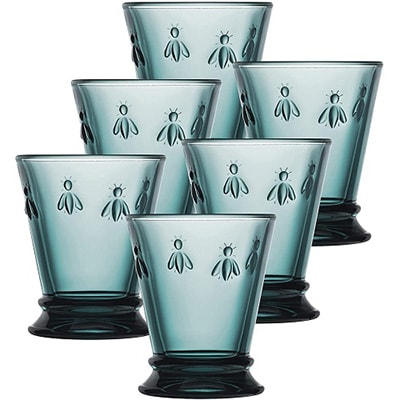 The embossed Napoleon insignia of l'Abeille or the French bee is ready to add a touch of grandeur to your dinner table. These tumblers are available in blue and white and come in a pack of six.
"Love these for everyday wine glasses and for dinner parties. Definitely recommend. Great quality. I have them in the blue and in the white to mix and match," remarks Jeffery Naquin.
---
Personalized Hobby Tumblers, $32 - $160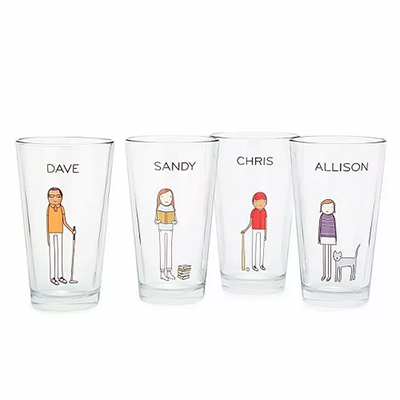 Finally, an interesting present for your extended family! Create a charming character for everyone by selecting a hobby, skin tone, hair color, attire, and first name so that you can gift a personalized tumbler to your loved ones. Whether you're gathered around the same table or in various time zones, the set is a joyful, unique way to keep loved ones linked.
"I have not seen my family in so many months. This was a way of bringing us together. Every group of grandchildren sent me selfie's on Christmas morning with their new Tumblers! They were delighted to see their hobbies depicted, their names and their very own glasses," Laurie happily writes.
---
Vintage, minimalistic, royal, whimsical, whatever your style choice for your next drinking glass collection is, easily shop your favorites and ship them anywhere in the world with MyUS