Celebrate Ramadan with Beautiful Home Decorations
Ramadan is a time for prayer, giving, celebration and reflection with family and friends. Welcoming loved ones into your home for meals and events is a special part of the holiday as well.
Make each day and night memorable with these Ramadan-inspired decorations. Use MyUS for international shipping and have your new decor delivered in as fast as 2 to 4 days.
Here are some of our favorite Ramadan and Eid holiday decoration finds for 2016:
Memories Maker Ramadan Star Table Cloth with White Fringes (US $18)
Set the table for suhur or iftar in a touch of colorful elegance with this beautiful tablecloth created for special family moments. Find it on sale at Amazon.com.
Wall Vinyl Sticker Decals: Ramadan Kareem Islam Crescent Stars (US $27.71)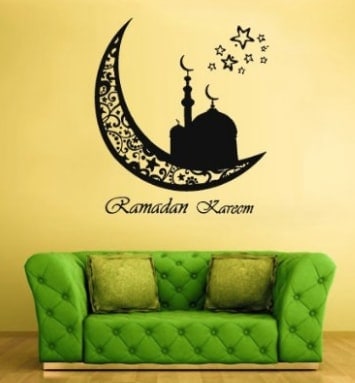 Keep the spirit of Ramadan the focal point of any room in the house with this wall decal that's easy to apply--and remove at the end of the celebration. Buy it here.
Eid & Ramadan Cookie Cutter Set (US $19.95)
Create treats symbolic to the month of observance with Ramadan-inspired cookie cutters. You can also use them to shape bread to make unique finger sandwiches. Buy them on Amazon.com.
Ramadan Lanterns (Starting at US $7.69)
Choose unique strings of light - from crescent moon and stars to traditional lanterns - to add sparkling accents throughout your home and outdoors. Shop an amazing array of Ramadan lights on Amazon.com.
Ramadan or Eid Countdown Wooden Display (US $34)
Countdown the days to Ramadan or Eid with beautiful handmade displays. And the kids will be excited to update the calendar every morning. Find it on Etsy.com.
Eid Celebration Henna Candle (US $15.90)
Whether on its own, or as part of a beautiful centerpiece, this candle is the perfect accent to the observance or an after-dusk meal. Buy it on Etsy.com.
Eid Mubarak Party Banner (US $35)
Share your joy for the season with a beautiful banner that's ideal in any room, or at any social gathering or special event throughout the month. Find it on Etsy.com.
There are thousands of decorations perfect for Ramadan you can buy online. Shop for the holiday looks and styles you want (even buy from sites that don't ship directly to your country) and MyUS will have your decorations shipped to you in time for the celebration.
For Do-It-Yourself inspiration, decorating and arrangements inspiration, we suggest visiting social media outlets such as Pinterest and Instagram, then use "Ramadan" as your search term. Happy Ramadan!

Please read before shopping: MyUS has made all efforts to present the best available shopping sites and decorating options for our members. Some decorations or merchants listed may have purchase restrictions, may not take all forms of payment or may restrict purchases to certain countries. Please check the store's website for their terms of sale, shipping guidelines or terms and conditions for more information.