Celebrating Rugby: The Global Spectacle of the Rugby World Cup
When it comes to sporting events that capture the hearts and minds of millions around the world, few can rival the sheer intensity, passion, and athleticism of the Rugby World Cup. This quadrennial tournament stands as a testament to the power of sport to unite nations and cultures, transcending borders and boundaries. In this blog post, we'll delve into the rich history and enduring appeal of the Rugby World Cup. Whether you're a die-hard rugby fan or a newcomer to the sport, we'll also provide some product suggestions for those looking to deck themselves out in style with MyUS, an international shipping service that enables you to shop for rugby merchandise from the comfort of your own home.
The Rugby World Cup: A Brief History
The Rugby World Cup, often referred to simply as the World Cup, is the premier international rugby union competition. It was first held in 1987, and since then, it has grown to become one of the most-watched and beloved sporting events on the planet. The tournament is organized by World Rugby, the sport's global governing body, and it brings together the best rugby teams from around the world to compete for the prestigious Webb Ellis Cup.
The Birth of a Spectacle
The idea of a global rugby tournament had been discussed for decades before the inaugural Rugby World Cup in 1987. Rugby enthusiasts from different countries had long dreamed of a competition that would pit the world's top teams against each other, but it wasn't until the 1980s that these dreams became a reality.
New Zealand, a rugby powerhouse, was chosen as the host nation for the first tournament. On May 22, 1987, the Rugby World Cup kicked off with a match between New Zealand and Italy. This marked the beginning of a tradition that would capture the imagination of rugby fans worldwide.
Memorable Moments
Over the years, the Rugby World Cup has produced countless memorable moments that have become part of the sport's lore. From Jonah Lomu's astonishing performances in 1995 to South Africa's historic victory in 1995 following the end of apartheid, the tournament has consistently delivered unforgettable drama.
The All Blacks of New Zealand have been a dominant force, winning multiple titles and establishing themselves as one of rugby's most iconic teams. The 1995 Rugby World Cup in South Africa also holds a special place in history as it marked the nation's return to international rugby and provided a powerful symbol of unity during a time of great change.
A Global Phenomenon
The beauty of the Rugby World Cup lies in its inclusivity. Teams from across the globe, from traditional rugby strongholds like England, Australia, South Africa, and Japan, compete on the same stage. This global reach has expanded the sport's fan base and fostered a sense of international camaraderie and cooperation.
The Appeal of Rugby Merchandise
As the Rugby World Cup has grown in popularity, so has the demand for rugby merchandise. Whether you're a fan looking to show your support for your favorite team or a collector seeking unique memorabilia, there's a wide range of products available. With MyUS, you can access a treasure trove of rugby-themed items from the US and UK.
Jersey Mania
One of the most sought-after items for rugby fans is, of course, the jerseys and t-shirts. These iconic shirts, worn by players on the field, have become fashion statements in their own right. Whether you're a fan of the classic black of the All Blacks, the green and gold of the Springboks, or the red rose of England, you can find authentic jerseys to wear proudly during matches or casually around town.
USA Rugby American Flag T-Shirt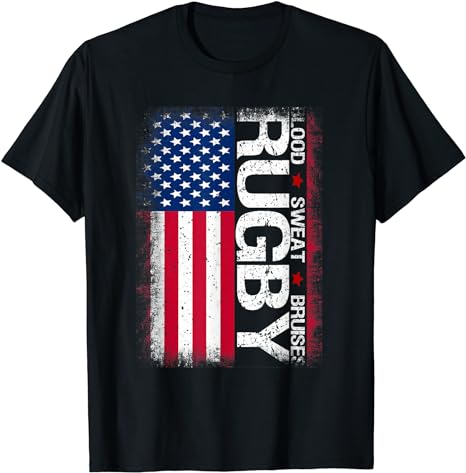 Show your patriotic spirit and love for rugby with Amazon's USA Rugby American Flag Distressed T-Shirt. This tee is the perfect way to show your passion for the sport and your pride in the United States. Its vintage distressed design proudly displays the American flag, making it an ideal gift for rugby enthusiasts who want to showcase their allegiance on and off the field.
Scarves, Caps, and Accessories
Rugby merchandise extends beyond jerseys. Scarves, caps, and accessories like cufflinks and ties are perfect for those who want to add a touch of rugby flair to their attire. These items make excellent gifts for rugby enthusiasts or serve as stylish reminders of your favorite team.
Sportfolio Rugby World Cup 23-20 Unions Cap, Navy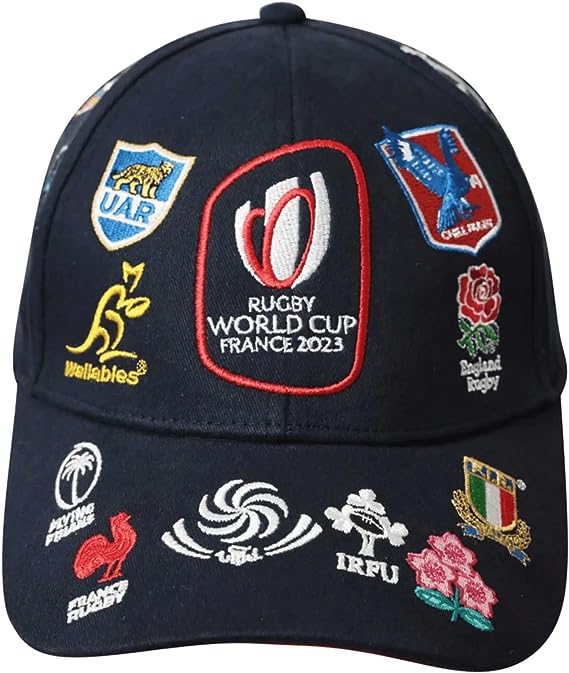 Elevate your rugby fan gear with the Sportfolio Rugby World Cup 23-20 Unions Cap. This cap is a must-have accessory for any rugby enthusiast looking to represent their favorite team from the Rugby World Cup. With its sleek navy design and embroidered 23-20 Unions logo, it's the perfect way to show your support for the global rugby community while adding a touch of style to your outfit.
Collectibles and Memorabilia
For collectors, rugby memorabilia holds immense value. Signed rugby balls, vintage programs, and framed photos of legendary moments are all highly coveted. These items not only celebrate the sport's history but also provide a tangible connection to the great players and moments of the past.
Gilbert Official 2023 Rugby World Cup Ball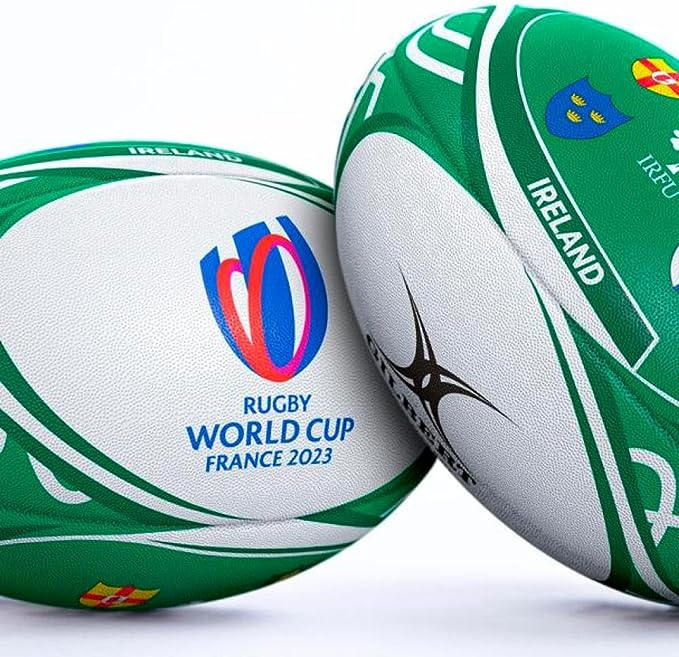 Get ready for the excitement of the 2023 Rugby World Cup with the Gilbert Official Rugby World Cup Ball. This size 5 ball is not only officially licensed but also features county flags and supporter designs, allowing you to represent your team with pride. Whether you're hitting the pitch or displaying it as a collector's item, this ball embodies the spirit of the tournament and is a must-have for rugby enthusiasts.
Rugby Books and DVDs
Rugby isn't just a game; it's a rich culture with a wealth of stories to tell. Books and DVDs about rugby history, famous players, and epic matches are perfect for fans looking to deepen their knowledge and appreciation of the sport.
Rugby World Cup France 2023: The Official Book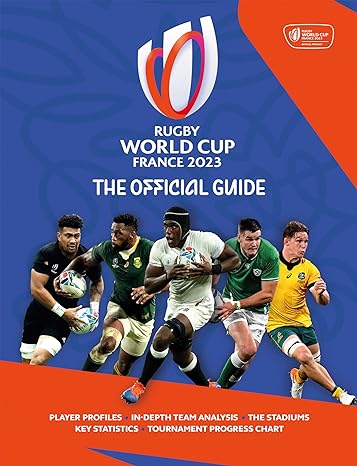 Immerse yourself in the thrilling world of rugby with the Rugby World Cup France 2023: The Official Book. This comprehensive volume is your ultimate guide to the highly anticipated tournament, offering a detailed look at the teams, players, and venues that will define the event. With stunning photography and in-depth analysis, it's a must-have for rugby fans and collectors alike, providing a lasting memento of the excitement and drama of the Rugby World Cup France 2023.
Shopping with MyUS: Your Gateway to Rugby Merchandise
Shopping for rugby merchandise from international sellers can sometimes be a logistical challenge. That's where MyUS comes in. MyUS is a package forwarding service that enables you to shop online from U.S. stores and have your purchases shipped worldwide. Here's how it works:
Sign Up: Register for a MyUS account to get your U.S. shipping address.
Shop: Browse your favorite online retailers and select the rugby merchandise you desire.
Ship to MyUS: When checking out, use your MyUS address as the shipping address.
Consolidation: MyUS can consolidate multiple packages into one, helping you save on shipping costs.
Shipping: Choose your preferred shipping method, and MyUS will deliver your rugby merchandise to your doorstep, no matter where you are in the world.
With MyUS, you can shop for rugby merchandise with ease, knowing that your items will be safely and efficiently delivered to your location.
The Rugby World Cup is not just a tournament; it's a global celebration of athleticism, camaraderie, and the enduring spirit of rugby. As fans, we can express our passion and support for the sport through the diverse range of rugby merchandise available. Thanks to services like MyUS, accessing these items from around the world has never been easier. So, whether you're gearing up for the next Rugby World Cup or simply want to show your love for rugby, explore the world of rugby merchandise and let your passion shine through. Cheers to the timeless allure of the oval ball and the rugby community that unites us all!
We always aim to bring our members the best shopping options available, but some of the products featured in this post may have purchase restrictions. Please visit the merchant's terms of sale, shipping guidelines, and terms and conditions to find more information.