Want To Save On Shipping From US To South Africa? We Got Your Back!
Do you want to ship from US stores to South Africa? Get the facts on how to get more and pay less with these easy fixes!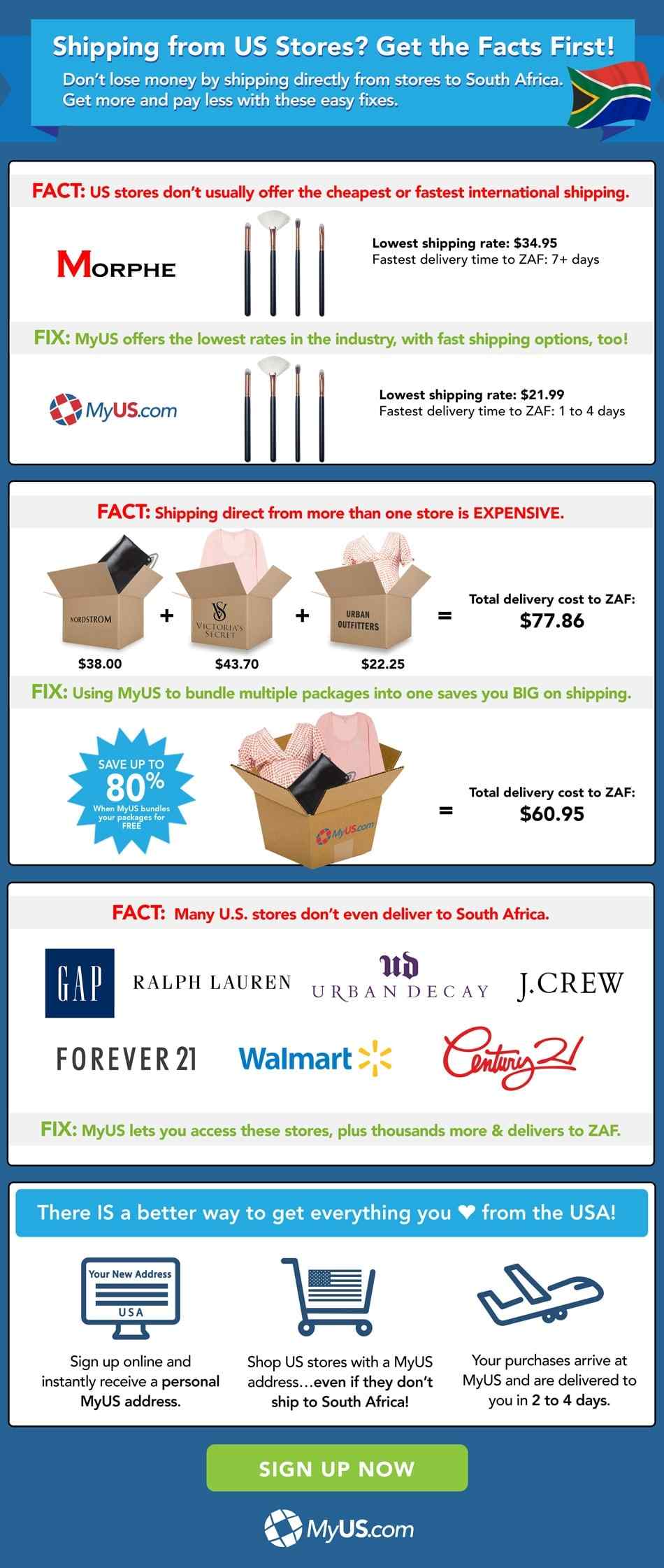 Fact: US stores don't usually offer the cheapest international shipping.
Make up brushes from Morphe -
Lowest shipping rate: $34.95
Fastest delivery time to ZAF: 7+ days
Fix: MyUS offers the lowest rates in the industry, with fast shipping options, too!
Make up brushes from Morphe shipped with MyUS-
Lowest shipping rate: $21.99
Fastest deliver time to ZAF: 1-4 days
Fact: Shipping directly from more than one store is EXPENSIVE.
Fix: Using MyUS to bundle multiple packages into one saves you BIG on shipping.
Save up to 80% when MyUS bundles your packages for FREE.
Fact: Just because you can BUY it, doesn't mean they can DELIVER it.
Fix: MyUS compliance experts make sure your goods are delivered.
"Dangerous goods" like these can get hung up in customs, and may never make it to you:
Stain Remover, CO2 Cylinders, Paint & Paint Pens, Makeup Setting Spray, Lithium Ion Batteries.
Fact: Many US stores don't even deliver to Canada.
Stores that won't deliver to ZAF: Gap, Ralph Lauren, Urban Decay, Forever21, J Crew, Walmart and Century21.
Fix: MyUS lets you access these stores, plus thousands more & delivers to CAD.
There IS a way to get everything you love from the USA!
Sign up online and start shipping today!