Small Business Saturday Deals You Won't Want to Miss
Black Friday and Cyber Monday may be some of the busiest shopping days of the year, but nestled right in between those days is Small Business Saturday, and there are some really great stores to discover. While Black Friday shoppers tend to focus on sales from big retail stores, Small Business Saturday is all about supporting and shining a spotlight on the unique products they have to offer.
Many small businesses these days have online websites, and offer special deals on Small Business Saturday, so MyUS members can shop "locally", score great deals, and ship their purchases home.
So mark you calendar and get ready to support small business while finding unique products for everyone on your holiday shopping list. To get you started, here are some of our favorite products:
Papercut Necklaces $36
These handmade necklaces from Sarah Trumbauer feature delicate leaves and feathers from hand cut paper within a glass pendant on a silver chain. Choose from four designs here.
Tea Towels from Fisk & Fern Starting At $16
Tea towels from Fisk & Fern are guaranteed to make an impression with their fun and whimsical artwork. Each one is hand-screenprinted with water based fabric ink onto a 100% cotton tea towel. Choose from endless designs here.
True Beauty African Turquoise Bracelet $85
Handmade from turquoise beads, sea glass and gunmetal rhinestones, this bracelet from Emmaus Glass Works has eye-catching beauty, and each is truly one of a kind. Buy it here.
Awkward Animal Plush Keychains $10
Each of these plush keychains features a different adorable, but slightly awkward, animal - perfect for stocking stuffers! Buy them here.
Book Lovers' Candles $18
Inspired by your favorite books, these handmade soy candles will delight the bookworm on your holiday gift list. Shop the scents here.
Amethyst Soap Set $22
These amazing handmade soaps look like they belong in a museum! Made from a vegetable based glycerin soap base, all three soaps are black raspberry and vanilla scented and make the perfect gift for the person who has everything. Buy the set here.
Pinch Spice Market International Spice Box $34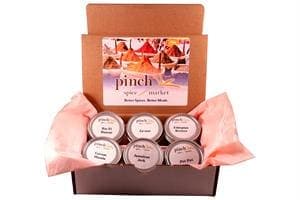 Perfect for the foodies and chefs in your life. Find organic, fair-trade spices sourced from around the world at Pinch Spice Market's online store. They have cute gifts, including this international authentic spice gift box.
Estella Blue Organic Whale Baby Romper $68
This organic knit romper is perfect for a water loving or summer baby! You can even pair it with a matching rattle or hat for a complete gift set. Buy it here.
Etsy.com: One of a Kind
This site connects you to all types of home and small businesses that feature clothing, art, crafts, toys and specialty products you won't find at big-name stores. Great prices sweeten the lure of these one-of-a-kind items. Browse small businesses on Etsy.com.
As you start your Small Business Saturday shopping, remember MyUS offers great prices on fast, reliable shipping every day. No matter where you live around the world, chances are we can ship to your door in as little as two days. Have fun shopping, we can't wait to deliver your deals!
As of the publishing of this article, the information provided was accurate. However, smaller stores often do not have the same quantity of items as larger retail stores, and items may sell out quick. Offers and prices may change without notice, and some stores may be limited to what forms of payment they accept. MyUS suggests you refer to each store's website for complete terms of sale, payment and shipping limitations.