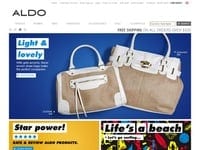 ALDO specializes in the creation of high-quality fashion footwear, leather goods and accessories. This sought-after brand pays close attention to detail and to fine craftsmanship. ALDO is dedicated to bringing you both quality and cutting-edge trends at affordable prices, season after season. What's more, ALDO's dedicated team of buyers and stylists constantly travel the globe to keep you on the pulse of fashion. Whether the latest footwear trends are breaking in London, Milan, Paris, New York or Tokyo, ALDO will have them on your feet first!
Shopping Info
Main Address
2300 Rue Emile-belanger
Montreal, Quebec H4R 3J4
Canada
Shopping Categories
Women's Apparel, Men's Apparel, Children's Apparel
Additional Information
Many international customers pay higher prices than American customers when shopping at US websites. To ensure you get the same low pricing and shopping benefits as American customers, read our Top Shopping Tips for how to save at Aldo Shoes.
If Aldo Shoes does not accept your international billing address or your preferred payment method, select the merchandise you want and then use our Personal Shopper service and we will buy the merchandise for you.