Our All-Time Favorite Disney Movies
Love a good Disney movie? If you're looking to expand your Disney library, or want to introduce your kids to some of the classics, this top 10 is a great place to start.
Check out our favorite Disney movies on DVD, from the oldie-but-goodie classics to new releases, and remember, as a MyUS member, you'll pay no US sales tax when you purchase from US websites!
10. Alice in Wonderland $10
Disney's first cult classic, Alice in Wonderland is visually stunning, odd, and something truly wonderful all rolled up into one. Buy it here.
9. Frozen $15
A loose adaptation of Hans Christian Anderson's The Snow Queen, Frozen became an instant classic when it hit the screens, showing that not every damsel in distress needs a Prince Charming to save them. Buy a copy here.
8. The Lion King $15
Loosely based on Shakespeare's Hamlet, The Lion King was a hit from the day it was released. With wonderful animation, a compelling storyline, and a bestselling soundtrack including songs from Sir Elton John, you can't go wrong with this Disney classic. Buy it here.
7. Aladdin $19
The late, great Robin Williams delivers a tour-de-force performance as the scene-stealing Genie in Disney's Aladdin, making it an instant classic and prompting many A-list actors to consider making animated films. Buy it here.
6. Peter Pan $30
Released in 1953, this movie is the favorite adaptation of the J.M. Barrie novel about the boy who wouldn't grow up. Filled with classic characters Peter Pan, Tinkerbell, and Captain Hook, it's a must-see for any child. Buy it here.
5. Cinderella $46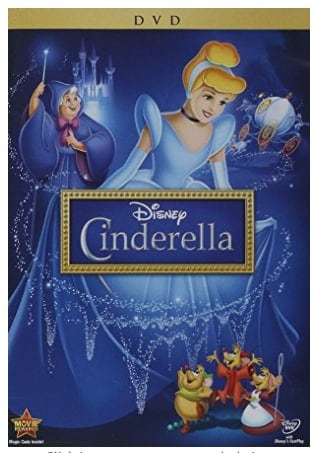 Earning three Academy Awards, Cinderella is probably the most well-known Disney princess, making this movie with evil stepsisters, Prince Charming, and a glass slipper a Disney must-watch. Buy it here.
4. The Little Mermaid $40
With ridiculously catchy tunes like "Under the Sea" and "Kiss the Girl," The Little Mermaid has gorgeous underwater animation, a classic Disney storyline, and lots of humor. Buy yours here.
3. Moana $15
Moana, a 3D computer-animated musical adventure, was released by Disney in 2016 and tells the tale of a spirited teenager who sets off on a quest to save her people. Full of action, adventure, and comedy, audiences of all ages will enjoy this movie. Buy it here.
2. Snow White $15
Based on a German fairy tale by the Brothers Grimm, Snow White is the first full-length animated feature film, the earliest Disney animated feature film, and it's been rated among the 100 greatest American films by The American Film Institute. It even won an honorary Oscar! Buy this essential classic here.
1. Beauty and the Beast $15
Beauty and the Beast just may be the perfect Disney movie with breathtaking animation, an incredible musical score, a heartwarming heroine - what more could you ask for? Buy it here.
We love finding new products for our members, but some of the DVD's featured above may have purchase restrictions, may not work in certain DVD players or may not take every form of payment. To find more information, please check the merchant's terms of sale, shipping guidelines and/or terms and conditions.