The Best Stores to Shop for Kids Halloween Costumes
If your kids are celebrating Halloween this year, they'll need the perfect costume for trick or treating. To get you started, we've rounded up the US websites with the best selections of costumes for infants, toddlers, kids, teens, and adults.
Shop these stores with MyUS, and you'll enjoy fast international shopping and pay no US sales tax on your purchase.
11. Walmart
From cute and cuddly to thrills and chills, Walmart has it all for Halloween, and at very reasonable prices. Shop Walmart's Halloween costumes here.
10. Pottery Barn Kids
Pottery Barn is known for their unique and well made costumes, including matching treat bags that are simply fantastic. Shop Pottery Barn costumes here.
9. Spirit Halloween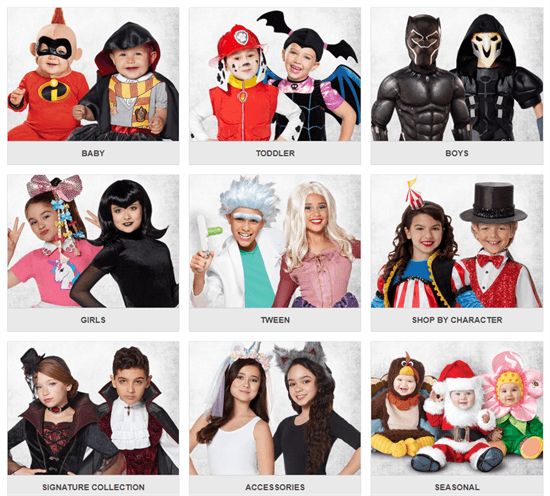 Spirit Halloween is the world's #1 Halloween costume store because of their incredible selection of Halloween Costumes for infants, kids, teens, and adults. They also have an extensive collection of Halloween decorations, Halloween accessories, and Halloween makeup. Shop their costumes here.
8. Amazon
From inflatable dinosaurs to morphsuits, zombies, and princesses, Amazon has just about every costume you could think of. Shop Amazon's Halloween costumes here.
7. Chasing Fireflies
Chasing Fireflies has an extensive collection of costumes for Halloween as well as everyday dress-up, including a great selection of family and group costumes, including the pirates, aliens, and bandits. Shop costumes from Chasing Fireflies here.
6. Etsy
Love the look and comfort of handmade costumes, but don't have the time to create one yourself? Head over to Etsy for a great selection of handmade costumes for kids and adults, including these adorable costumes for "peas & carrots!" Shop costumes on Etsy here.
5. eBay
Ebay is a great source for new and gently used costumes for kids and adults of all ages, including hard to find, discontinued, and vintage costumes like Hannah Montana, Strawberry Shortcake, and Tweety Bird. Shop eBay's costume selection here.
4. Disney Store
If your little one is planning on dressing up like a princess, superhero, or Star Wars character, the Disney store is a one-stop shop. Our favorite this year is their Black Panther costume collection for the whole family. Shop Disney Store costumes here.
3. Carters
If you have a newborn, infant, or toddler, the comfort of the costume is just as important as how it looks. Head over to Carter's for costumes and baby carriers that will keep your baby looking adorable and feeling super comfortable. Shop their selection of costumes here.
2. HalloweenCostumes.com
HalloweenCostumes.com stands out on our list for their "Made By Us" selection of exclusive costumes you won't find in any other store. Shop their collection here.
1. Party City
Looking for a great costume that won't break your budget? Party City has a huge selection of costumes, most under 30 US dollars, and many only $10! Shop Party City costumes here.
We strive to bring our members the best shopping options available, but some of the websites featured above could have purchase restrictions, or may not take every form of payment. Find more information by viewing merchant's terms of sale, shipping guidelines and/or terms and conditions.