Black Friday TV & Electronics Sales in the USA: Grab the Best Deals on TVs, Gaming Systems, and More!
It's the best time of year to buy a TV, gaming system or other electronics! MyUS members can easily take advantage of Black Friday sales from the US. Just shop online and enter your MyUS address as the shipping address.
What is Black Friday? It's a huge shopping holiday in the United States that lands on 27 November this year. Retailers offer deep discounts, and it's a great time to buy big-ticket items, like a TV or Xbox.
Check out some of the best deals we found this year: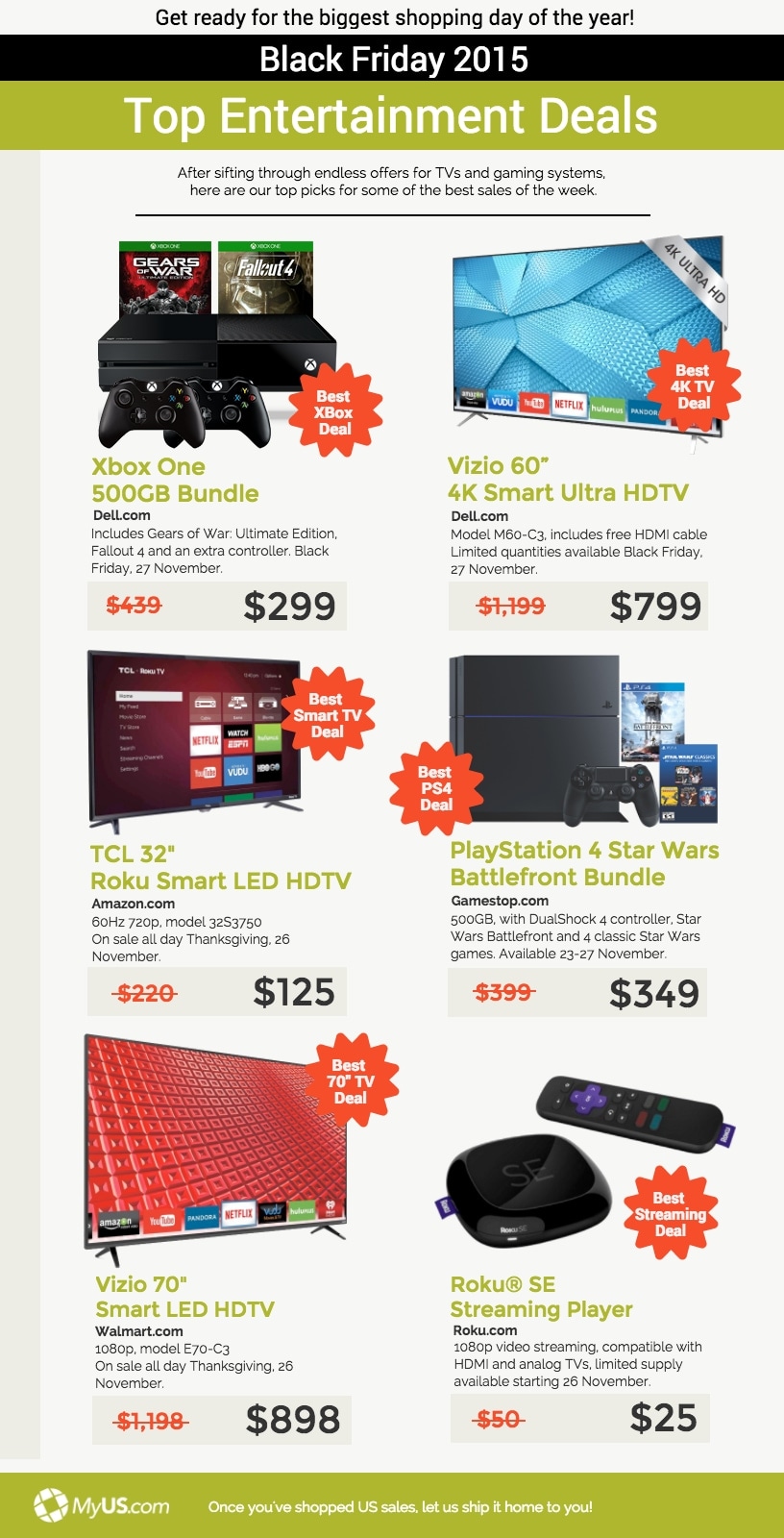 Black Friday 2015: Best TV & Entertainment Sales from the USA (Transcript)
Get ready for the biggest shopping day of the year! After sifting through endless offers for TVs and gaming systems, here are MyUS' top picks for the best sales of the week:
Best XBox Black Friday Deal
XBox One 500GB Bundle from Dell.com.
Save $140! On sale from $439 to just $299.
Includes Gears of War: Ultimate Edition, Fallout 4 and an extra controller.
Sale starts/ends on Black Friday, 27 November, 2015.
Best 4K TV Black Friday Sale
Vizio 60 inch 4K Smart Ultra HDTV at Dell.com
Save $400! On sale from $1,199 to just $799
Model M60-C3. Includes free HDMI cable.
Limited quantities available Black Friday, 27 November.
Best Smart TV Black Friday 2015 Deal
TCL 32 inch Roku Smart LED HDTV from Amazon.com
Save $95! On sale from $220 to just $125
60HZ 720p, Model 32S3750.
On sale all day Thanksgiving, 26 November.
Best PlayStation 4 Sale
PlayStation 4 Star Wars Battlefront Bundle from Gamestop.com
Save $50 USD! On sale from $399 to just $349.
500GB with DualShock 4 controller, Star Wars Battlefront and 4 classic Star Wars games.
Available 23-27 November.
Best 70 inch TV Black Friday Online Sale
Vizio 70 inch Smart LED HDTV from Walmart.com
Save $300! On sale from $1,198 to $898.
1080p, Model E70-C3.
On sale all day Thanksgiving, 26 November.
Best Streaming TV Deal on BF 2015
Roku SE Streaming Player from Roku.com
Save $25! From $50 to $25.
1080p video streaming, compatible with HDMI and analog TVs.
Limited supply available starting 26 November.
Other Black Friday Sales and Holiday Gift Ideas
Note: While we have made all efforts to provide the best available shopping options for our members, some items or merchants listed may have purchase restrictions, may not take all forms of payment or may restrict purchases to certain countries. Please check the merchant's terms of sale, shipping guidelines or terms and conditions for more information.