Celebrate World Pride With These Popular Store Collections!
Want to show your support for World Pride? It's easier (and more fashionable) than ever with new World Pride collections from popular US retailers and designers.
Check out the latest collections below, and shop your favorite looks with MyUS for fast international shipping and free package consolidation!
Express 'Love Unites'
This year, Express launched their #ExpressPride line, featuring new looks for men and women, including shirts, tanks, bodysuits, hoodies, tube tops, biker briefs, and more. And for every Love Unites item purchased by July 15, Express will donate 25% of the net income to GLAAD to accelerate acceptance for the LGBTQ+ community! Check out our favorite products from this collection:
Love Unites Tie Dye Tank $30
A sporty tank for Pride or year-round.
Love Unites Rainbow Striped V-Neck Gramercy Tee $45
An off-beat striped rainbow pattern.
Love Unites Fleece Hoodie $70
Show your pride and support, and stay warm.
Nordstrom
In honor of the 50th anniversary of Stonewall, Nordstrom employees will be joining friends and family across the US and Canada to celebrate the LGBTQ community. Shop clothing, shoes, accessories, and beauty products that support Pride, and pay no US sales tax when you shop and ship with MyUS. These are our favorites from this collection:
The Rail Pride Graphic T-Shirt $29
*Purchase the "Free To Be Me" graphic t-shirt, and Nordstrom will donate 100% of net sales from the purchase of this Pride tee to the Human Rights Campaign (HRC) Foundation!
Teva Universal Pride Flatform Sandal $80
*Teva will donate $15 for each pair of Flatform Universal Pride sandals sold, up to a maximum donation of $30,000, to the Tegan and Sara Foundation. Funds contribute to summer camp scholarships for LGBTQ youth, continuing the foundation's commitment to health, economic justice and representation as well as gender, racial and social justice.
Quay Australia Breeze In 56mm Round Sunglasses $60
A subtle accessory to show off your Pride and protect your eyes from harsh rays.
American Apparel
American Apparel released a new limited-edition capsule collection of statement tees for Pride called "How We Love." Donating 100% of the proceeds to the Los Angeles LGBT Center, American Apparel is directing funds towards the Trans-Cosmetic Donation Drive, an initiative that provides personal hygiene and cosmetic products to low-income, trans-identifying women of color. You'll love our favorites from this collection:
Still Queer Printed Fine Jersey T-Shirt $24
A simple message with a simple design.
Cheeky Printed Fine Jersey T-Shirt $24
This limited-edition shirt pairs perfectly with any color of the rainbow.
Unisex Words Matter 50/50 T-Shirt $24
Embody words that matter with this bold shirt featuring bolded font.
Gap
Gap's Pride collection is as inclusive as World Pride and includes infant bodysuits, graphic tees for kids, tote bags, baseball hats, and t-shirts for men and women. And when you purchase any of these items from their Gap + Pride Collection from 5/26/19 to 7/6/19, Gap will donate 15% of the sale to the United Nations Foundation in support of the UN Free & Equal Campaign for LGBTI equality. Check out our favorites from this collection:
babyGap + Pride Bodysuit $15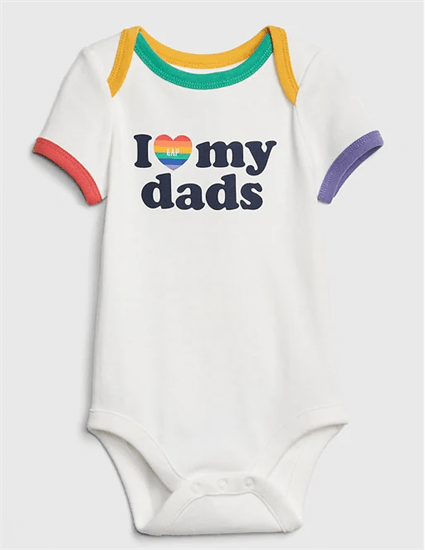 This adorable onesie also comes in an "I heart my moms" and just a simple "love" version.
GapKids + Pride Graphic Short Sleeve T-Shirt $25
Embrace your inner unicorn with this classic baseball tee.
Gap + Pride Logo Crewneck T-Shirt $30
Embrace your love for the GAP and pride with this crewneck printed tee.
H&M
H&M is a longtime supporting of the LGBTQ community, and this year, they've brought in actress and activist Laverne Cox to front their "Stay True, Stay You" campaign for Pride. The collection features a range of athleisure-inspired apparel, pool shoes, and colorful accessories, and 10% of each sale will be donated to the United Nations Free & Equal Campaign, which champions for equal rights and fair treatment of the worldwide LGBTQ community.
Windbreaker with a Sheen $70
No need to cover up your pride clothing if you get cold, this windbreaker is dual purpose.
Everybody is Free to Love T-Shirt $18
A playful print with a universal message.
Bag with Reversible Sequins $13
Store your phone, keys, wallet and more and let your pride shine.
Want to celebrate pride in style? Ship these products fast and worldwide with MyUS.
We always aim to bring our members the best shopping options available, but some of the products featured in this post may have purchase restrictions. To find more information, please visit the merchant's terms of sale, shipping guidelines and/or terms and conditions.