Dolls are a Girl's Best Friend!
Dolls are loved by kids around the world, and they are great for teaching emotions and pretend play.
Check out the latest dolls for kids of all ages, and find your little one a new favorite. And remember, as a MyUS member, you'll pay no US sales tax on purchases from US stores!
10. The New York Doll Collection Soft Body Doll $13
These realistic dolls are just plain adorable. They're the perfect size for smaller children to hold and tote around with them. Choose your child's doll here.
9. Melissa & Doug Mine to Love Brianna $20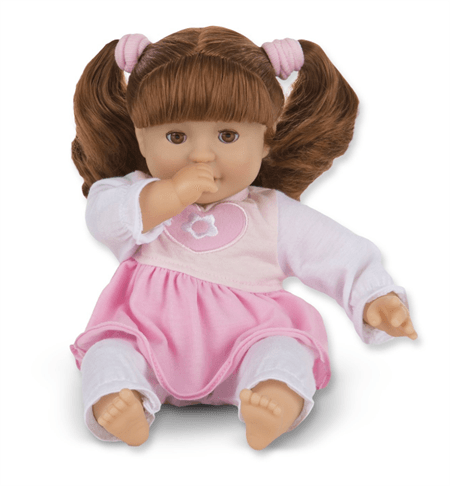 This doll from Melissa & Doug is soft and snuggly, perfect for little ones 18 months and older. She can suck her thumb or included pacifier, can be positioned to lay down or sit up, and comes with a removable two-piece outfit. Buy the Brianna doll here.
8. Baby Alive Real As Can Be Baby $77
With over 80 lifelike expressions, movements and real baby sounds like giggling, babbling and friendly, chatty noises, this new Baby Alive makes the perfect gift for kids ages 3 and up. Buy one here.
7. Glitter Girls Dolls $21
Glitter Girls dolls are full of sparkly sweetness and completely poseable, so they can give a hug, ride a horse, sit at a table, or wave hello. Choose from a wide variety of skin tones and hair colors here.
6. American Girl WellieWishers Camille Doll $60
WellieWishers are the latest dolls from American Girl. They're a sweet and silly group that each has the same big, bright wish: to be a good friend. This doll, Camille, comes with a tee, coordinating skirt, hair clip, underwear, and of course - wellie boots! Buy a Camille WellieWisher here.
5. Barbie Careers Baby Doctor Playset $17
Let young imaginations be the doctor with this new playset featuring Barbie as a doctor and an office set that includes two babies, a stethoscope, two baby towels, a bottle, and a medical chart. Buy the set here.
4. Fancy Nancy Classique Doll $13
Is your toddler a fan of Fancy Nancy? They'll love this new Fancy Nancy doll in her signature outfit from the show. Use the included "mystery bag of fancy" to decorate her outfit, or create your own design! Buy the Fancy Nancy doll here.
3. Cabbage Patch Kids Doll $35
Cabbage Patch Kids are always a favorite with kids of all ages. Each one comes with adoption papers from Babyland General Hospital, and has a unique name and birthday – just like your little one! Buy one here.
2. Cry Babies Lala Baby Doll $30
Cry Baby dolls start crying and making real baby sounds when you take out their pacifier. Add water, and they'll cry real tears. Kids can soothe them by putting the pacifier in its mouth, rocking them, or laying them down. Choose from five hair colors and outfits here.
1. Baby Starters Plush Snuggle Buddy $13
Soft, super-cute, and oh-so-loveable, the Snuggle Buddy will quickly become baby's best friend. And since it's completely machine washable, it's a big favorite among parents too! Choose from five colors here.
We strive to bring our members the best shopping options available, but some of the dolls featured above could have purchase restrictions, or may not take every form of payment. Find more information by viewing merchant's terms of sale, shipping guidelines and/or terms and conditions.