Dolls & Figurines Little Girls Love
Looking for holiday gifts little girls will love? Or just wanting to add to a growing collection of Barbie dolls?
We've rounded up the most sought after dolls and figurines of the holiday season below, and they can all be shipped worldwide with MyUS. Remember, MyUS members never pay US sales tax on their purchases from US websites.
Barbie Fashionistas Doll 143 $9.99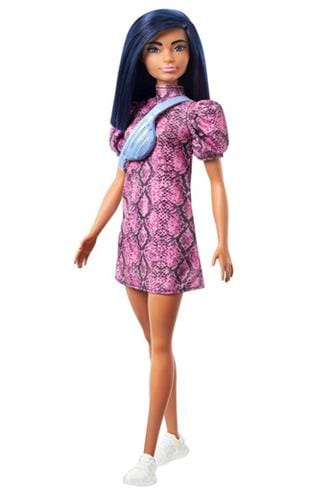 If you haven't seen a Barbie doll in a while, you're in for a fun surprise with their new line of Barbie Fashionistas Dolls. Inspired by the latest fashion trends, the line includes dolls with 5 body types, 10 skin tones, 8 eye colors, 19 hair colors, 19 hairstyles. One of our favorites is Barbie Fashionistas Doll 143. Sporting blue hair and glitter lipstick, she's wearing a pink and black snakeskin dress with blue crossbody bag and white sneakers—definitely one of the cooler Barbie dolls we've seen!
"Really awesome. Specially, Fashionista 143! I love her blue violet and black hair. She also looks ethnically ambiguous. She can be black, Filipina, Native American, Peruvian. Gorgeous!" says Sal Dolly in their five-star product review.
CurliGirls The Jetsetter Adeli & Fiji $14.99
CurliGirls are stealing the toy spotlight this holiday season and CurliGirls Adeli, The Jetsetter & Fiji, her Dog set are an Amazon Gift Guide top pick. Adeli (and her dog, FIji) have special MagiCurl hair that instantly curls when you pull on it and fun beads, hair bands, and a clip to accessorize. The more you pull on the hair, the tighter the curl, and when you want to start over, simply dunk the hair in warm water and watch it straighten for endless styling opportunities.
"My daughter loves her doll. The hair is so awesome. I love the fact that the hair does not fall out in strands and stick to your clothes or furniture like it does with other dolls. Why lie....., I too have sat and played with the CurlieGirl doll. its a great buy." says Annalee Ibarra in their online review.
The Little Mermaid Ariel Doll 2020 Holiday Special Edition $49.99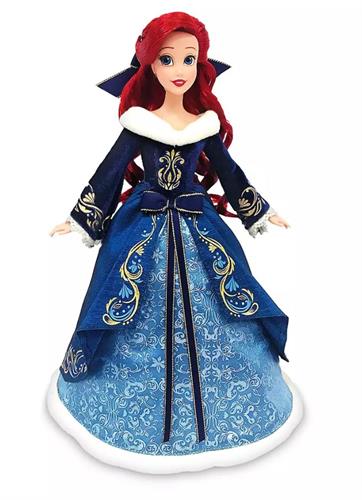 Disney's 2020 Holiday Special Edition Ariel doll is a hit among kids and adults alike. Dressed in a luxe satin and velvet gown with faux fur trim and lace details, she's poseable and comes with beautifully styled hair with a bow accent.
"This doll deserves 10 stars. So gorgeous. Love her dress. The attention to detail is superb. Her face is sculpted beautifully and her hair is perfect. She looks just like she does in the movie. The box she comes in is equally as stunning and detailed. Well worth the price. I hope dolls like this become a yearly tradition. With a different Princess every year." says tlkdisneyfan in their product review.
Na! Na! Na! Surprise 2-in-1 Fashion Doll & Plush Pom Mystery Unbox $29.15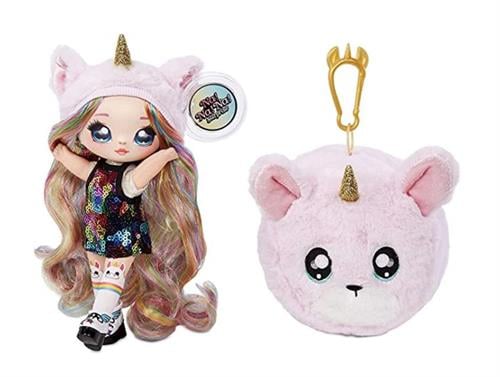 The Na! Na! Na! Surprise 2-in-1 Fashion Doll & Plush Pom With Confetti Balloon Unboxing is an unboxing experience that kids love. It involves a real balloon that your child can inflate and pop for a confetti surprise. Once "unboxed", you'll find treasures, including a gorgeous soft, posable fashion doll, an outfit, shoes, and a plush pom with a clip to attach to a purse or backpack.
"My granddaughter was so thrilled." says Nance in her glowing review.
American Girl WellieWishers Willa Doll $59.95
American Girl dolls are always a popular and sought-after gift for younger girls, especially dolls from their WellieWishers line. On Amazon's Gift List this year is the WellieWishers Willa Doll. She has a love for animals, hazel eyes, strawberry blonde hair, and comes dressed from head to toe in a hedgehog tee, skirt, matching headband, and red wellie boots with ladybug faces.
"Beautiful doll that is just the right size for the 8 year old I purchased this doll for. Hair combs easily. Clothes are well made, and easy for a child to change them out. She absolutely loves this doll." says buckeyenana in her five-star review.
L.O.L. Surprise! O.M.G. Remix Honeylicious Fashion Doll $34.88
For girls that love hip hop and L.O.L. Surprise! comes Honeylicious, an O.M.G. Remix fashion doll that comes with two fierce fashion looks, stunning features, styled hair, a full-size record that plays music on the package and much more—25 surprises in all!
"The Beautiful little Girl I bought this for was so surprised & went gaga over her new doll. I'm so glad that I'm the first to buy her a doll in this series. It's pretty, has lots to check out & she won't get bored after just one time playing with her." says Lady in their online review.
Cry Babies Hannah The Pegasus Doll $24.99
New from the super popular line of dolls called Cry Babies comes Hannah The Pegasus Doll, a soft and adorable doll, dressed in pink Pegasus pajamas, that cries real tears when without her pacifier (just add water). But no worries, as soon as she gets her pacifier back or she's laid down for a nap, she'll be happy again. She comes with an attached pacifier and changeable animal print onesie and she has a fully articulated head, arms, and legs for added playtime fun.
"My daughter has always loved Cry Baby dolls! This one is adorable and she loves this one the most!" says @Jmcthemodel in their online review.
Shop dolls and figurines from US websites and ship worldwide and US sales-tax-free when you become a MyUS member.
We always aim to bring our members the best shopping options available, but some of the products featured in this post may have purchase restrictions. To find more information, please visit the merchant's terms of sale, shipping guidelines and/or terms and conditions.