Timeless Elegance: How to Style White Shirts For Women
In the world of fashion, few garments possess the timeless elegance and versatility of a white shirt. Vogue has long extolled the virtues of this wardrobe essential, and for good reason: the white shirt's understated charm effortlessly blends with various styles and occasions, making it a must-have seasonal piece in every woman's closet.
In this article, we'll explore the allure of white shirts for women, showcase exquisite options from various MyUS partner stores, and offer insightful styling tips to help you confidently rock this iconic piece.
The Classic Button-Down Shirt, $168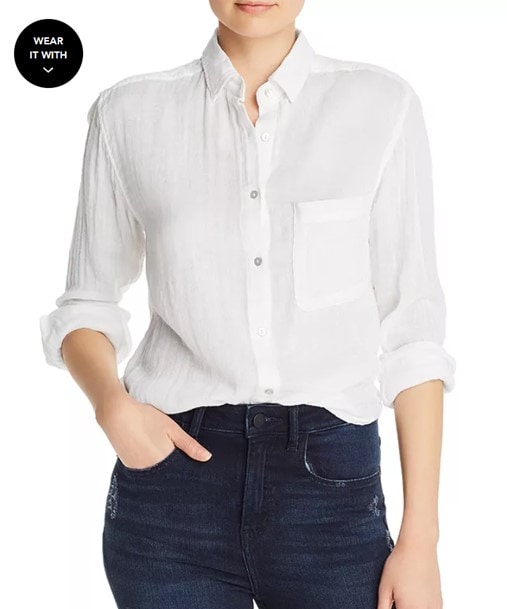 The classic white button-down shirt is a cornerstone of refined style. Its clean lines and structured silhouette make it a versatile piece that seamlessly transitions from casual to formal settings. You can buy one at Bloomingdale's here.
Styling Tips
Office Chic: Tuck your white button-down into tailored trousers, add a belt to cinch your waist, and finish with pointed-toe heels for a polished office look.
Casual Cool: Leave a few buttons undone and knot the front of the shirt, pairing it with high-waisted jeans or denim shorts for an effortlessly cool off-duty ensemble.
Customer Review: "Great quality and material. Sheer perfect for summer. I had to size down. Bought in white and pink. Love this brand." – NikkiNYC
Crisp Oversized Shirt, $26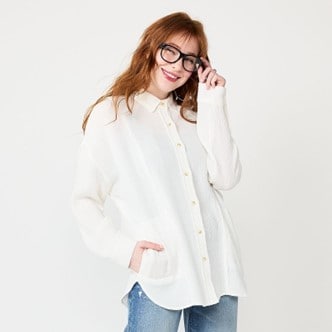 The oversized white shirt exudes an air of laid-back sophistication and leaves a lot of space to express your personal style. Its loose fit and relaxed structure make it a versatile piece that can be dressed up or down. Get yours at Kohl's here.
Styling Tips
Effortless Elegance: Wear the oversized shirt as a dress with a thin belt at the waist, ankle boots, and statement earrings for a chic daytime look.
Layered Sophistication: Layer the shirt over a turtleneck sweater, paired with skinny jeans and knee-high boots for a cozy fall ensemble.
Customer Review: "I really like this top! I purchased the pink in store, then ended up going and getting this one as well. Very comfortable and stylish as a layering piece." - Cash
Ruffled Romantic Blouse, $40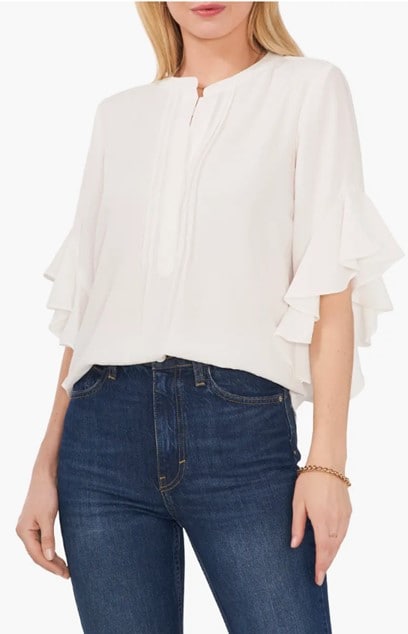 The ruffled white blouse adds a touch of romance and femininity to your wardrobe. Its delicate details and soft texture make it an ideal choice for a walk on the beach and a colleague's birthday party. Get one at Nordstrom here.
Styling Tips
Elegant Evening: Pair the ruffled blouse with a sleek midi skirt, statement belt, and strappy heels for a romantic evening look.
Brunch Vibes: Combine the blouse with high-waisted shorts, espadrille wedges, and a wide-brimmed hat for a charming brunch outfit.
Customer Review: "Originally bought this in person at the Nordstrom store, the dark red color, lasted very long no damaged after washing and dryer machine even until now. Great simple business casual style, especially the best color for this blouse is WHITE !!!!" – Kathy Dinh
T-shirt with a Twist, $68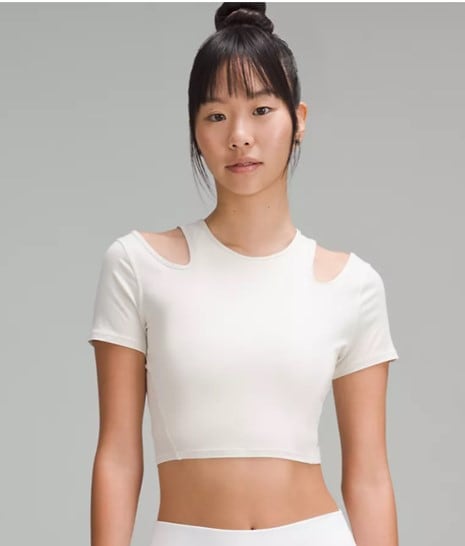 The white T-shirt is another wardrobe staple, especially during summer, and you don't have to wear any accessories to make it pop. However, if you want to, you can elevate its simplicity with unique design elements like cutouts, asymmetrical hems, or embellishments. Buy our favorite pick from Lululemon here.
Styling Tips
Edgy Chic: Pair your white tee with distressed skinny jeans, a faux leather jacket, and ankle boots for an edgy street-style look.
Casual Glam: Wear the white T-shirt with a sequined skirt, metallic sneakers, and a denim jacket tied around the waist for a touch of glamour.
Customer Review: "As a big chested girlie I was so pleasantly surprised by this top! It is super flattering and feels incredible on the skin. I often have troubles finding tops that fit comfortably snug to both my chest and waist but this top exceeded my expectations." – Katherine
In the ever-evolving world of fashion, white shirts for women stand as a timeless beacon of style and versatility. They prove that there is beauty in simplicity and that the possibilities for expressing your unique style are endless. These garments effortlessly transition between occasions, and with the right accessories, you can easily create looks that range from casual chic to elegant sophistication.
Explore the enchanting world of white shirts for women by checking out our suggestions and browsing the selections at various US stores. Embrace the elegance and adaptability of this iconic piece, and let your creativity flow as you experiment with different styling options.
We always aim to bring our members the best shopping options available, but some of the products featured in this post may have purchase restrictions. Please visit the merchant's terms of sale, shipping guidelines, and terms and conditions to find more information.