MVST Select: First Class Luggage That's Made To Last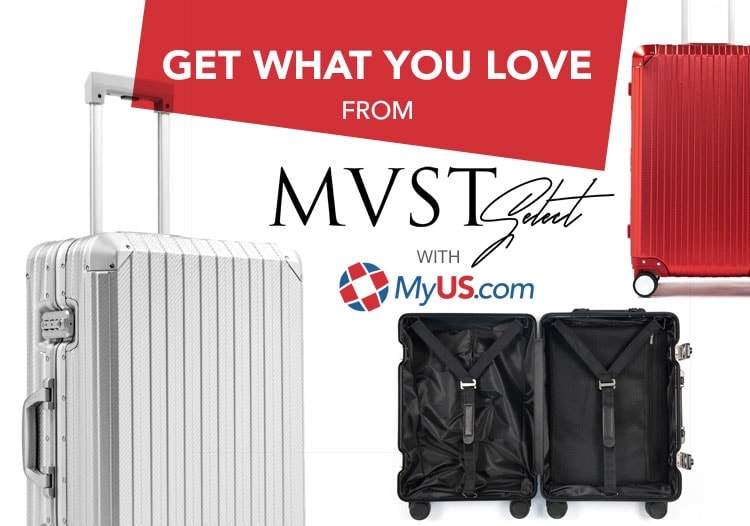 Whether you're traveling for work or pleasure, your luggage becomes your traveling companion and can greatly affect your whole experience. Stuck zippers and busted seams can slow you down, and tired, dated looking bags deter from your overall style and appearance.
If you're tired of struggling with your luggage, it's time to treat yourself to a better experience with suitcases and bags from MVST Select. The brand is on a mission to not only bring travelers durable and stylish luggage, but to do it at radically fair prices that make first-class luggage affordable.
How do they do it? By bringing their durable yet stylish bags direct to you via their website. And they're so confident that you'll love their luggage that they offer a five-year limited warranty that covers accidental damage, and free shipping and returns to the contiguous US (for MyUS customers, this means your items ship free to your MyUS address) in Florida, USA.
Check out some of their most popular suitcases and bags below, and remember, as a MyUS member, you'll pay no US sales-tax on your purchase and enjoy fast worldwide shipping!
Trek Aluminum Suitcase $395
Featuring a heavy-duty aluminum alloy hard shell exterior, TSA approved combo locks, a zipper-less closure and ultra smooth spinner wheels, the Trek Aluminum Suitcase a great choice for both business and leisure travelers. Available in carry-on, medium checked and large checked sizing.
"Great and solid case. I bought the large one and was surprised out how light it was. Very strong and light. Smooth, silent rollers. Excellent packing accessories on the inside. Good compression straps. Aluminum cases are very cool looking. Most brands I looked at are ridiculously expensive. MVST cases are a great value. Just as good as the well-known brands at a much lower cost." said CBrown in his five star review.
Trek Aluminum Suitcase Red $395
Want to stand out from the crowd? The Trek Aluminum Suitcase Red has all the strength, durability, and functionality of the stainless steel Trek Aluminum Suitcase but in a bright and bold red that can't be missed on an airport baggage carousel.
"I love my red suitcase! The metallic red shell becomes golden red in sunlight. For those of you out there wondering whether to buy or not, PLEASE DO. I'm so glad I opted for this instead of Rimowa." says Cindy in her glowing review.
Alr Aluminum Suitcase $465
The Alr Aluminum Suitcase from MVST Select features a grade 5052 aluminum alloy hardshell exterior and makes travel easy and stress-free with ultra smooth 360° spinner wheels, a zipperless closure, and an easy-grip aluminum telescoping handle. Choose from a carry-on size with a 39.8L capacity or a medium checked size with a 71.2L capacity.
Garment Duffel Bag $175
From weekend getaways to quick business trips, you won't go wrong with the Garment Duffel Bag. Made of 1000D premium fabric and featuring YKK water resistant zippers, and ergonomic shoulder strap, and dedicated shoe compartment, this versatile bag transforms from a garment bag to a duffel bag with just one quick zip - genius!
AL9 Aluminum Suitcase Navy $395
Dressed in a stylish navy and featuring a heavy-duty aluminum alloy hard shell exterior, the AL9 Aluminum Suitcase is the perfect combination of great looks and tough durability. With exterior measurements of 22" x 14" x 8.7" and weighing in at a mere 9.3 pounds, it's the carry-on that will make every trip a little easier.
Carbon S Carbon Fiber Suitcase $1025
Forged from the finest super strength military grade carbon fiber to endure the damage most other roller suitcases easily succumb to, the Carbon S Carbon Fiber Suitcase is their toughest carry-on to date. Even better, it has a sleek and shiny black finish that looks just out of this world!
Carbon X Carbon Fiber Suitcase Carry-on $925.00
Want the durability and function of the Carbon S shown above, but prefer a more industrial look? You'll love the Carbon X Carbon Fiber Suitcase Carry-on. It's made of the same super strength military grade carbon fiber and has the same great features like a zipperless closure, ultra smooth wheels, and an adjustable telescoping handle, but instead of the gloss black finish, it has the fun, retro look of an antique steam trunk, with a matte finish and gold studded details.
Shop MVST Select today and ship worldwide when you become a MyUS member.
We always aim to bring our members the best shopping options available, but some of the products featured in this post may have purchase restrictions. To find more information, please visit the merchant's terms of sale, shipping guidelines and/or terms and conditions.