Zize Bikes: The Plus Sized Bikes Superstore for Heavy Riders
Biking is one of the easiest and least expensive forms of exercise. It's also non-weight bearing, so it's easier on your joints, not to mention, riding a bike is FUN! Unfortunately, if you're big or tall, most bicycles on the market aren't designed for the added weight and can be dangerous.
That's what Joan Denizot, owner and founder of Zize Bikes found when she went looking for a bike to fit a person of her size, and couldn't find what she was looking for. Instead of having a custom bike built just for her, she decided to fix the problem and create a collection where any person of size could find a strong bike in the style of their choice.
Founded in 2005, Zize Bikes has become known as the "Rolls Royce of Big Bicycles," carrying a huge selection of commuter, hybrid, electric, mountain, 29ers, and road bikes that can be shopped by weight or height. The site also offers training accessories such as rider blocks, trainer mats, mag trainers, and step stools.
You can save 10% on your first order by subscribing to their newsletter (just click on the red "coupon" widget at the top of their home page), and they have a pretty sweet satisfaction guarantee. If, after 60 full days with your new Zize bike, you're not satisfied for any reason, let them know and they'll arrange for repair, replacement, or refund of your purchase price!
To introduce you to Zize Bikes, we've rounded up some of their bestselling bikes and accessories below. Shop their site with MyUS to pay no US sales tax and enjoy fast international shipping.
A New Leaf 3.0 $2,600
Their most popular bike is A New Leaf 3.0. It has a custom chromoly steel frame and front fork, forged alloy shaft, and double bolted seat post and has a weight limit of 550 pounds. Equally important, it's designed for comfort, boasting extra-wide tires and a very comfortable saddle.
"This bike is built like a tank, but rides like a Lincoln Navigator. Its perfect for my 6'4", 385 pound body." says a Valued Customer in their five-star online review.
Supersized Newsgirl $1,000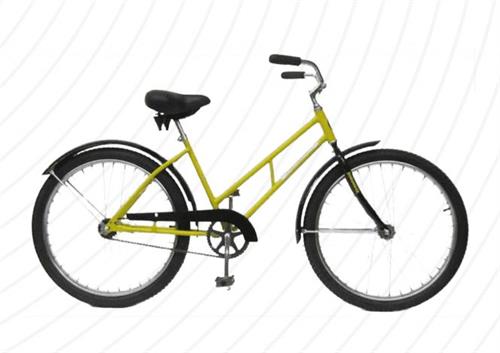 Looking for a sturdy, comfortable bike with style? The Supersized Newsgirl is a great choice. It has a unisex step-through frame so you can get on with ease, a sleek 17.5"frame with a classic design, and dual down tube bars for an extra dose of head-turning style. It has three speeds and rear coaster brakes for a safer riding experience, an ample seat, and reflectors on the front and back wheels for safe night riding. Another nice feature is the bike's puncture-proof tires and tubes that make every ride worry-free. Available in five color options and two sizes, small and medium.
"I really enjoy riding my new bike. I have 5 year old twins and love exploring the outdoors with the, Knowing that this bike has been built to safely hold my weight really allows me to relax and enjoy the ride!" says a Valued Customer in their glowing online review.
Supersized Comfort Bike $1,000
For a comfortable, relaxed ride a little lower to the ground, try the Supersized Comfort Bike. With its 24" tires, it's designed to ride lower to the ground to make your ride feel more comfortable and safer. The wheel size and 3-speed external hub help you maneuver and climb hills with ease, and the wide, well-padded bike saddle with springs absorbs impact and vibration for added comfort. The reinforced frame holds up to 400 pounds and is available in five colors.
"I wanted my Zize Bike because I am too heavy for regular bikes and need to improve my health. I have searched high and low for a bicycle that would meet my needs. Zize bikes seem to be just what the doctor ordered! I really like my new Supersized Comfort Bike, with the fenders, 3 speed gear system, rear coaster brake and front hydraulic brake system, the easy entry low bar style to help me keep my balance while getting on and off, and last but not least the fact the bike is sturdy for my weight requirements." says a Valued Customer in their online review.
Cyclone $1,629
When we think of the "Rolls Royce of bicycles" thoughts immediately turn to the Cyclone. This premium bike has the classic cockpit of a Day6, two wheel disc brakes, speed-rated flat-resistant tires, and one of the best drive trains in the industry, for an exceptional experience you'll enjoy for years to come.
"When I Googles "best bikes for heavier riders", Zize Bikes came up! I'm riding, losing weight, and getting my knees nack in shape. God bless!" says a Valued Customer in their online product review.
Time of Your Life 3.0 E-Bike $6,650
E-Bikes are all the rage in 2020, giving their riders the added boost of motorized power to ride longer and conquer hills with ease. The Time of Your Life 3.0 E-Bike from Zize Bikes has all the excellent features of their 3.0 line bike, but with an amazing motor that makes it easier to get started riding and build up your fitness for longer rides.
"The ability to ride a bike that actually accommodates who I am physically "right now" as opposed to who I "should be" leaves me giddy. Thank you Zize Bikes!" says a Valued Customer in their online review.
Mag Trainer $320
Turn your Zize Bike into an indoor activity you can enjoy in any weather with the Mag Trainer. It's a simple-to-use system that doesn't require you to change the axle in the rear wheel like traditional trainers when used with their TIme of Your Life, A New Leaf, and 29er Max bikes. Instead, it's as simple as positioning your bike on the trainer and moving a couple of knobs—so easy! The Mag Trainer can also be used with other bicycles, but you'll need to replace the axle with the one provided with the trainer.
"So quiet, I can ride above our neighbors in our apartment building an they've never complained. Easy to set up, break down, and store. Highly recommend." says Sara in her online review.
Trainer Mat $46
Protect your floors when using your bike indoors with the Trainer Mat. This high-density mat absorbs vibration, reduces noise, protects your floors, and most importantly, stabilizes your bike.
"Buying a bike that was able to support me was a major step in getting more exercise and living a better life, plus it's also helped me get to places without walking or taking a bus. I've lost over 100 pounds since I purchased my bike." says a Zize Customer in their online review.
Trainer Package $445
If indoor training is on your radar, skip buying all the items you'll need a la carte and go with the Trainer Package. It includes everything you need to make training both safe and easy; a mag trainer, trainer mat, rider block to keep the front and back of your bike at the same level as you ride, and a step stool for easy mounting and dismounting.
"Assembly was quick and simple - I was done in about 15 minutes. The frame is heavy duty and I look forward to a long life" says Don in his five-star review.
Shop Zize Bikes today and ship worldwide when you become a MyUS member.
We always aim to bring our members the best shopping options available, but some of the products featured in this post may have purchase restrictions. To find more information, please visit the merchant's terms of sale, shipping guidelines and/or terms and conditions.