When to Throw Away Your Expired or Old Make Up
While no one wants to part with their favorite lipstick, eyeshadow, or blending brush, keeping makeup too long or using brushes that have never been cleaned can be more than gross - it can be downright dangerous.
Some types of makeup can last longer than others, but nothing should be kept forever. Check out our basic guidelines for the average shelf life of most cosmetics, and if it's time to pitch the old for the new, remember that MyUS members never pay sales tax from US websites, and can ship cosmetics worldwide in as little as 2-4 days!
Lipstick - 1 to 2 years
Lipsticks and lipgloss provide a good environment for bacteria to grow, and since they're applied to your mouth, you don't want to hang on to them too long! A good rule of thumb is to replace every 1-2 years, but if the product starts to discolor, dry out, or doesn't glide on as easily as it used to, it's time to replace. Lip liners are typically drier than lipsticks and gloss, so they can last longer, about two years.
Need to pitch your lipsticks? Check out 20 Hot Lipsticks to Shake Things Up.
Foundation & Primer - up to 24 months
Foundations will vary since some are liquid and others powder, but typically they are good for one to two years. Throw them out earlier if they start to dry out, change color, or smell funny.
Many beauty products, especially foundations, now have an open jar symbol on the back of the label. This is the PAO (or Period After Opening) symbol, which indicates how long the product is good for after it has been opened.
Tip: keep a thin tipped sharpie marker with your cosmetics, and note the date and year you opened the product on the label to help you keep track of how long you've had it.
Blush & Contour - 2 years
Most blush and contour palettes are pressed powder and will last about 2 years. Liquid based products should be pitched sooner, about 12 months.
Looking for a new contour kit? Check out 11 Contour Kits That Will Leave You Looking Flawless here.
Eyeshadow - 2 years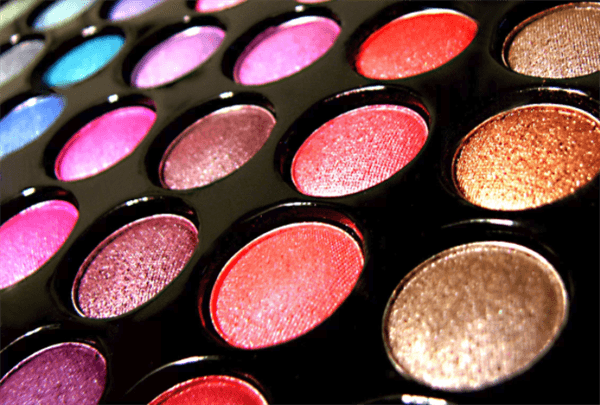 Are some of the eyeshadows in the bottom of your bag older than your kids? While pressed powder eyeshadows seem to last forever, they should really be thrown out after two years for two reasons: they will harbor bacteria over time, and the quality of the product will diminish, making it harder to apply and affecting the color.
Are your favorite eyeshadows past their prime? Here are 18 Eyeshadows You Need To Try In 2018.
Liquid & Pencil Eyeliners - 3 to 12 months
Since liquid eyeliner is often used near or on the waterline, it can quickly harbor bacteria, so it should be replaced every three months, even sooner if it begins to dry out. And if you used any eyeliner, mascara, or shadow during an eye infection, get rid of it right away to avoid re-infection.
Pencil eyeliners won't attract as much bacteria as liquid liner, since they typically are not used near the waterline, so in general, they can be kept about 12 months. Time to replace your eyeliner? Check out eye pencils and powders that are worth the splurge
here
.
Mascara - 3 months
Mascara has a short shelf life because of its use near the eye, about 3 months. If it starts to dry out, resist the urge to add water or saliva to make it last longer, both of these methods can add bacteria to the mascara and lead to eye irritation.
If you're ready to replace yours, check out all of the amazing lash products in our list of Best Beauty Products from the USA here.
Cosmetic brushes & Applicators - Clean at least once a month
Dirty cosmetic brushes and tools can lead to clogged pores, irritated skin and bacteria, so if you're part of the 39% of women who clean their cosmetic brushes less than once a month or the 22% that never clean them at all, time to get to it.
If you don't know how to clean your brushes, try the Go Clean Duo from Sigma Beauty. It contains a natural brush cleanser that's made with certified sustainable, ethically sourced palm oil and virgin coconut oil, and a cleansing mat with seven different textures for the deepest clean possible. Buy the set here. And if you need to replace a few brushes or your whole set, here are some makeup brushes we're loving right now.
When In Doubt, Throw It Out!
Sometimes there are obvious signs that a product has gone bad - maybe it smells funny, looks different than it used to, or feels odd to the touch. If the product looks, smells or feels different, be safe and throw it out. It's also important to resist the urge to share makeup with friends or family because it can spread bacteria and infections. And if you get an eye infection, pitch your eye makeup to avoid reinfection!
Buy New Cosmetics from US Websites & Save Big With MyUS
If you need to replace some of your cosmetics but don't want to pay international shipping for a few small products, we have you covered with our free package consolidation services! Simply order multiple items from multiple websites, and when they arrive at our warehouse, we'll rebundle your purchases before shipping them to your international address for big savings. So easy!
We enjoy helping our members find new products and stay safe, but some of the products featured in this post may have purchase restrictions, or may not take every form of payment. To find more information, please check with the merchant's terms of sale, shipping guidelines and/or terms and conditions.