How Package Consolidation Works
Package consolidation is a smart way to save when shopping and shipping internationally. But how can you use it to your advantage? Get the full details on package consolidation and all its money-saving benefits.

What is package consolidation?
Package consolidation is an international shipping service that combines multiple online purchases into one parcel for delivery. That means instead of paying shipping several times on each purchase, with package consolidation, you only pay once. Then, at MyUS, we leave it to our expert packers to do what they do best. Each item is securely bundled into one box, arriving safely together at your doorstep.
How does package consolidation work?
Package consolidation is simple for shoppers because we handle all the packing strategies. Let's say you go on an online shopping spree over the weekend. After an hour of scrolling and cart check-outs, you ordered home essentials from Amazon, new clothes from GAP, and won some bids on eBay. Nice! Using a MyUS address for shipping, all these products from different retailers can be easily consolidated.
After placing your orders, we begin working our magic behind the scenes. First, each product you purchase is sent to the MyUS warehouse. We hold packages here in 30-day periods, so there is enough time for multiple packages to arrive for bundling. Then each purchase is carefully hand-packed into one package and sent to your country of choice—from the UK or USA to Australia, India, the Philippines, France, Puerto Rico, and beyond.

How can you save money with package consolidation?
It is no surprise that international shipping straight from overseas merchants is expensive. Estimating shipping costs can also be confusing depending on demand and retailers' preferred carriers. Who wants to deal with confusing extras costs from repeatedly paying shipping rates? With MyUS packing consolidation, you only pay for international shipping once per bundle of purchases. Plus, we make it easy to figure out pricing with tools like our international shipping calculator.
How does package consolidation make a difference in international shopping?
Package consolidation opens the world of online stores to international shoppers, making shopping for US and UK brands more affordable. The more you shop for the products you love, from brands like Walmart to Amazon to ASOS and Shop Disney, the more you save. Our package consolidation saves members up to 80% of the standard international shipping rates.
Along with making a difference for your wallet, there are even more ways package consolidation makes your international shopping experience exceptional. Once your purchases are bundled, we quickly send your package to wherever you call home. MyUS ships fast, with door-to-door delivery in 2-4 business days. Also, by downsizing to one parcel, package consolidation helps reduce the carbon footprint of the shipping process. So, it is a win for the environment too!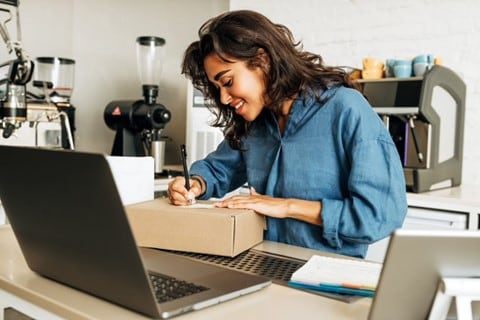 Is everyone who shops through MyUS eligible for this service?
Package consolidation is an invaluable shipping service for shoppers who regularly make international purchases. Currently, MyUS premium members and business members can enjoy the advantages of free and automatic package consolidation. Single package members do not have access to this shipping service. If you see yourself making steady international purchases, upgrading to premium membership may be worthwhile.
At MyUS, shopping internationally at your favorite stores across the US and UK does not have to be expensive. Our helpful international shipping calculator makes planning easy for estimated shipping rates. You can save money with major advantages, including our package consolidation shipping services and 0% US sales tax. Get the complete experience of our best benefits by signing up for a premium membership free trial with MyUS today!